This is a sponsored Review for Philips Jamie Oliver Hand Blender.
Product includes hand blender, compact chopper accessory, whisk accessory and 1l beaker with lid.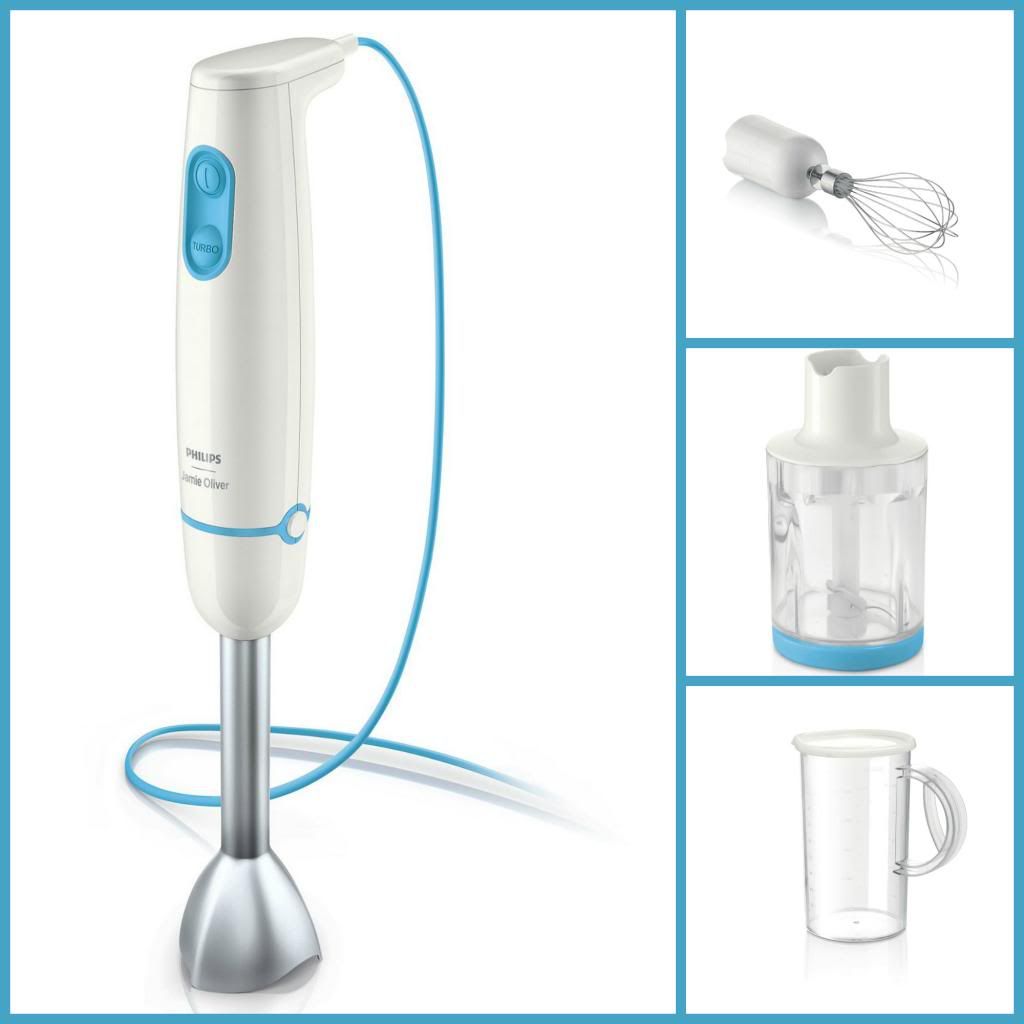 I've got no idea why the kitchens in the new HDB flats are getting smaller. As compared to my parents' 3 room flat in Potong Pasir, mine is barely half of its size despite it being an executive flat.
We do not have space for fancy kitchen appliances that sits around looking pretty. Every appliances that takes up a prime spot in our kitchen has got to be multi functional.
This latest addition of hand blender by Philips co-designed with celebrity chef Jamie Oliver. And since I have found plenty of success with Jamie Oliver's recipe, I held high hopes for the performance of this blender.
When un-boxing the Philips Jamie Oliver hand blender, I notice the glossy white high quality finishing on the product. It is compact and does not even take up much space. The additional accessories such as the chopper and whisk totally sweetens the deal making it a multi functional kitchen tool. A tinge of cornflower blue on the product makes it esthetically pleasing.
Philips Jamie Oliver Hand Blender features:
Innovative ProMix technology
The ultimate in speed and efficiency, to deliver only the finest and evenly cut results.
Long lasting and titanium coated blade
Strong, titanium coated blade which ensures it stays sharper for much longer.
Powerful 650 watt motor
650 watt motor with a simple "on / off" button as well as a turbo button.
I ran the compact kitchen tool over a series of culinary challenge.
Let's see if it has risen to the occasion…..
First up, baby food.
Potato, carrot, corn puree with Salmon flakes.
1 Potato cubed
1 carrot cubed
1 handful of frozen corn
Put all ingredients and boil for 15 mins.
Then using Philips Jamie Oliver Hand Blender, blend directly into pot!!
Wholesome baby food ready in 20mins!!!
Baked Salmon Flakes were actually "pinched" from the older sibling's dinner.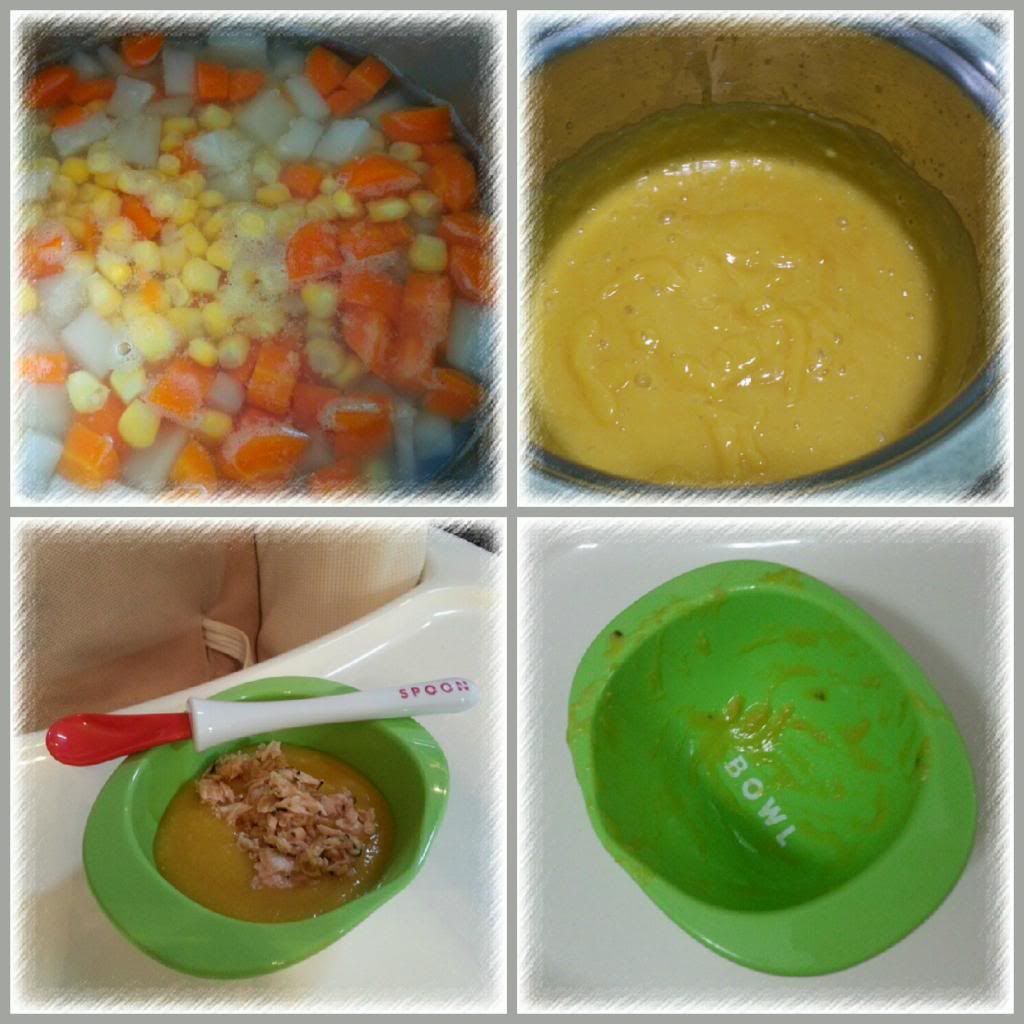 When the baby goes MmmMmmMmm at an empty bowl,
you know that dinner has been GREAT!
Bye bye Jarred Baby Food,
Hello Philips Jamie Oliver Hand Blender!!
Next up, corn soup. Hiroshi is obsessed with MOS burger's corn soup. And when he has it, Sophia wants one too! That makes it really painful for my pockets! I set up to find the perfect corn soup recipe.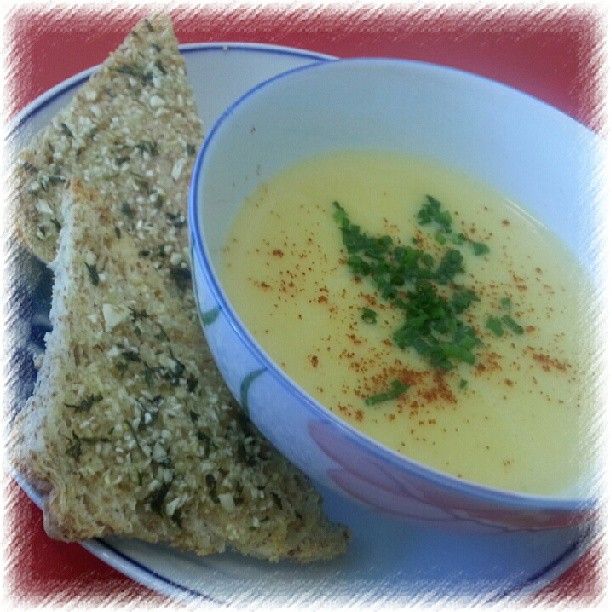 Ingredients:
450g frozen corn
1 medium sized potato, diced
1/2 medium sweet onion, diced
2 cloves garlic, minced
1 tablespoons butter
2 cups water
1 chicken cube
garnish with chopped chives and cayenne pepper or paprika
Directions:
1. Saute the onions, garlic and potatoes in 1 tablespoons butter in a pot.
2. Add frozen corn
3. Add 2 cups water & 1 chicken cube
4. Simmer for 15 minutes.
5. Using Philips Jamie Oliver Hand Blender, blend directly in pot!
6. Strain to achieve MOS burger's corn soup smooth consistency.
7. Garnish with chopped chives and cayenne pepper or paprika
And while I was at it, I made garlic bread to go with it too!
Ingredients
3 bulbs garlic
2 tablespoons olive oil
1 loaf of bread
1/2 cup butter
1 tablespoon chopped fresh parsley (optional)
2 tablespoons grated Parmesan cheese (optional)
Directions:
1. Preheat the oven to 175 degrees C. Slice the tops off of the garlic bulbs so that the tip of each clove is exposed. Place the bulbs on a baking sheet, and drizzle with olive oil. Bake for 30 minutes, or until garlic is soft.
2. Squeeze the cloves of garlic from their skins into a medium bowl. Stir in the butter, parsley, and Parmesan cheese until well blended.
3. Spread onto bread.
4. Broil for about 5 minutes, until toasted.
Hiroshi commented that it was way better than Mos Burger's corn soup. And in his words he said, "keep up the good work mum!"
Sophia wants a go at the Philips Jamie Oliver Hand Blender too.
A refreshing recipe of Yummy Mango Lassi.
Perfect beverage to beat this crazy hot weather!

We even manage to whip up Oreo cheesecake with this compact Kitchen Gadget.
So simple, that Hiroshi will show you how it is done!

This hand blender has been taking a permanent spot on my kitchen top ever since the day it arrived. We love how simple, quick and effective the Philips Jamie Oliver Hand Blender is. And we look forward in sharing many more recipes staring this amazing gadget!
Keep life simple with the PHILIPS | Jamie Oliver range
which includes a food processor (S$268), handblender (S$128) and blender (S$108).
Available at leading electronics and departmental stores.
Do follow Philips Twitter page at https://twitter.com/PhilipsSG and participate in the Twitter games to win up to $100 shopping vouchers!
You can find out more here – http://www.philips.com.sg/e/promo/promotions/general/gss-promotion.html
Financial compensation was not received for this post.
A sample product was gifted from Philips.
Opinions expressed here are my own.