This quick and easy okonomiyaki is so simple even the most unaccomplished cook is able to make it!
Okonomiyaki which is also know as the Japanese Savory Pancake contains a variety of ingredients which often includes cabbage as its main ingredients. The name Okonomiyaki is derived from the word okonomi, meaning "what you like" or "what you want" and yaki meaning "grilled" or "cooked".
Now, go make some and impress your tea time guest!
Ingredients:
1 cup flour
1 cup water
3 eggs
1/4 cabbage diced
1 carrot grated
2 leeks sliced
1 pkt crab sticks sliced
100g Bacon
Salt and pepper to taste
(*Just add whatever you like to this yummy pancake*)
Japanese Mayonnaise Sauce
Okonomiyaki Sauce
Dried Bonito Flakes
Method



1. Whisk flour, water and eggs together and set aside. (A)
2. Add Cabbage, Carrot, Leeks, Crabsticks in to flour mixture. Mix well.
3. In a well oiled pan with low heat, pour 1 cup of Okonomiyaki Mixture into the pan.
Lay 3 pieces of bacon across Okonomiyaki Mixture. Pan fry for 2-3 minutes.
4. Flip the pancake and pan fry for 2-3 minutes.
5. Plate Okonomiyaki. Drizzle Japanese Mayonnaise and Okonomiyaki Sauce. Top with Dried Bonito Flakes.
And Finally いただきます (itadakimasu)!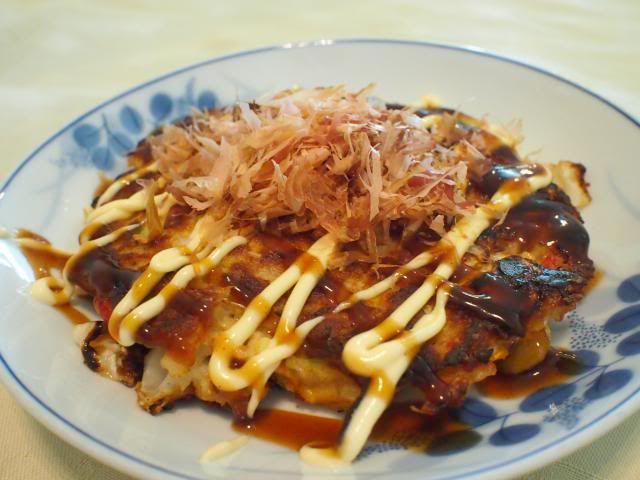 Linking up with: