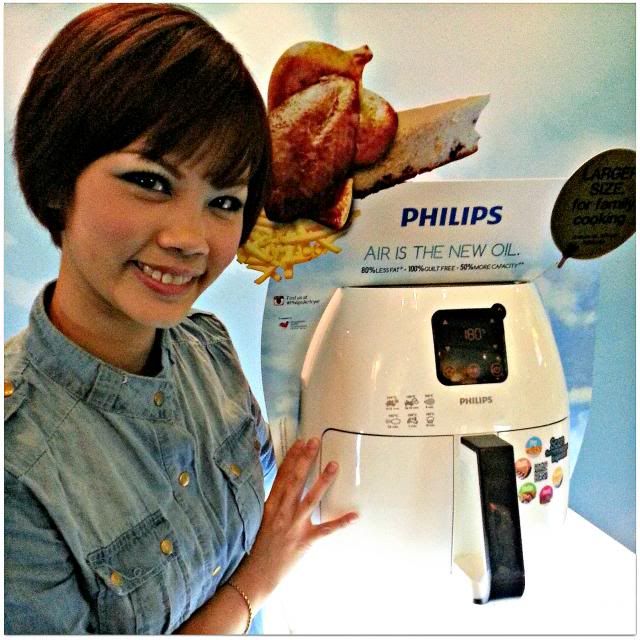 We love fried food, but we hardly get any of those at home. The cooking method of deep-frying is strictly forbidden in my kitchen.
I detest having to clean up an oily kitchen and the aftermath smell of deep-frying!
We did contemplate into getting a deep fryer, but changed our mind, feeling guilty at the amount of oil needed to fry our food.
When Philips introduced its first revolutionary Viva Airfryer in 2011, we were tempted to get ourselves one, but was skeptical about the claim of frying without oil. Needless to say, we didn't get one. But, our faith waiver over many occasions when there were sales on the Viva Airfryer!
I was absolutely delighted when Philps say they will be sending the latest model; Philips Avance XL Airfryer over for reviewing purposes.
The sleek Philips Avance XL Airfryer arrived with a fully colored recipe book featuring more than 30 yummy dishes.
Other than frying,
the Philips Avance XL Airfryer can also be used to grill, roast, gratinate and bake!


I was again impressed at new advancement of Philips Avance XL Airfryer when I attended the media launch hosted by Bryan Wong & Dable recently.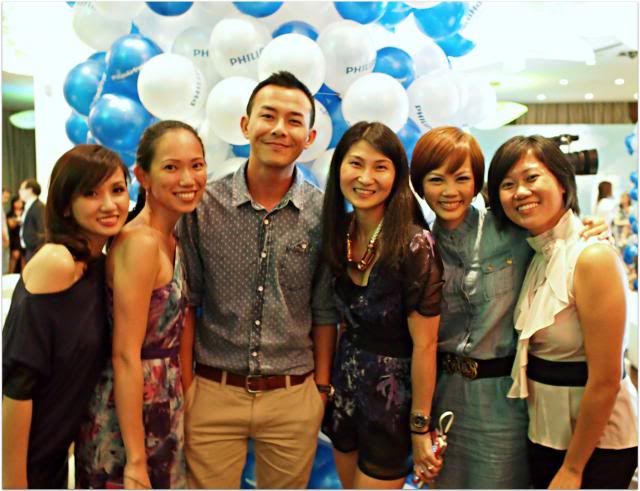 I am in love with my new kitchen tool and made so many healthy meals with it! The latest Philips Avance XL Airfryer has a bigger capacity of 1.2Kg, which is good to feed 5 adults. An increase wattage of 2100w as compared to prior model simply means an increase in power for faster cooking results. Esthetically good-looking with digital screen for easy control of cooking time and temperature.
I am sharing my favourite Chicken Cordon Bleu recipe done with the Philips Avance XL Airfryer instead of conventional methods of frying it in sinful butter. It's 100% oil free as compared to original recipe! Good on the lips, Great on the hips!
Cordon Bleu Chicken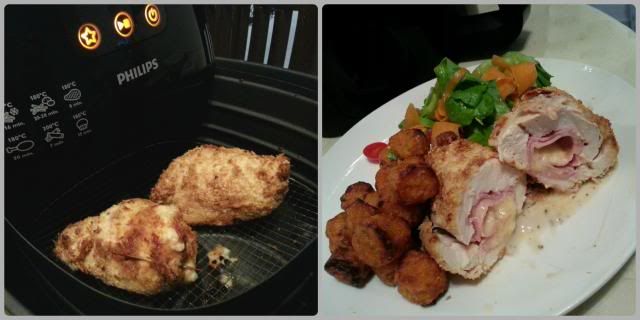 Ingredients
8 Chicken breast
8 Ham
8 Swiss cheese
Salt, pepper, and dried rosemary
Flour
2 Egg
Breadcrumb
Toothpick
1 Campbell Chicken Soup
1/2 cup Sour Cream
1 tsp Lemon Juice
Directions
1) Pound chicken breasts if they are too thick. Marinate chicken breast with salt, pepper & dried rosemary. Place a ham & cheese slice on each breast within 1/2 inch of the edges. Fold the edges of the chicken over the filling, roll and secure with toothpicks.
2) Dust Chicken with flour, then dip into egg and finally roll it onto dried breadcrumbs.
3) Preheat Philips Avance XL Airfryerfor 3 minutes at 180°c. Place chicken into Airfryer and cook for 10 mins. Increase temperature to 200°c and cook further for 8 mins.
4) Remove toothpicks when done.
To Make Chicken Cordon Bleu Sauce:
In a small saucepan mix together the soup, sour cream and lemon juice. Heat over low heat, stirring occasionally, and serve hot over Chicken.
Not a lot of work for a fancy french name isn't it?
Bon Appétit!
Still not fully convinced that Air is the New Oil?!?!?
Head over to "I Love Philips Airfryer" facebook community by Dable Kwan for many exciting testimonies and inspiring healthy meal ideas.

Cook with Air today! Quote SingaporeMomBlogs and buy the Viva Digital Airfryer at $399 (Usual price: $459), FREE $50 SHOPPING VOUCHER and Avance XL Airfryer at $479 (Usual price: $539), FREE $50 SHOPPING VOUCHER at the PHILIPS EXPERIENCE SHOWROOM. This promotion is valid from 1st December till 31st January 2014.
Limited to 1 Airfryer per person. IC must be produced.
PHILIPS EXPERIENCE SHOWROOM
Address: 620A Lorong 1 Toa Payoh Building TP4 Level 1 S(319762)
Tel: 6882 5800
Opening hours: Monday to Friday: 9.00 am – 7.00 pm Saturday: 9.00 am – 1.00 pm.
Closed on Sundays and Public Holidays.
The Viva Digital Airfryer and Avance XL Airfryer are also available at regular prices in leading electronics stores, department stores and supermarkets island-wide.
Keep life simple with the PHILIPS Philips Avance Collection Airfryer XL with Rapid Air technology (S$539). Available in stores in December 2013 at leading electronics and departmental stores.
Full Disclosure: We were gifted Philips Avance XL Airfryer for reviewing purposes. No compensation was recieved for this post. All views and opinions are my own.