We recently attended the launch of Lucky Baby Avenue 2 Buggy at iScream; a boutique style ice cream parlour nested in the heartlands at Bedok.
(Totally missing Estella in our M.I.C.E set up.)
Lucky Baby is a home-grown heritage brand that has grown exponentially in the export markets since 1979.
---
Modern appearance of the Lucky Baby Avenue 2 Buggy won me over even before bringing it out for a test drive.

It is available in 2 stylish combination; Blue+Brown & Beige+Black.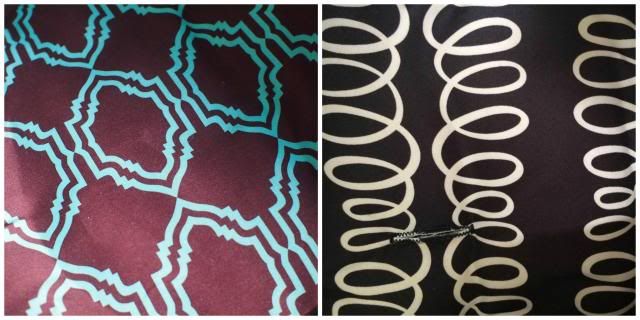 At Approximately 7.6kg, the Lucky Baby Avenue 2 Buggy isn't the lightest buggy around. But the solid aluminium structured buggy is very sturdy and well made.

Safety ranks highly in our quest of picking a suitable buggy.
Lucky Baby Avenue 2 Buggy not only has a 5 point harness system,
it is also in compliance with the European Pushchairs and Prams Standard.

The sturdy wheels manoeuvre effortlessly. Fluid braking system. Lucky Baby Avenue 2 Buggy also offer shock absorption system for a smoother ride.

Full Canopy offers protection against the harsh sunlight. There is even a mesh opening on the canopy for better ventilation. The seat on Lucky Baby Avenue 2 Buggy is so wide and spacious that James sleeps comfortably on it.

The shopping basket is somewhat small-ish. But, it is still able to fit a small diaper bag and some light grocery shopping. There are also additional pockets of storage space behind the buggy. Perfect for essentials and a pack of handy wet wipes.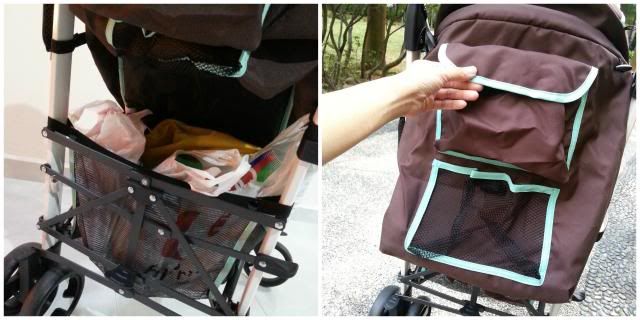 Most importantly, it is a "One Hand Operating System" Buggy. Only one hand is needed to close the buggy and recline the buggy.

In all aspects, this seems like the ultimate buggy. But, I have only one grouse over it. The handles. The ergonomically designed handles are comfortable, but I'm just not sure how much abuse can the spongy rubber handle.
Even with that being said, the Lucky Baby Avenue 2 Buggy is a good investment. Comfortable, sturdy and exceptionally well made! Definitely value for money.
See if the Lucky Baby Avenue 2 Buggy
survived the harsh scrutiny of the other 4 mom bloggers.
AmazinglyStill, CherieLadie, MummyEd & Miracule.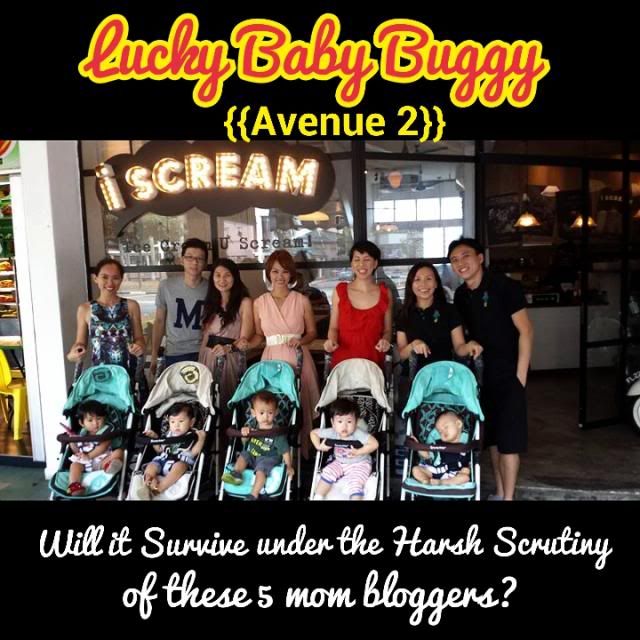 Lucky Baby Avenue 2 Buggy is suitable for babies from 6 months onwards and could carry a maximum weight of 15kg.
Lucky Baby Avenue 2 Buggy is now priced at the promotional rate of S$149 (Usual: S$199) at OG and Metro.
Visit Lucky Baby International Facebook Page for more informations.
Full Disclosure: We were gifted the Lucky Baby Avenue 2 Buggy for reviewing purposes. All views and opinions are our own.