I am not an adrenaline junkie.
Where people gamely put on their bucket list
to leap over bridges with their dear life hanging on a thread,
or jump out of an aircraft in blind faith that the parachute will open.
Mine was to safely live till I am 101!
There is simply too much too lose as a mother of 3.
But when we received an invitation from iFly Singapore. I was escalated to find that I could in fact experience the thrill of skydiving without any associated risks that comes with it! I knew I had to pound on such an opportunity!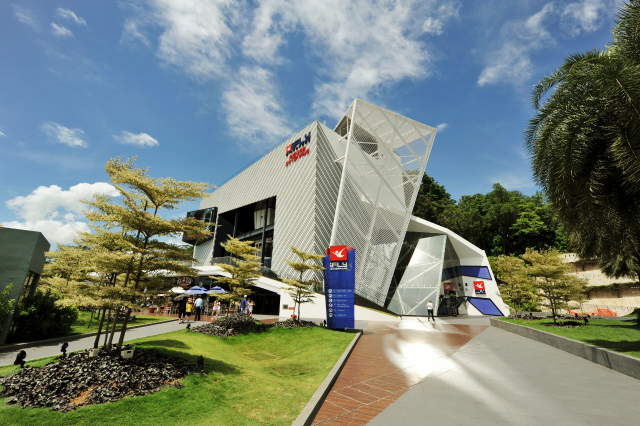 Spanning at a height of 56.5 feet and width of 16.5 feet, at almost 5 storey high, iFly Singapore is the world's largest indoor skydiving simulator.
The 18 feet tall acrylic wall glass offers unparalleled view of the South China Sea and a nightly firework display from the nearby Songs of the Sea.
Wall-to-wall airflow with its multiple fans technology ensures flyers never experience turbulence or fall out of the airflow.

Stainless steel elastic net at the base of the wind tunnel is strong enough to hold two adult elephants (or 200 people of 100kgs each)!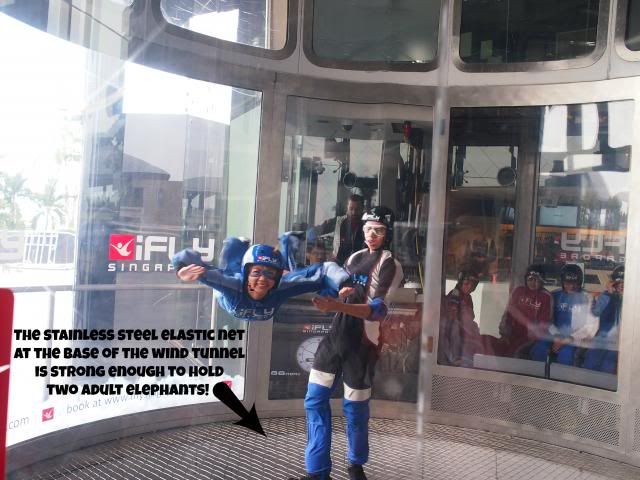 The wind tunnel has undergone rigorous testing. It is so SAFE that accident rates remain as ZERO since the day they started operations!
iFly Singapore even earned Bragging Rights to 4 Guinness World Records.
Namely;
-MOST SKYDIVERS IN A WIND TUNNEL
-LONGEST INDOOR FREEFALL
-MOST SKYDIVING WIND TUNNEL VERTICALS IN ONE MINUTE
-MOST BACKWARDS SOMERSAULTS IN A WIND TUNNEL IN ONE MINUTE
Enough TALK! Now watch us FLY!
(And since Hiroshi and Sophia passed the minimum age of 7, they get to fly too!)

It is simply liberating to experience true free fall conditions. Every flyer will get to fly twice in the flight chamber. And each flight will last 45 second long! That is approximately the time it takes for you to fall through the air from 12,000 feet to 3,000 feet!
Indeed. Anyone can Fly!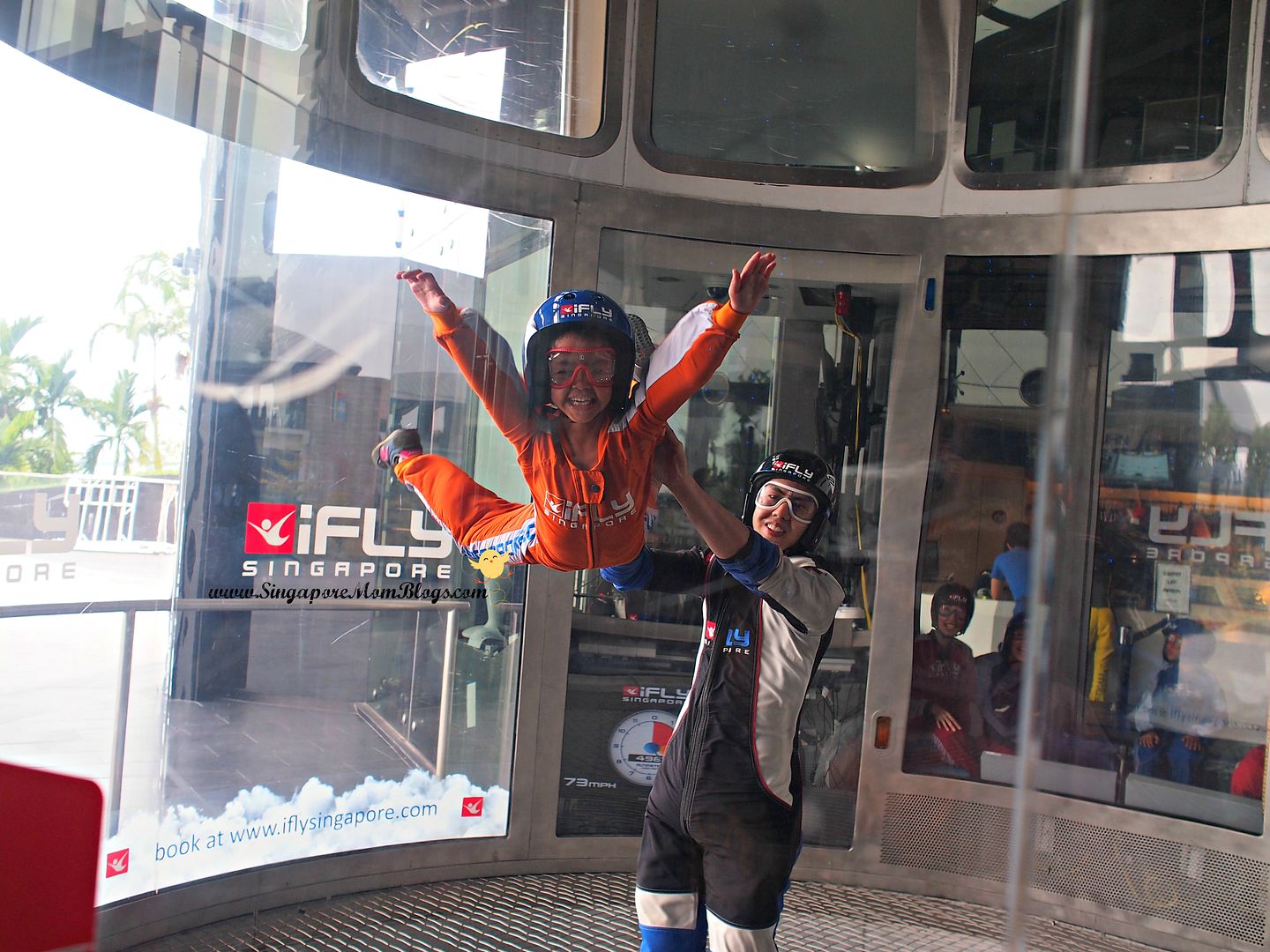 And since we flew…..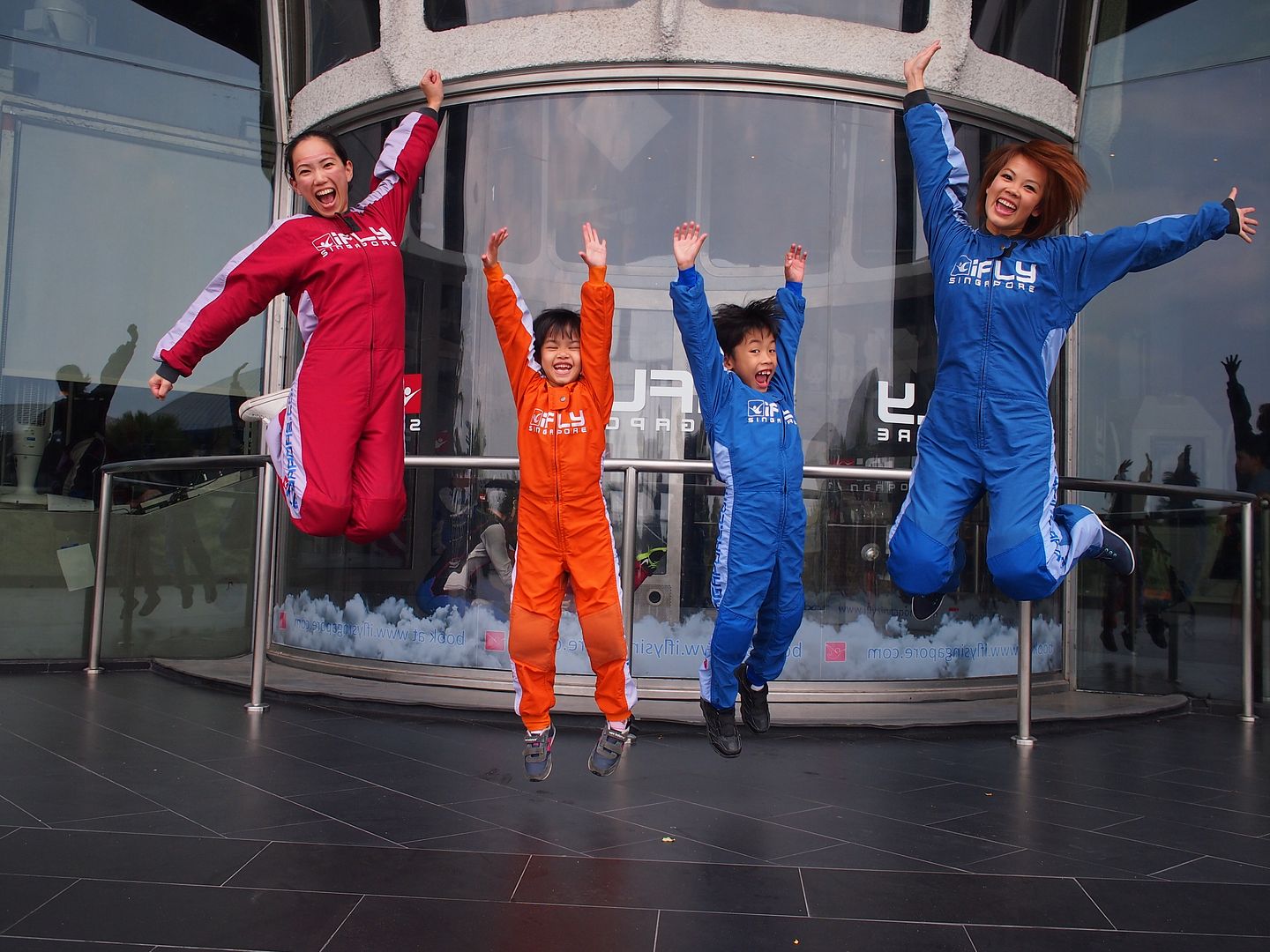 Now you can fly too!
We are giving away 2 FREE flight to iFly Singapore.
All you need to do is:
1. Comment on this blog post, tell us How many Guinness World Records has iFly Singapore broken so far? Name one of such records.
2. LIKE iFLy Singapore Facebook Page and SingaporeMomBlogs Facebook Page.
3. Share this blog post on your Facebook Wall with the Caption "FREE Flights at iFly Singapore" (Do ensure that your post is public and TAG SingaporeMomBlogs.)
Terms and Conditions:
* One (1) winner gets to win a pair of iFly flights
* Actual flight date(s) are subject to availability and co-ordination with iFly Singapore.
* Open to Singapore residents only.
* Giveaway ends midnight of 7 April 2014
* Incomplete or inappropriate entries will be disqualified
* Winner will be randomly selected and announced on my Facebook Page on 8 April 2014, you will have 3 days to respond, failing which the prize will go to another randomly selected winner.
* This giveaway is in no way sponsored, endorsed or administered by, or associated with Facebook
Full Disclosure: This flight experience, and a DVD of it, was provided by iFly Singapore for the purpose of this review. All opinions reflected in this post are my own.
---
And the Winner of the iFly Singapore Giveaway are finally out!
The Winner is:
Jaime Chan
We will be conducting you very shortly about the collection of your prize and many thanks for Everyone's participation!
Do keep a lookout for our Next Giveaway, as there is always something happening at SingaporeMomBlogs.com