It's appearing everywhere on my social media feed.
It's calling out to me, I swear!
I had to have a go at the latest fast food phenomenon
that has taken Singapore by storm.
4 Fingers Crispy Chicken;
the partnership of 4 foodie friend
with promises of the best Koren-styled fried chicken.
As the name clearly suggest, the main highlights were chickens.
Diners were given a choice of either soy garlic or hot sauce
to be "hand painted" on those crispy chickens.
Image Credits: 4 Fingers Crispy Chicken Website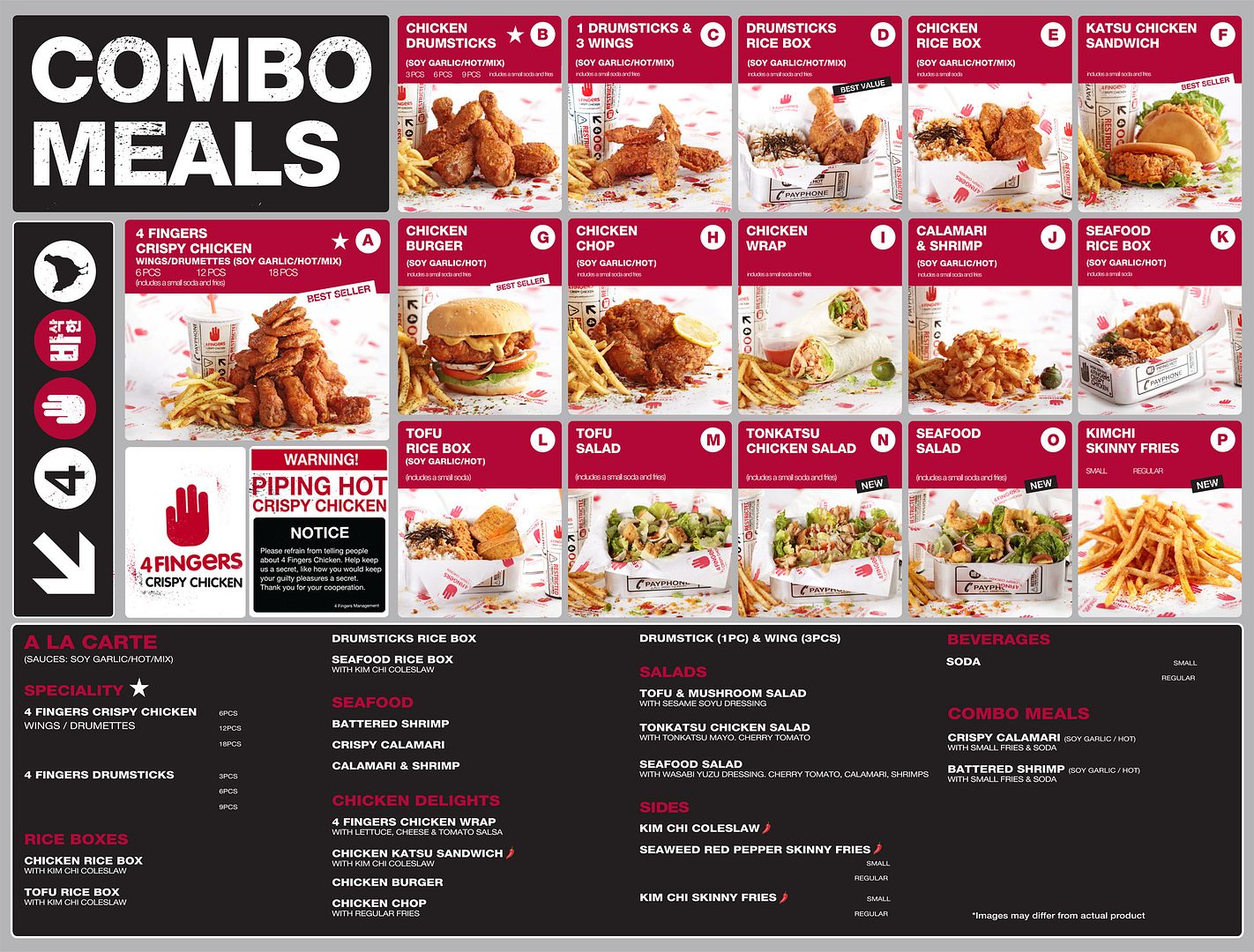 Hiroshi had 3 piece chicken drumstick (soy garlic) combo meal, that comes with a drink and fries. We were also given a choice of either kim chi skinny fries or seaweed red pepper skinny fires for our sides and we chose the later.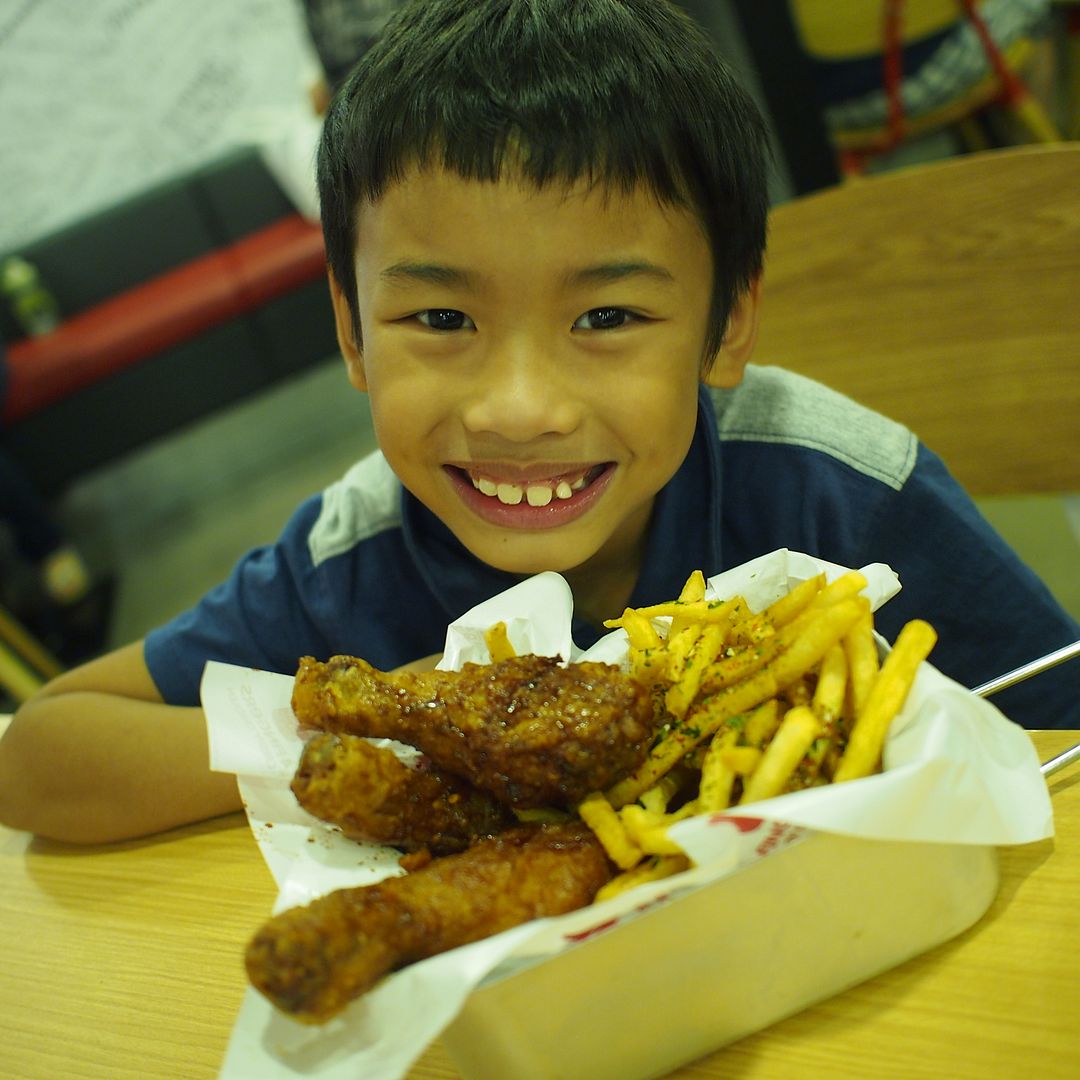 When we first sank our teeth into those tender drumsticks, it tasted different. It was very flavorful. But, I didn't remember it being crispy. Nonetheless, Hiroshi polished the mass tin until kilat kilat!
Many diners were found upgrading their combo meal drinks to Honey Yuzu Tea or Honey Aloe Tea. We had the Honey Yuzu Tea, but the kids didn't think much of it. Maybe the Honey Aloe Tea might be a better choice for kids?
Sophia had Tonkatsu Chicken Salad combo meal, which came with a drink and fries too.

The adventurous food lover was found picking at her food. She didn't like it at all. I had to cover her in order to reduce food wastage. Now you know why the pregnancy bulge never wears off! It wasn't that bad… But I wouldn't say it tasted incredible too…
I love Calamari. So when I found it on the menu, it was a sure order for me.
Again we were given a choice of either soy garlic or hot sauce for the calamari. I chose soy garlic since I thought the kids might like some of my calamari too.

The squid was tender and the batter light. Love the idea of using a calamansi instead of the usual lemon. Making it very "local". I personally enjoyed this one.
Overall dinning experience was pleasant.
The restraunt is extremely clean and spacious.
Image credits: 4 Finger Crispy Chicken Fb Page.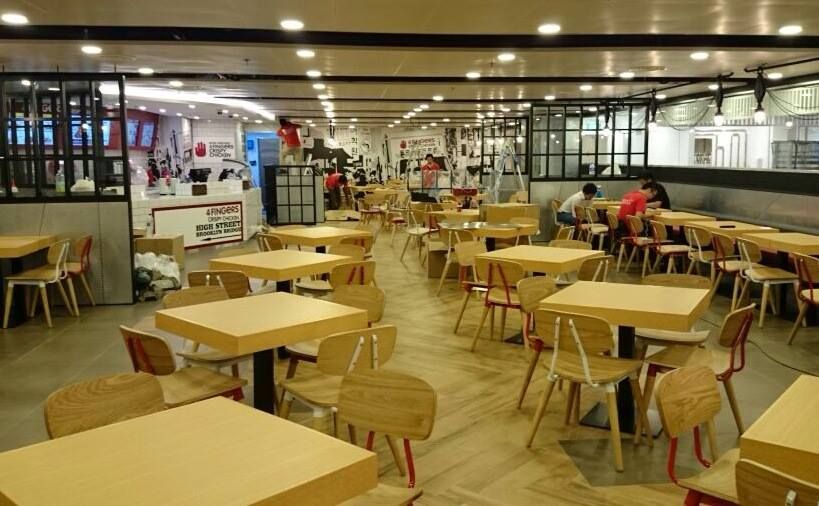 But, I won't say that this was value for money. We spent on an average of $10/pax but the food just won't cut it. At the end of my entire dinning experience, I couldn't tell apart the chickens from squids anymore… They all just tasted like soy garlic.
But still, I'll say go try it for yourselves and let me know if you felt differently.
(oh… and do be expected to battle a long queue during peak hours)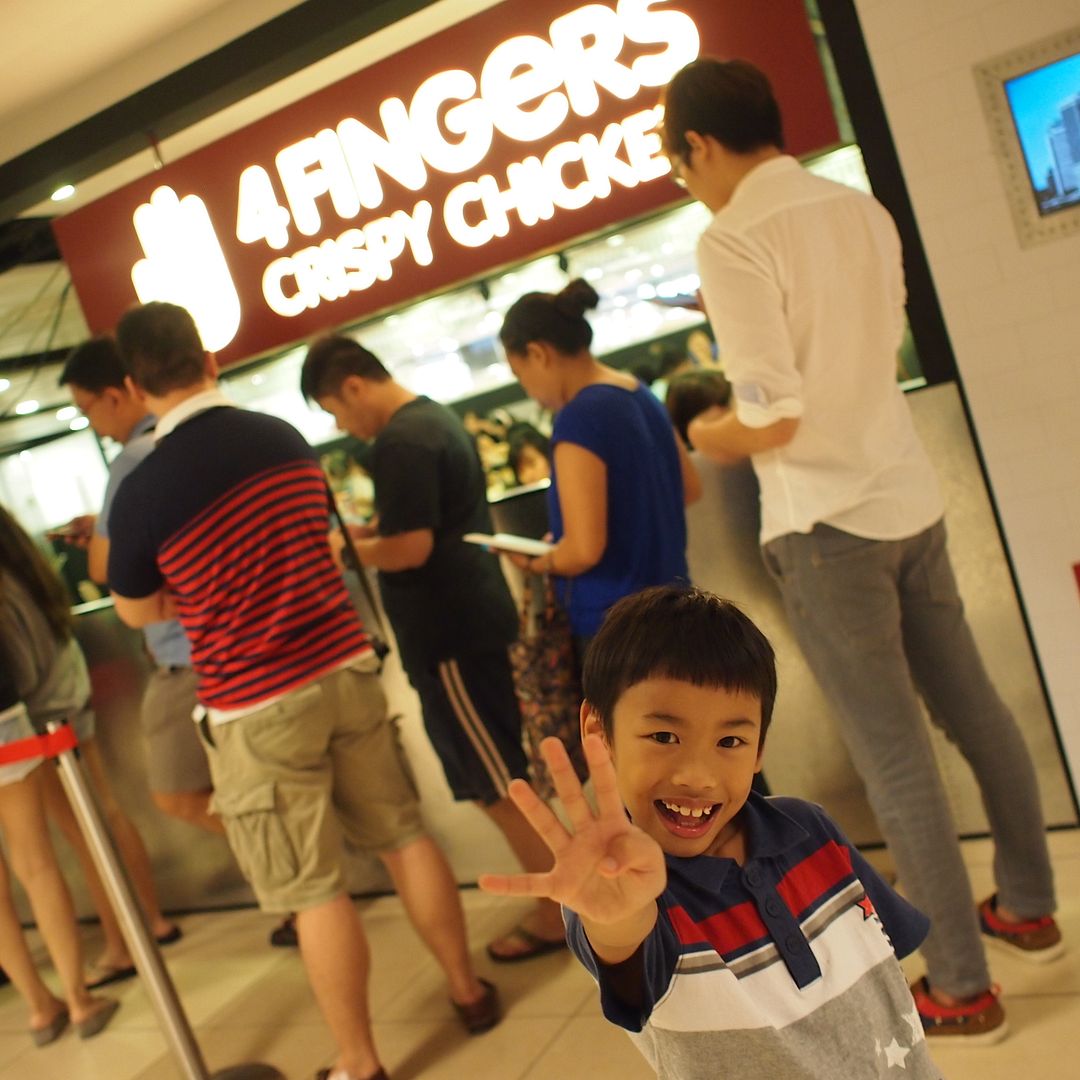 Get your 4 Fingers Crispy Chicken at
ION Orchard #B4-06A, Westgate #02-05, Changi Airport T3 #B2-02.
Bon Appetite!