A myriad of dining options awaits us at the newly renovated Marina Square, but for today, we're checking out Kai Garden, a restaurant that specialises in fine Cantonese cuisine. Owner and Executive Chef Fung Chi Keung heads the kitchen at Kai Garden. An award-winning chef whose inimitable style and sumptuous dishes have placed him among the elite of much sought-after chefs in Singapore.
The first thing we noticed at the entrance of Kai Garden was the uber grand function room that accommodates up to 60 seats. Perfect for Ah Mah and Ah Gong "BIG" birthday bash! Chef Fung and his team can even create a menu according to your unique specifications. So steady hor! Ah Mah and Ah Gong sure happy one loh!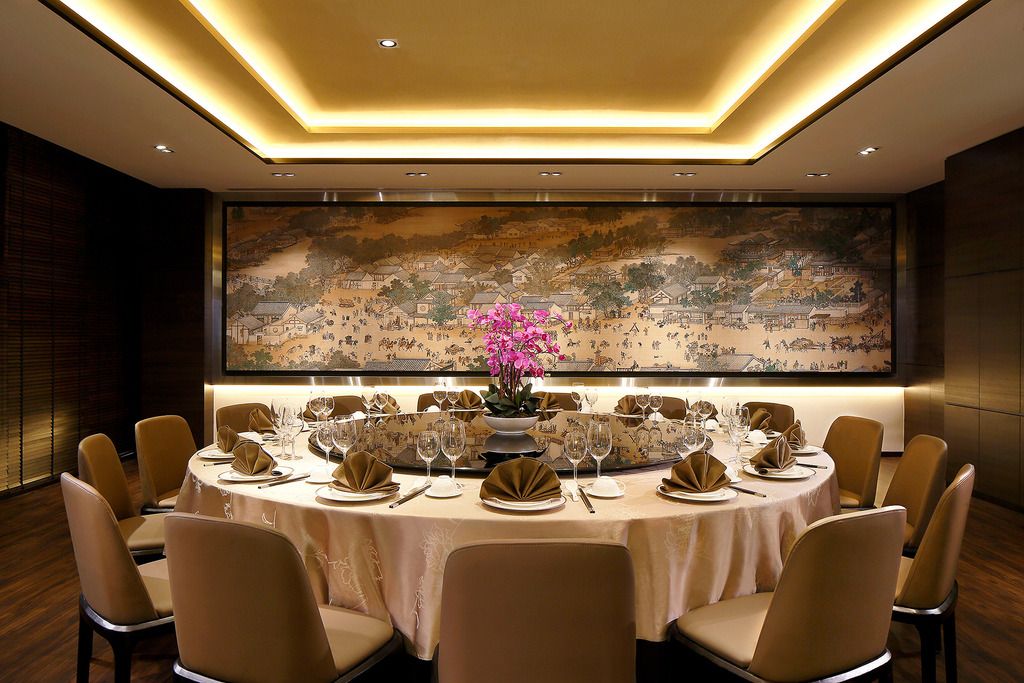 Apart from the spacious main dining hall which overlooks the beautiful skyline of Marina Bay, there are also 4 other private rooms for smaller parties of 4 to 16 people.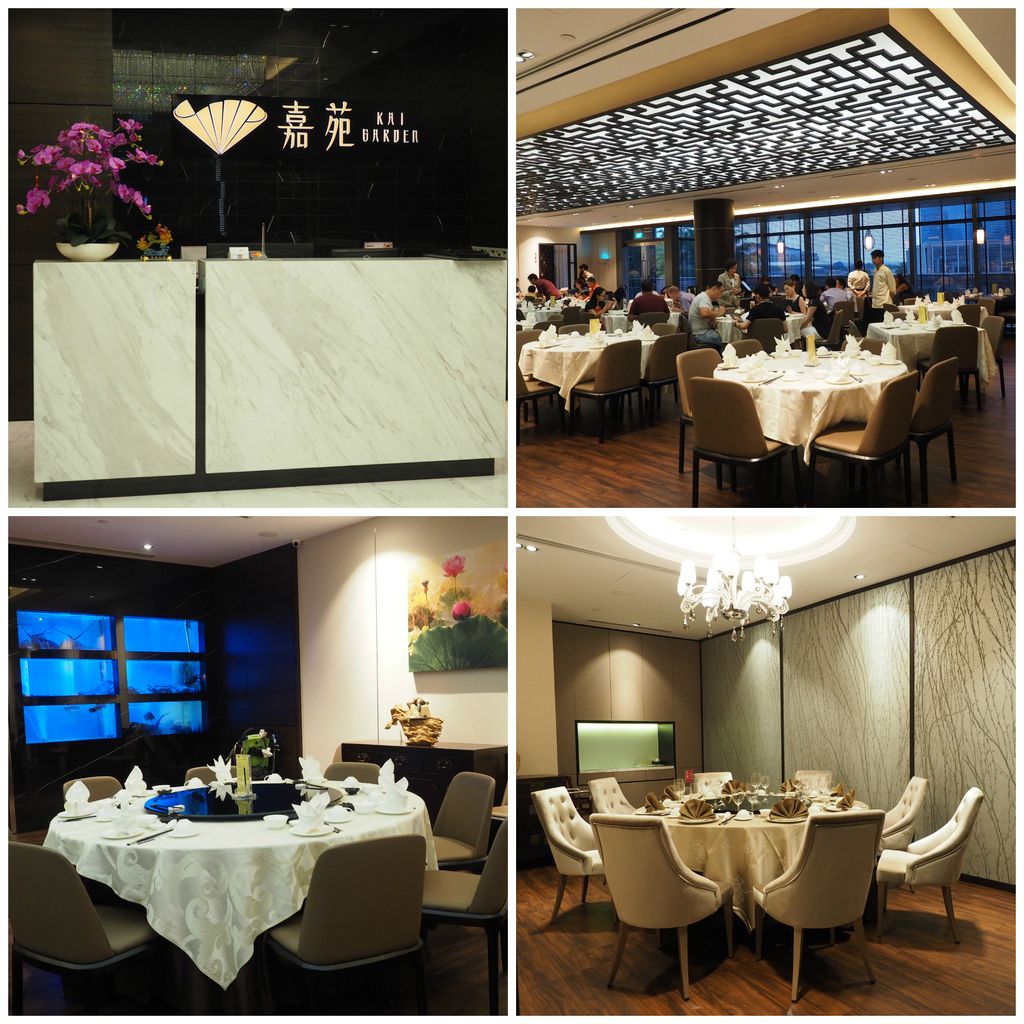 We embark on the journey of a humble family meal (家常便饭) at Kai Garden as Chef Fung unviels the brand new Family Favourites menu that harks back to his past. A reminder of comfort home-cooked meals that he relished while growing up in Hong Kong.
First up, inconspicuous braised home-made dace with black bean sauce that brought back many nostalgic memories. Canned dace with black beans used to be my favorite. But we stopped eating canned dace quite a few years back due to a food scare. As compared to canned dace, the ones from Kai Garden are distinctively meatier and has a better texture. It was also significantly less salty. Served over a bed of pickled mango, this is seriously the ultimate appetizer! ($11.80)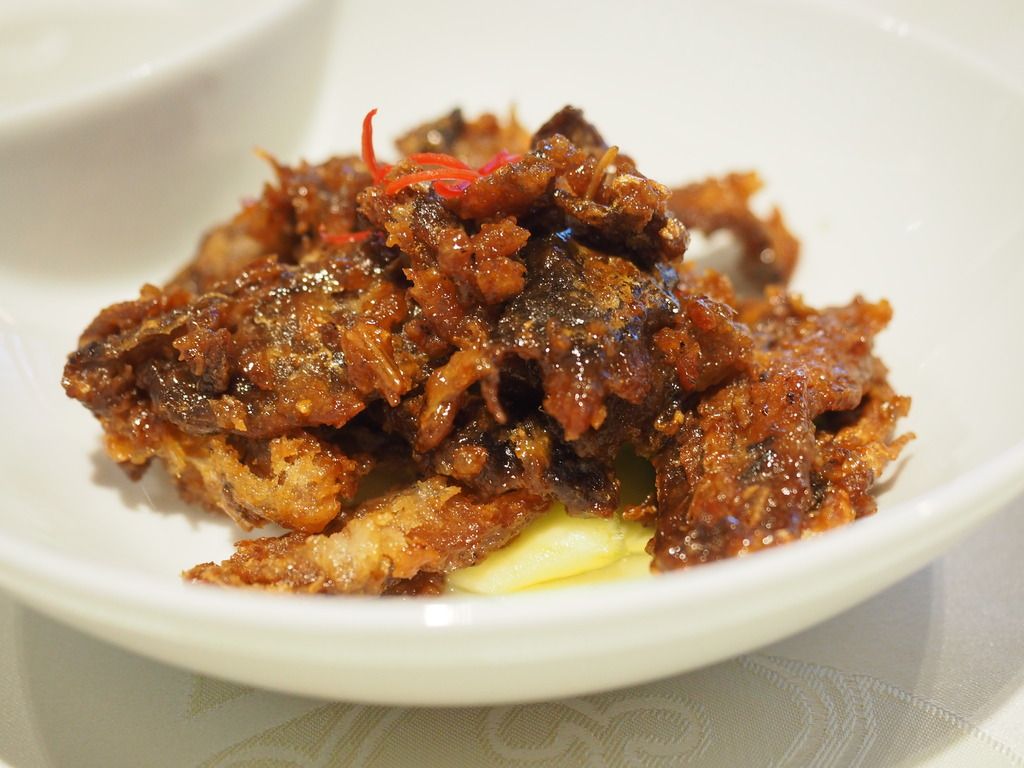 I raised my brows while reading the menu. An unusual union of chicken and flower crab. Chef Fung deliberately used kampung chicken in this dish so that its FIRM texture and slight gamey flavors would be a nice contrast to the sweet tasting flower crab. We were all given plastic gloves so that we could devour our flower crab with finesse. Nice touch, feeling damn atas! $48.00(Half), $88(Whole)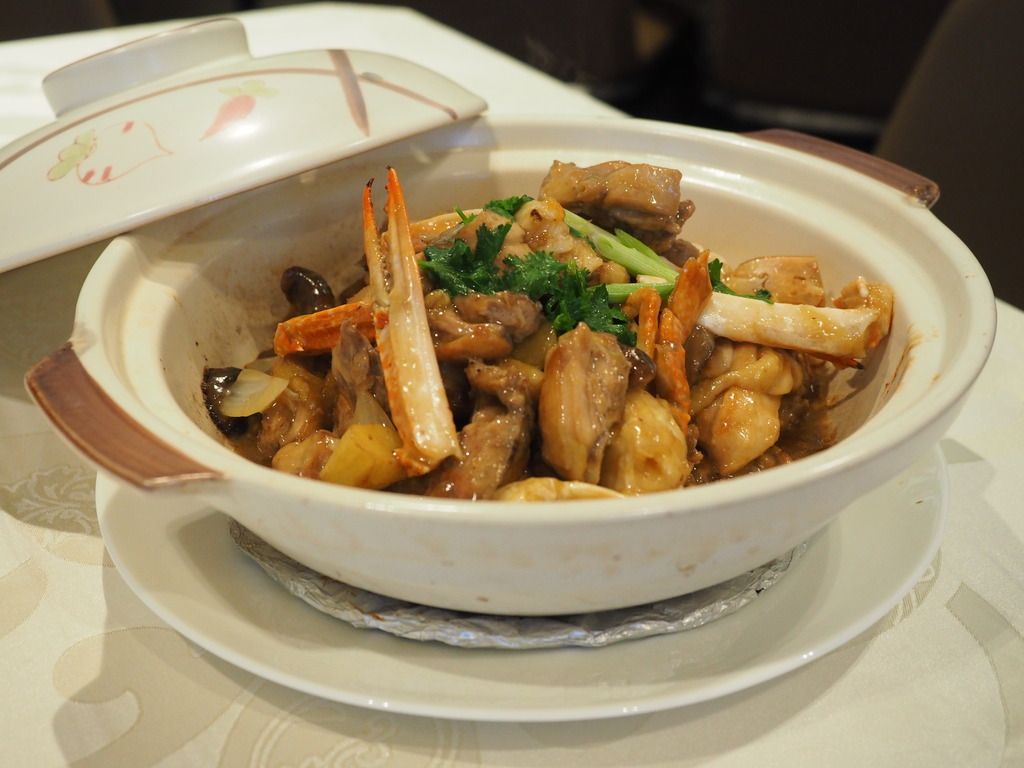 Tiger prawns were sautéed together with fish maw and abalone sauce, a savory dish brimming with rich flavors of the sea. The sauce was so good that Hiroshi loudly proclaimed that he was going to finish his rice with just the sauce alone! ($35.00)

I'm feeling meh about this one. Perhaps, just personal preference since the BlogFather says this one melts in the mouth like a savory cream. I was hoping for something more savory like dried shrimps on top of those baked eggplant rather than Chef Fung's tangy sweet and sour sauce which was topped with fluffy pork floss. ($18.00)

Thick slices of filleted garoupa, stir-fried with tofu and bamboo shoots, served in a stone pot to lock in the harmony of full flavours. Loving all the different texture all in one dish! ($38.00)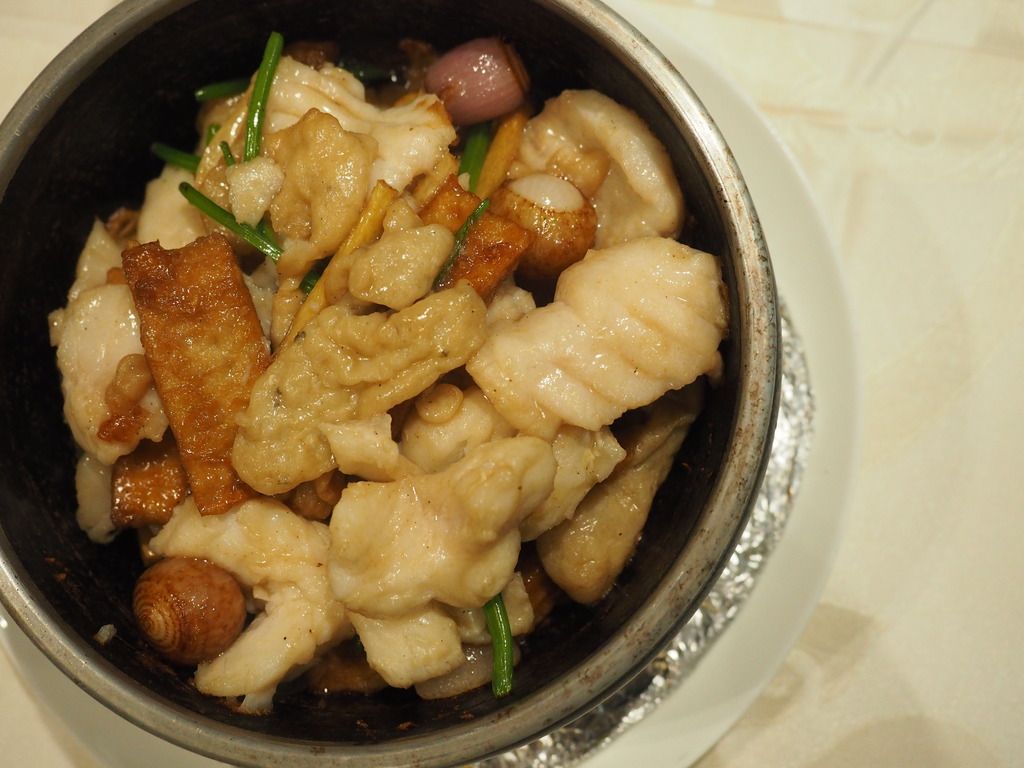 Tender pork ribs were marinated and prepared with Chef Fung's secret seasoning. It is then pre-fried to achieve that perfect crisp and finished in a caramelised glaze of honey pepper sauce topped with almond flakes for that added crunch factor. Ho Ho Sek! ($22.00)

We heard that the dessert chef sit air-ro-plane come from Thailand one leh. Clearly explains all the Thai influences in the dessert menu. The mango and coconut milk sticky rice is as authentic as you can get without flying all the way to Thailand. $10.80

Sweet temptation is great for people who are indecisive or watching their diet. A sampler portion of 3 different tantalizing desserts and a wee bit of fruits. 1. Chilled mango puree with sago and pomelo. 2. Chilled coconut puree 3. Chilled aloe vera with lemongrass jelly in lime lemonade and sour plum. Love the last one many many, coz sour sour. Super refreshing! $15.00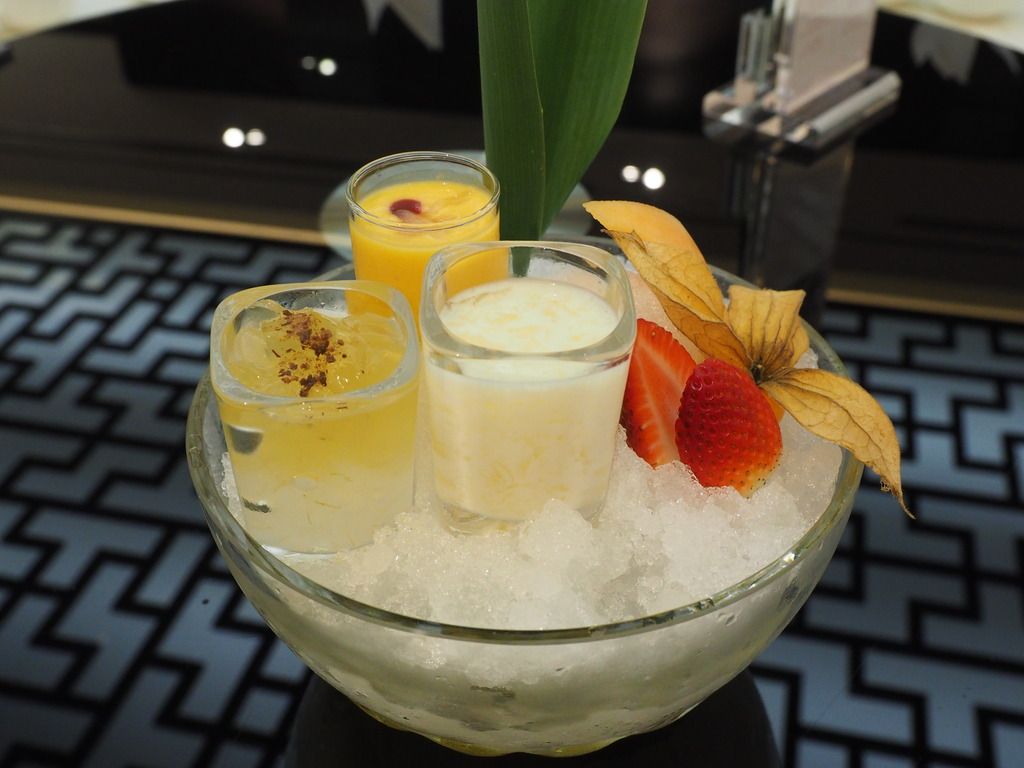 The humble meal was great but all my dinning companions were craving to explore the full potential of Chef Fung. We all went back to Kai Garden within the same week of the invited tasting. But this time round, we paid out of our own pockets for this ATAS meal!
Judging from the looks of this dish, I was expecting sweet tasting cherries. But my taste buds were greeted with delicate buttery chilled foie gras instead. Instagram worthy! ($24.00)

Apart from presenting a perfectly roasted Peking duck, we were also introduced to 5 different accompanying sauces. Traditional, Black Pepper, Sesame, Seafood, and a Special Mixed sauce specially prepared by Chef Fung. I enjoyed the aromatic black pepper sauce as well as the seafood one which has bits of crab meat incorporated into it.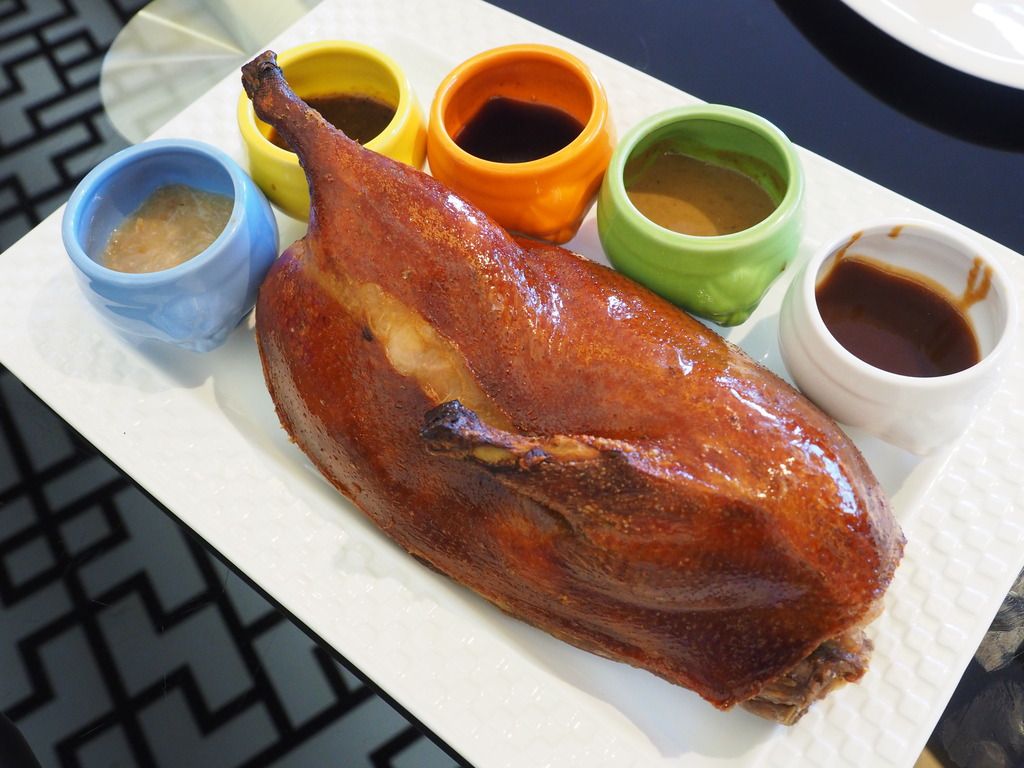 This dish was also served with a choice of 5 different skins; Original, Pumpkin, Spinach, Bamboo Charcoal, and Beetroot skin. Aesthetically pleasing, but it does nothing to alter the flavors of this Peking duck dish. 5 unique wraps accompanied by 5 flavorful dipping sauces. Was Chef Fung gunning for a perfect 10 (食全食美) in this signature dish? Confirm + Guarantee nailed it loh! The crunchy rice cracker gave this dish added texture and the sauce complimented the crispy Peking duck skin exquisitely. Uniquely Kai Garden (Half: $48.00)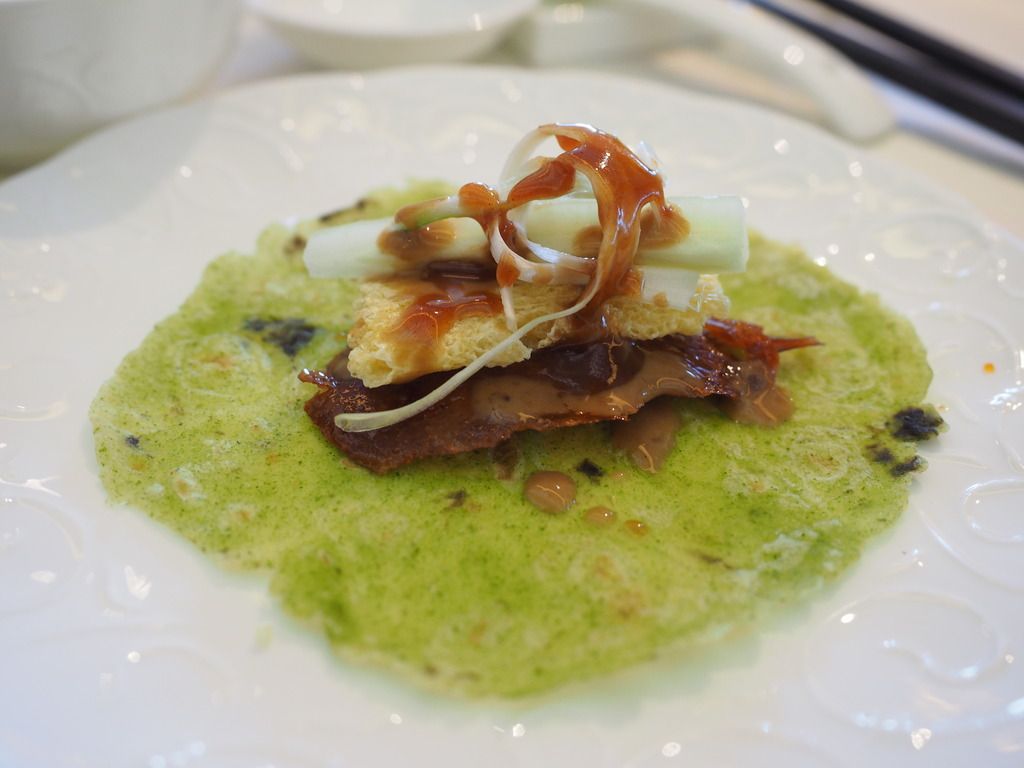 Being Cantonese means my late grandma would never allow anyone off the dining table until we polish up our soup served at each meal. The true test to a good Cantonese restaurant is through it's soup! We wanted something that would make a dramatic entrance and wow our senses. Lo and behold, WHAT THE FISH is that!

Generous thick slices of Garoupa poached in lobster stock! (Damn ATAS right?!?) It's priced at $20 per 100grams. Think this should be a seasonal priced item on the menu. Before you get a rude shock when you see your receipt, this "WOW FACTOR" cost us a whopping $160!

The freshness of garoupa shines through in this soup! Flesh of the garoupa is QQ one leh! When served together with flavorful rich lobster soup, it's a match made in culinary heaven!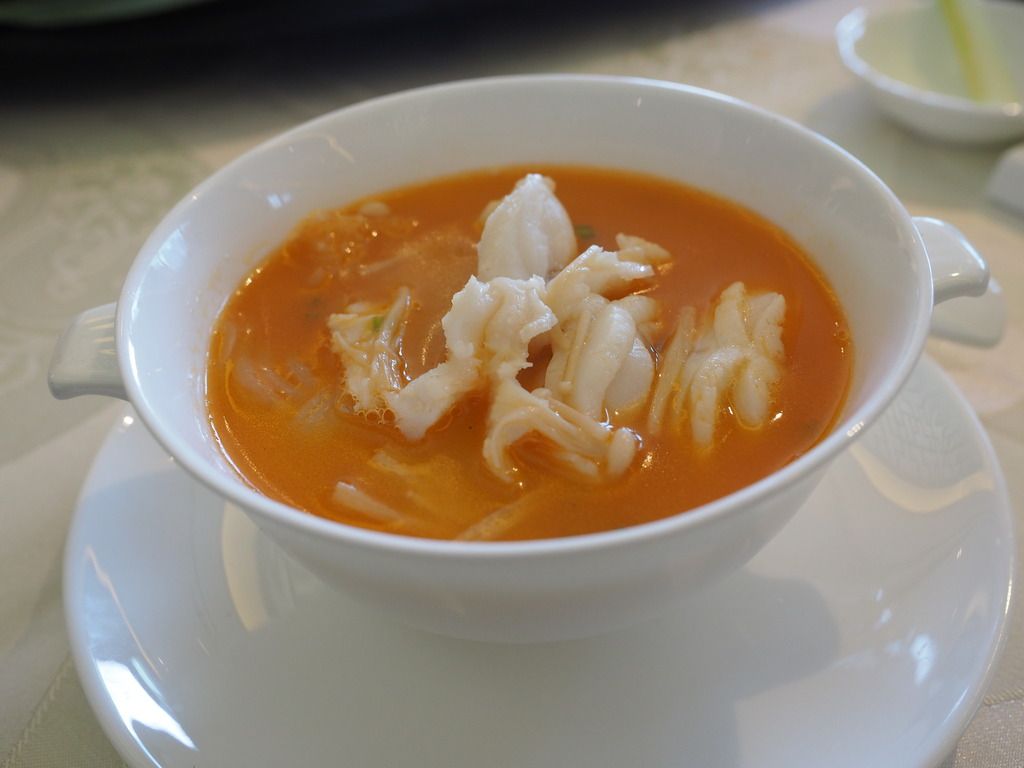 This is one siew mai that makes the cut and exceeds my expectation! Thin skin, thick filling. First steamed to perfection then pan-fried with a Japanese inspired glaze and finally topped with fresh roe. If there is only one thing that you die die must order from Kai Garden, THIS IS IT! ($8.80)
Having tasted both ends, from a humble to a atas meal at Kai Garden, I hereby declare that Chef Fung is culinary talented! Like damn bloody godly talented can?!? Each dish (No matter humble or atas) is presented with the chef's renowned style and interpretations of heritage Cantonese classics. Interesting twist to old classic. Love it!
My final parting words?
GOT TO HAVE THAT SIEW MAI AGAIN!
Kai Garden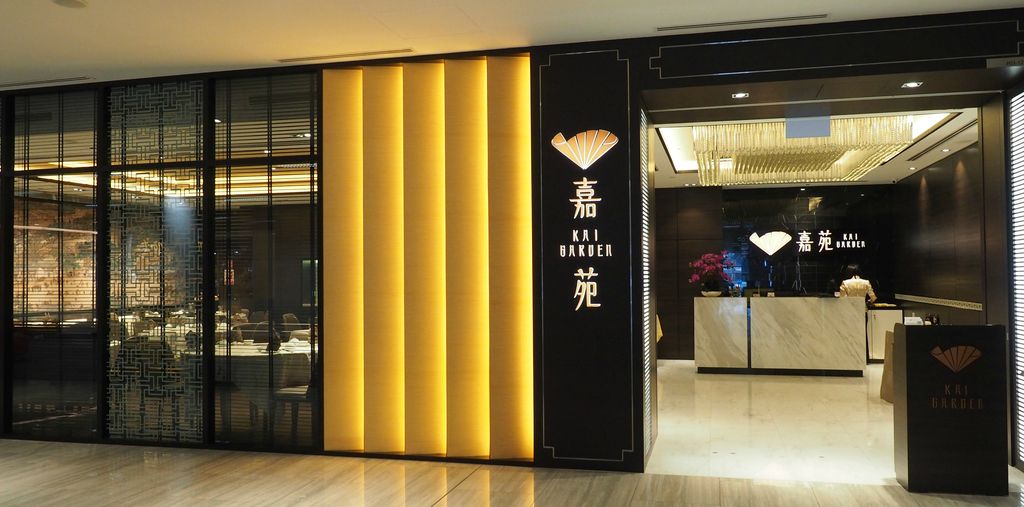 Website | Facebook
Address: 6 Raffles Boulevard, #03-128A/128B, Marina Square, Singapore 039594
For reservations: +65 6250 4826
Disclaimer: We were invited to experience Chef Fung's humble selection of Family Favorite meal through an invited media tasting session at Kai Garden for the purpose of this review. However, the atas meal we had at Kai Garden were paid for through our own pockets. #AhSoh血汗钱 #AhSoh买菜钱 All photos and opinions are ours. No monetary compensation was received.