When you see Walter relaxing by the front lawn of Singapore Art Museum,
it simply means that Children's Season is back!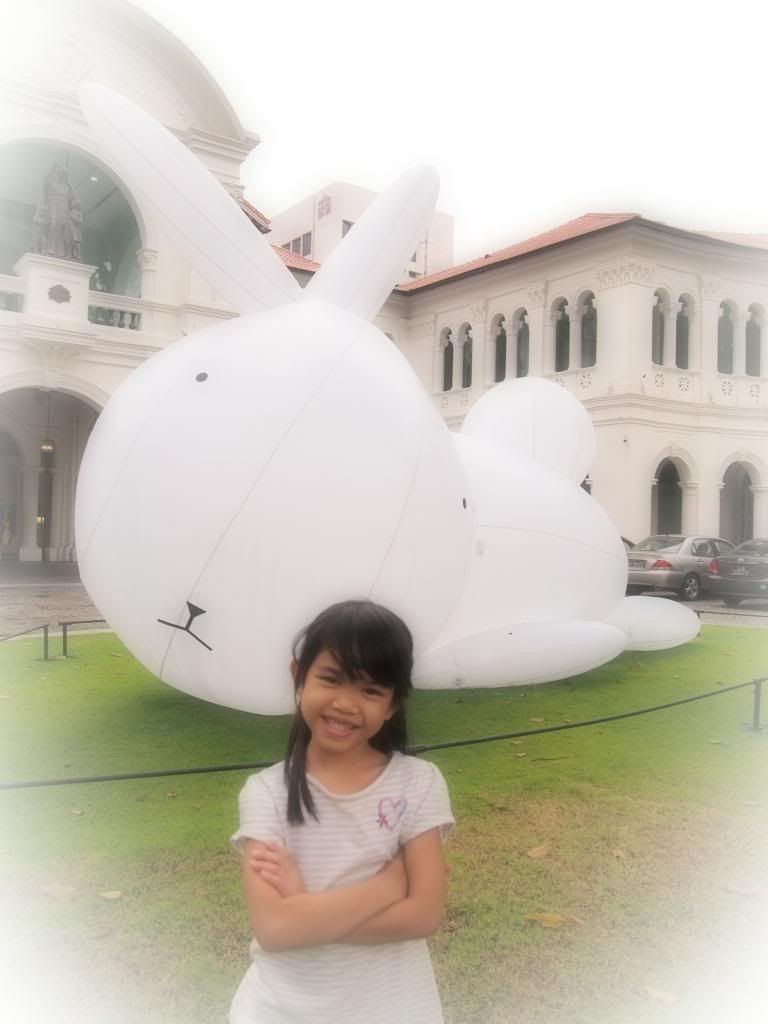 Art Garden 2013 at the Singapore Art Museum is back!
But is it Bigger and Better?!?!?!?
Read on and see what we think of it…..
4 levels of Contemporary Art Fun for Children.
Level 1
Landscape In The Box
by NUS Architecture Students lead by tutor Raffaella Sini
Sophia was not impressed when we were greeted by this installation at the front door.
In her words, she said; "Art Museum so BORING!!!"
In short, don't waste your time here….
there are many other more worthy exhibition than this one!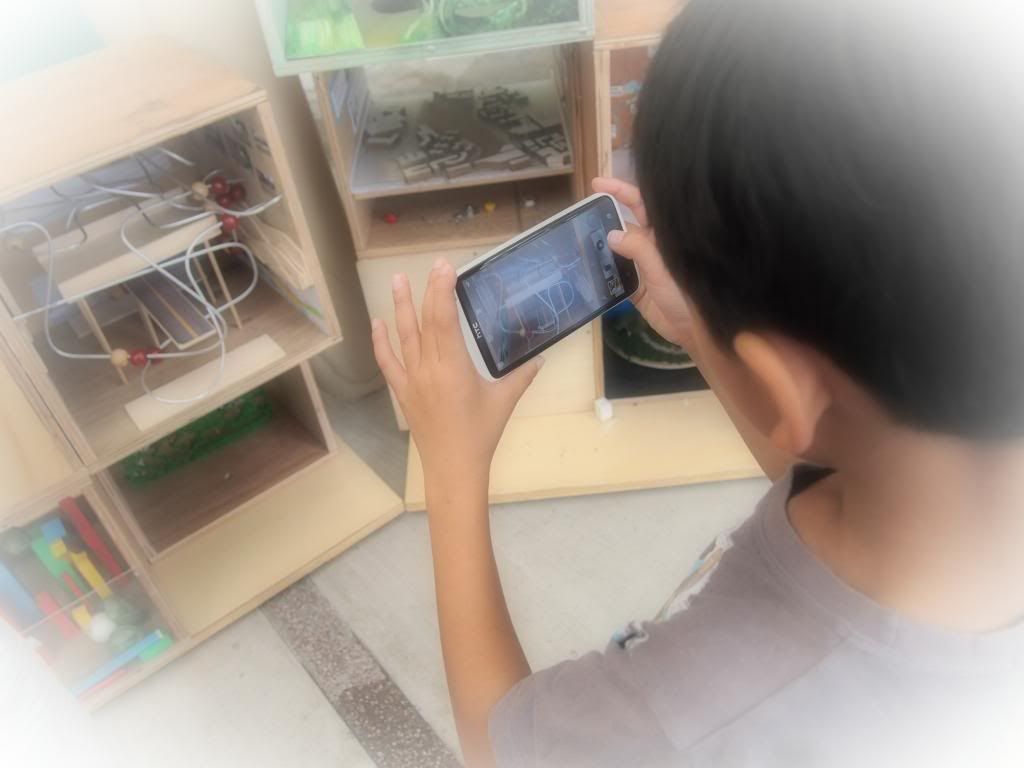 The Enchanted Garden City
by Sandra Lee
Extremely Colorful and Whimsical.
Familiar fairy tales with an Asian twist.
Activity: Draw the Enchanted Garden and watch it appear on the Magic Mirror.

Kids can't get enough of this rainbow bridge!
They kept going over and over and over again……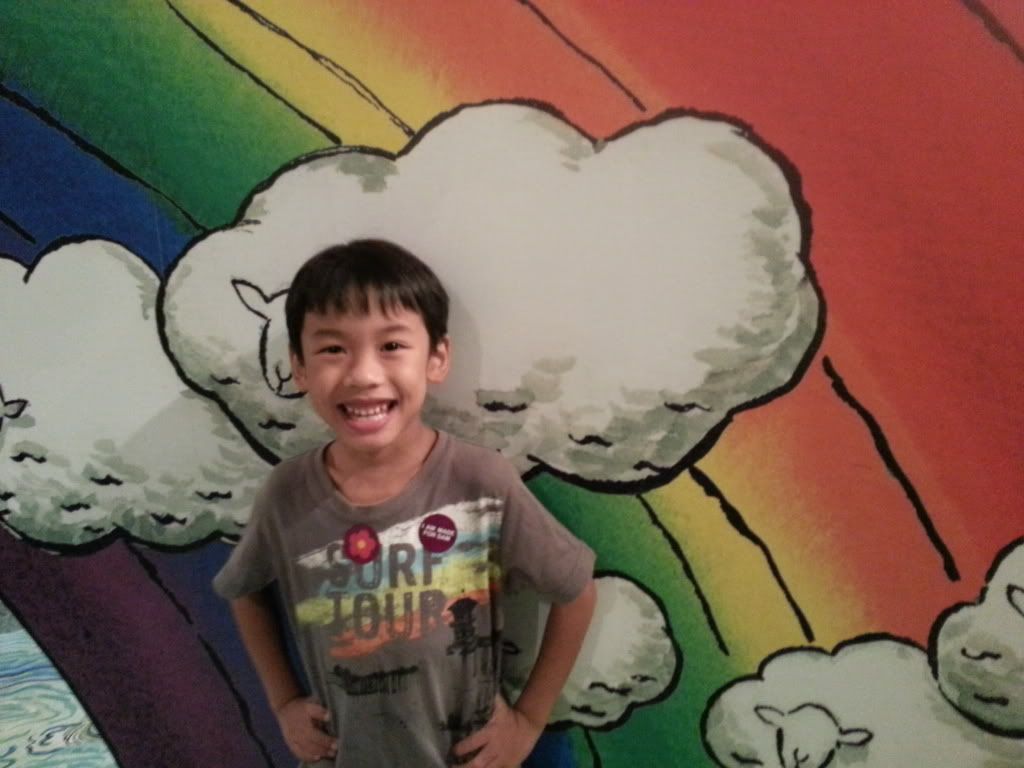 Level 2
Film Screenings
A selection of local short films and animation.
The 2 TV addicts got stuck in this cozy room for a solid 45 minutes!!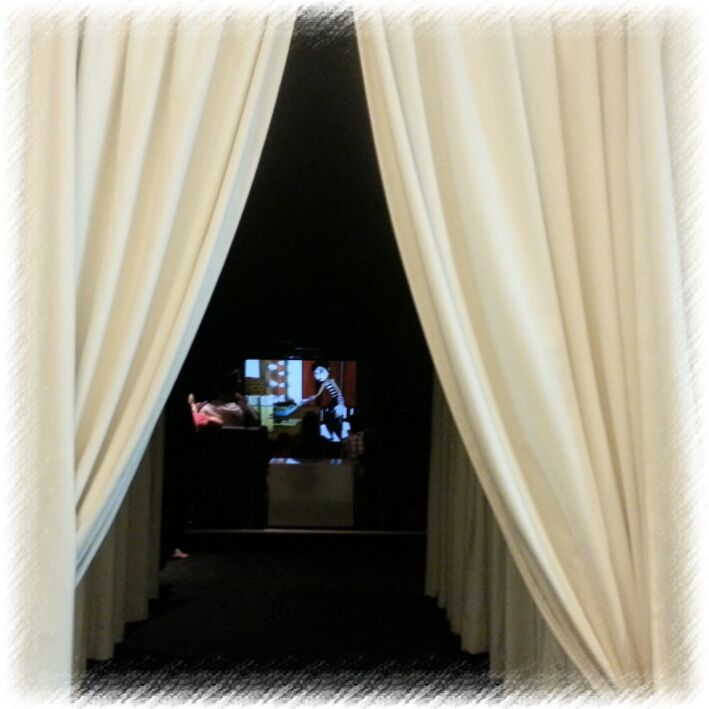 Around the Day in Eighty Worlds
by Vicente Delgado
Another of our favorite installation.
Go on an adventure. Enter this fascinating world and observe what's around you
– some things may look familiar at first,
but a closer look may reveal something different about them
Activities:
Decorate a hot air balloon "postcard"
Draw your own kitty cat
Make your own kaleidoscope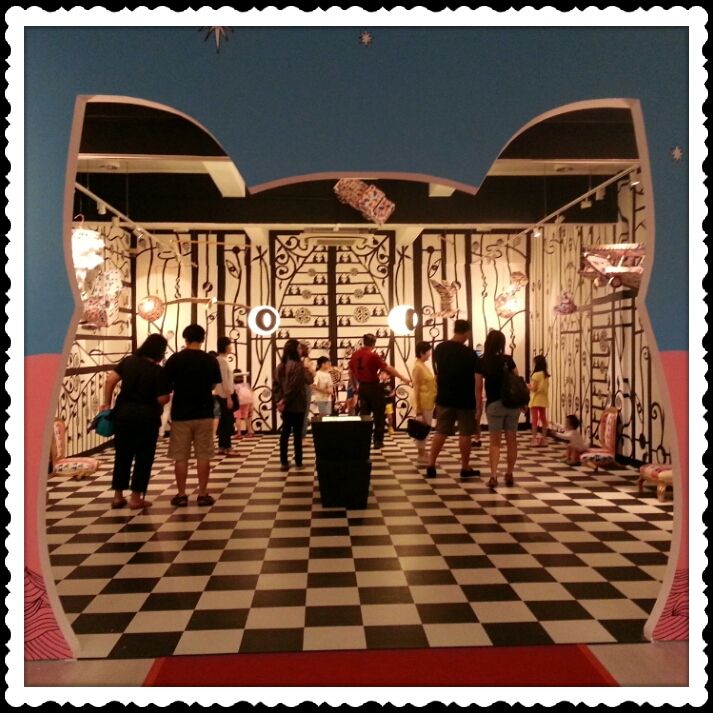 Get a whole new perspective of the world when you look through a Kaleidoscope.


Opps! I broke a chair!!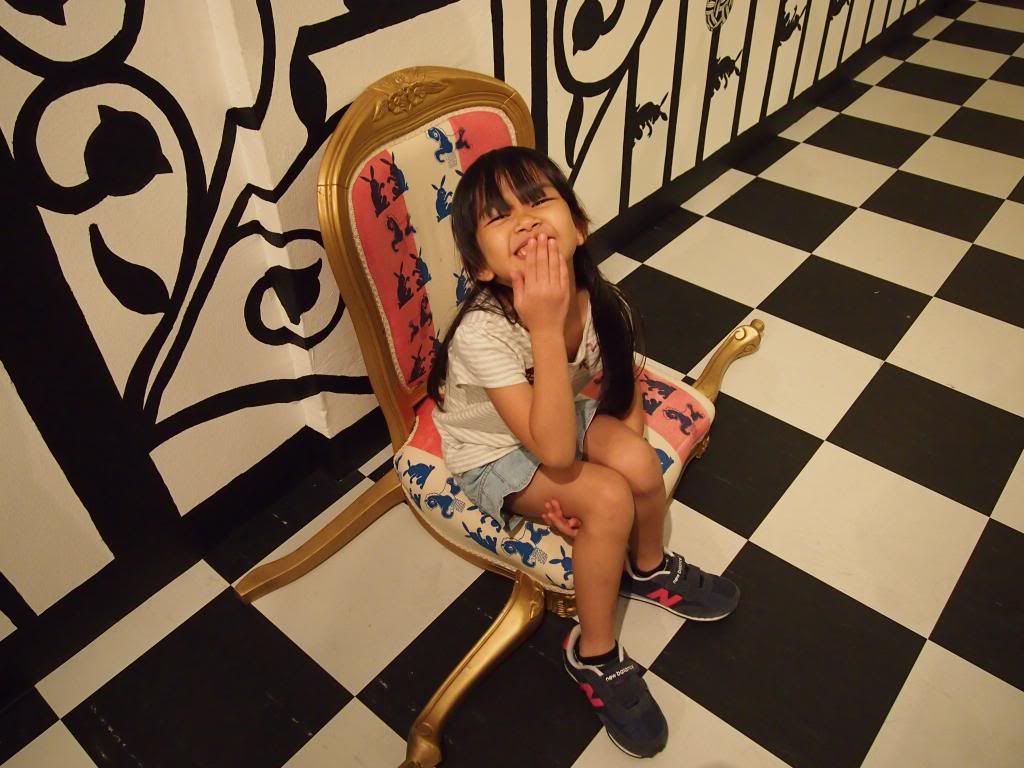 Level 3
Stellar Cave ||
by Julien Salaud
With support from institut Francais Singapour
This is simply AMAZING!
Feast your eyes on this stunning work made only with screws, thread and UV lights.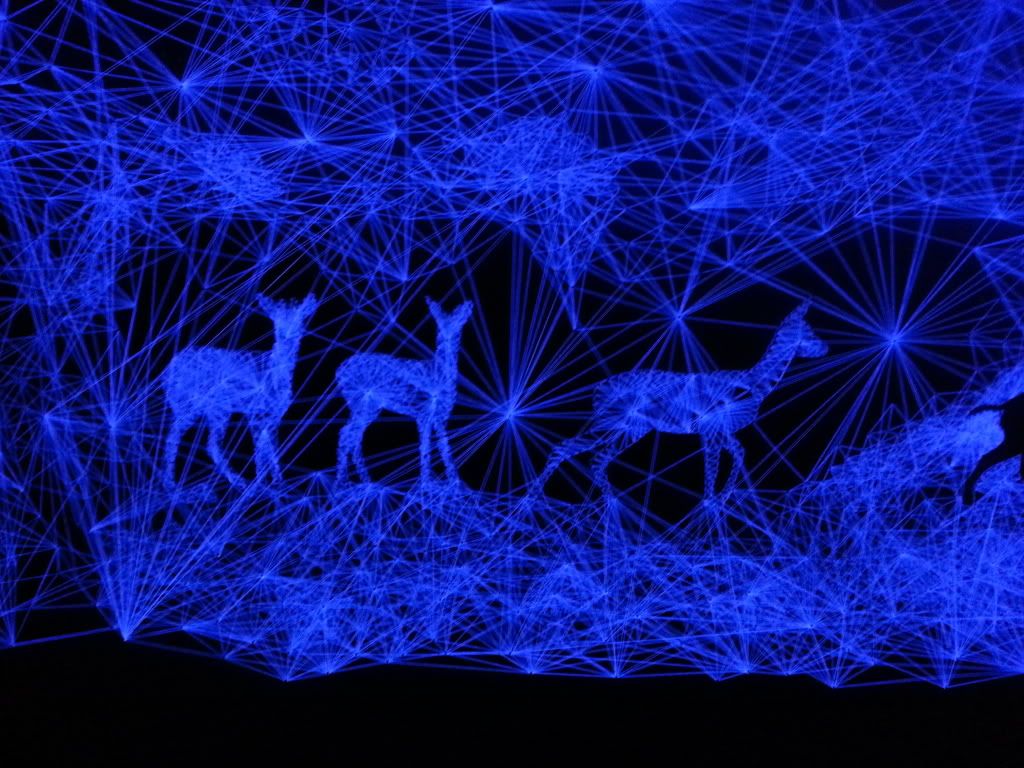 Sophia having a feel on how that art installation was done.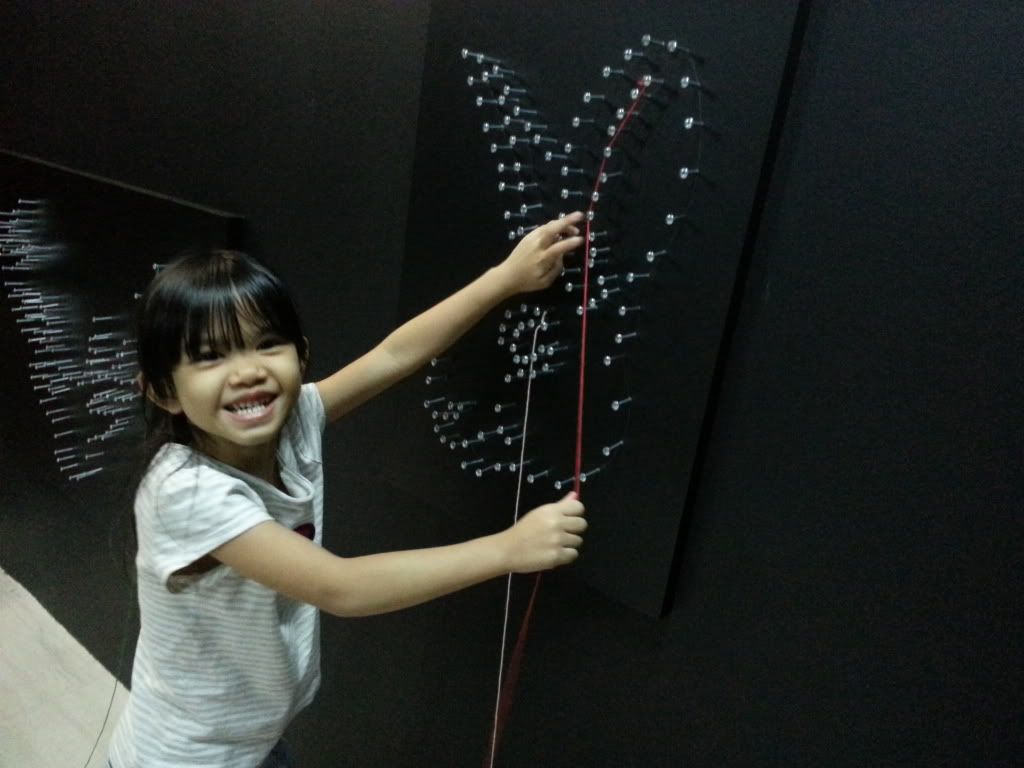 The Incredible Magical Expanding Room
by Mojoko and Shang Liang
Watch the room visually transform as all four walls respond to your voice.
Honestly…. There is nothing magical bout it!
Even my Windows Media Player visualizer is able to respond the music I am playing.
But, nevertheless….. the kids were sill pretty amused by it!
Les Reves Engloutis –
Glossy Dreams in Depth
by Stephane Blanquet
Let your imagination take over as you enter a room filled with fantasy and dreams.
Roomful of peculiar objects, 3D drawings and holograms.
I didn't enjoy this one at all.
Even the kids commented that it is SPOOKY!
It has failed as an art installation meant for children.
Activity: Mask making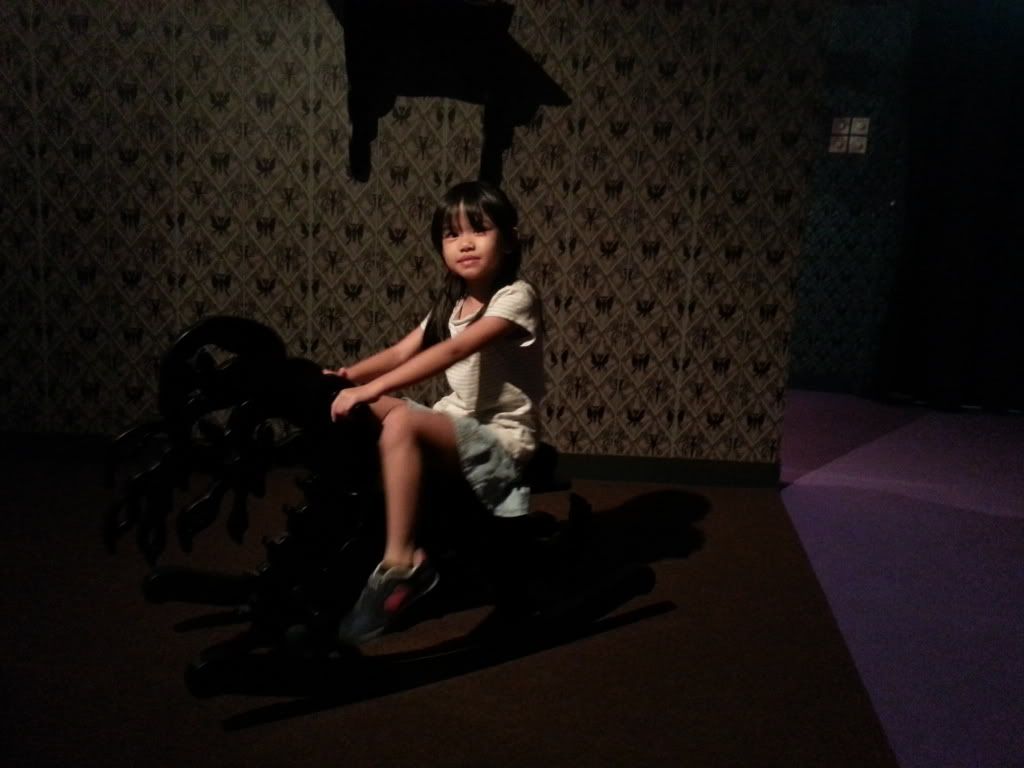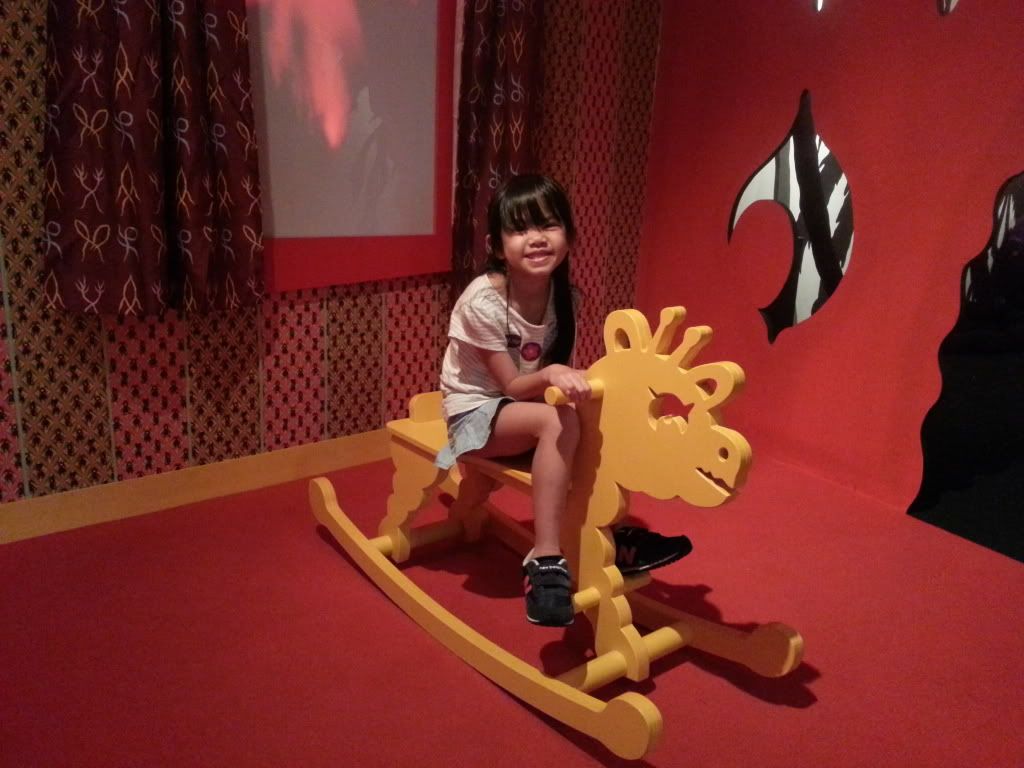 Level 4
Love, Revolve The World
by Sun Yu-li
Collaboration work between local sculptor and 750 students represents the connections that existed in the universe and the random nature of everything around us.
Save your effort of climbing that extra level.
Nothing interesting for the kids!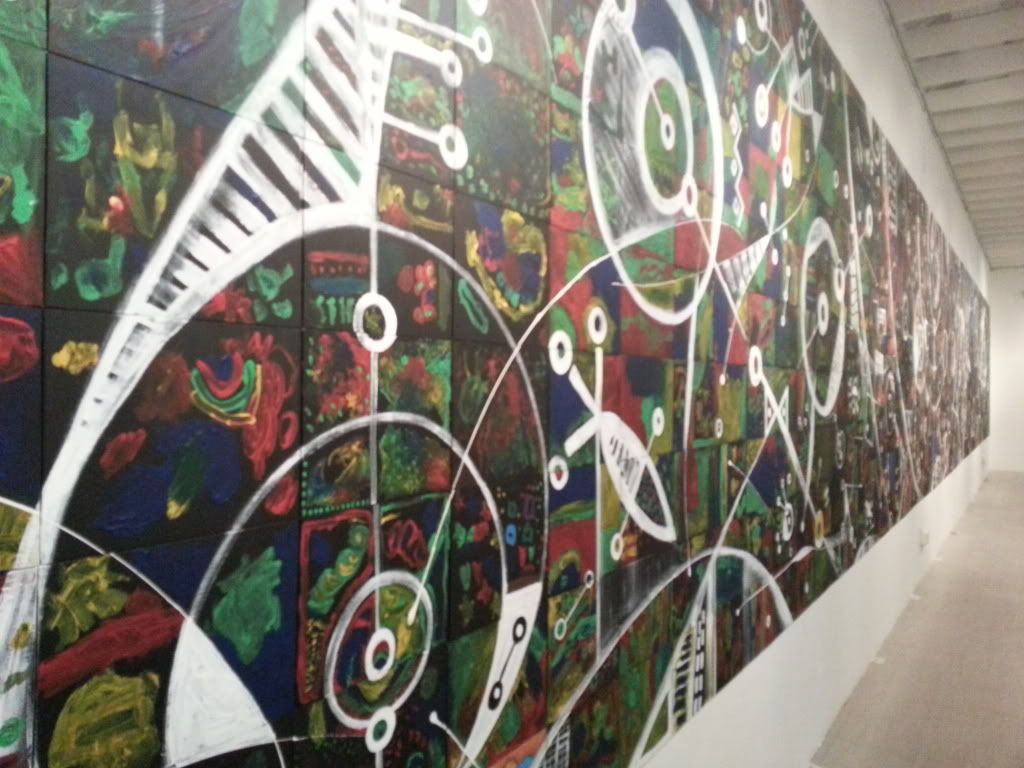 Even though some parts of the Art Garden 2013 at the Singapore Art Museum was a sheer disappointment. It is still an exhibition worth going for. Be prepared to stay for a couple of hours. The children would be kept busy with all the interesting activities planned out for them.
Singapore Art Museum at 8Q
Art Garden 2013 at the Singapore Art Museum
17 May 2013 – 1 September 2013
10am – 7pm (Mon – Sun)
$10 (Adult), $5 (Students & Seniors)
Fee Admission for Citizens, PR and visitors aged 6 and below)
Comments
comments