After 3 kids, and a whole strew of trial and errors,
I've derived my very own 5 step approach to the happiest baby on the block.
I am not a huge fan of routines, and I often fall off the bandwagons with a rigid time table. But, with kids, it is good to establish "fix" routines as early as possible.
Taking a nice warm bubble bath followed by relaxing massage in the morning indicates the start of James's day.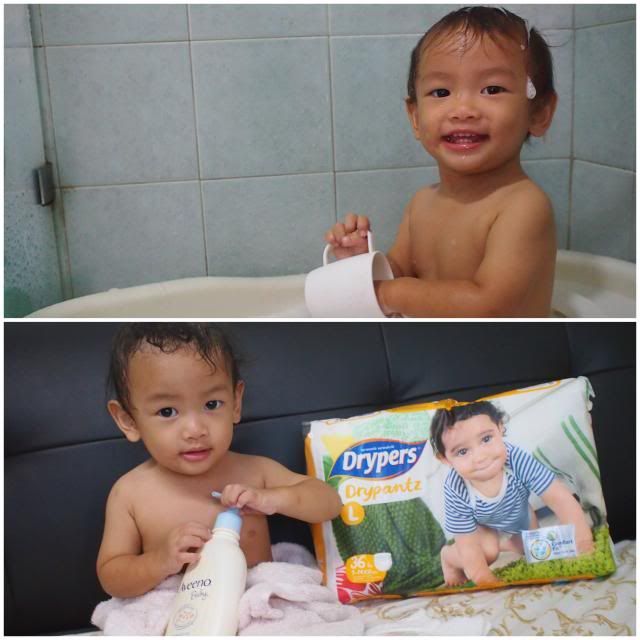 We have been using Drypers ever since James's birth, and we were excited to be introduced the newly improved Dryper Drypantz.
With increase mobility, we choose to fit James with Drypers Drypants to limit "downtime" for our active baby. He is simply moving too fast these days to be fumbling with tapes on diapers. It also helps make toilet training alot easier, since James is able to take out his diaper anytime he wants. The breathable cloth like cover on the Drypers Drypants keeps James's skin healthy and comfortable throughout the hot days.
A Hungry Baby is an Angry Baby.
Settle little tummies with multiple small meals, healthy snacks and adequate fluids.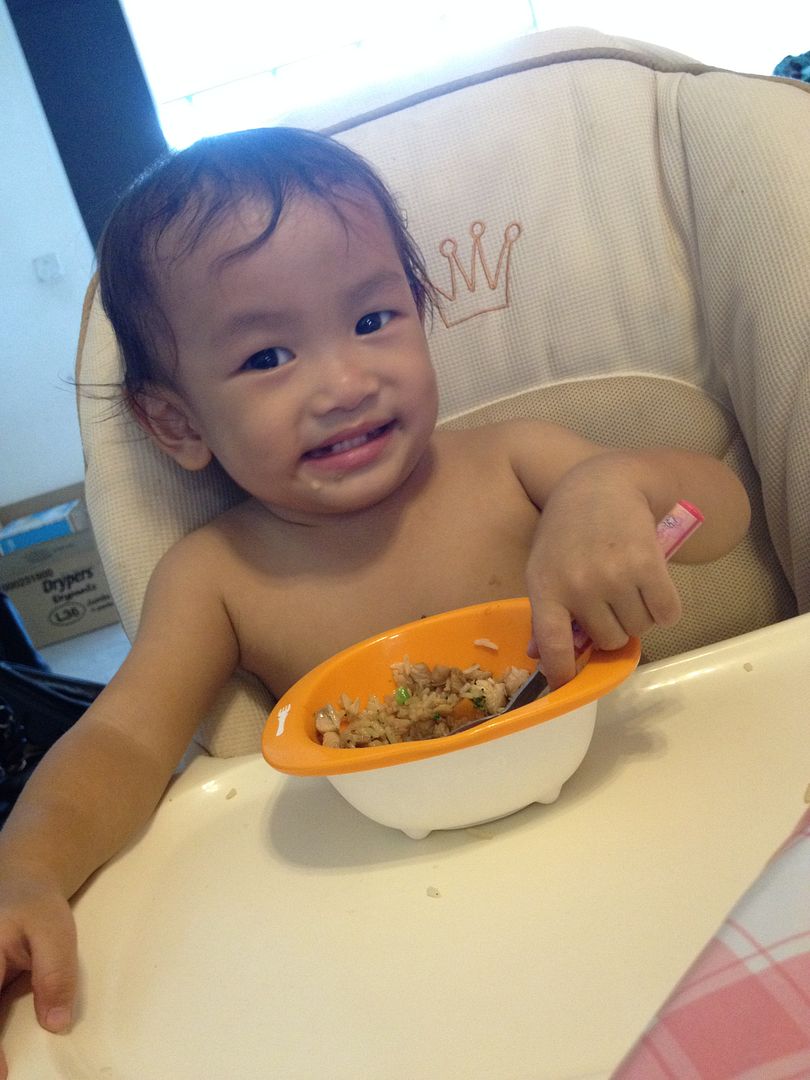 Taking in more fluids daily also means that with Drypers Drypantz, I have less to worry about with diaper changing especially when we are out and about. His diapers have an absorbent core that absorbs urine quickly and prevents flow-back, which means that he will be kept comfortable and dry all the time.
PLAY is crucial for a child's social, emotional, physical, and cognitive growth. We prefer to play outdoor, where it is spacious enough for James to run free. The snug and soft fit with improved waist and tummy elastic on Dryper Drypantz ensure that James's movement is not hampered yet feeling comfortable when running and climbing around the playground. Look at that HAPPY face!
And finally, make sure your baby gets enough Sleep. A well rested James makes a huge difference in term of temperament. My mind is put to ease when new improved Drypers Drypantz has natural plant extracts of Vitamin E, Chamomile, Olive extract and Aloe Vera that is known to promote skin health and his skin is kept healthy. With its enhanced dryness and absorbency ensures that James stays comfortable and dry for a whole night of uninterrupted rest, which means I can sleep longer without having getting up blurry eyed to change his diapers in the middle of the night.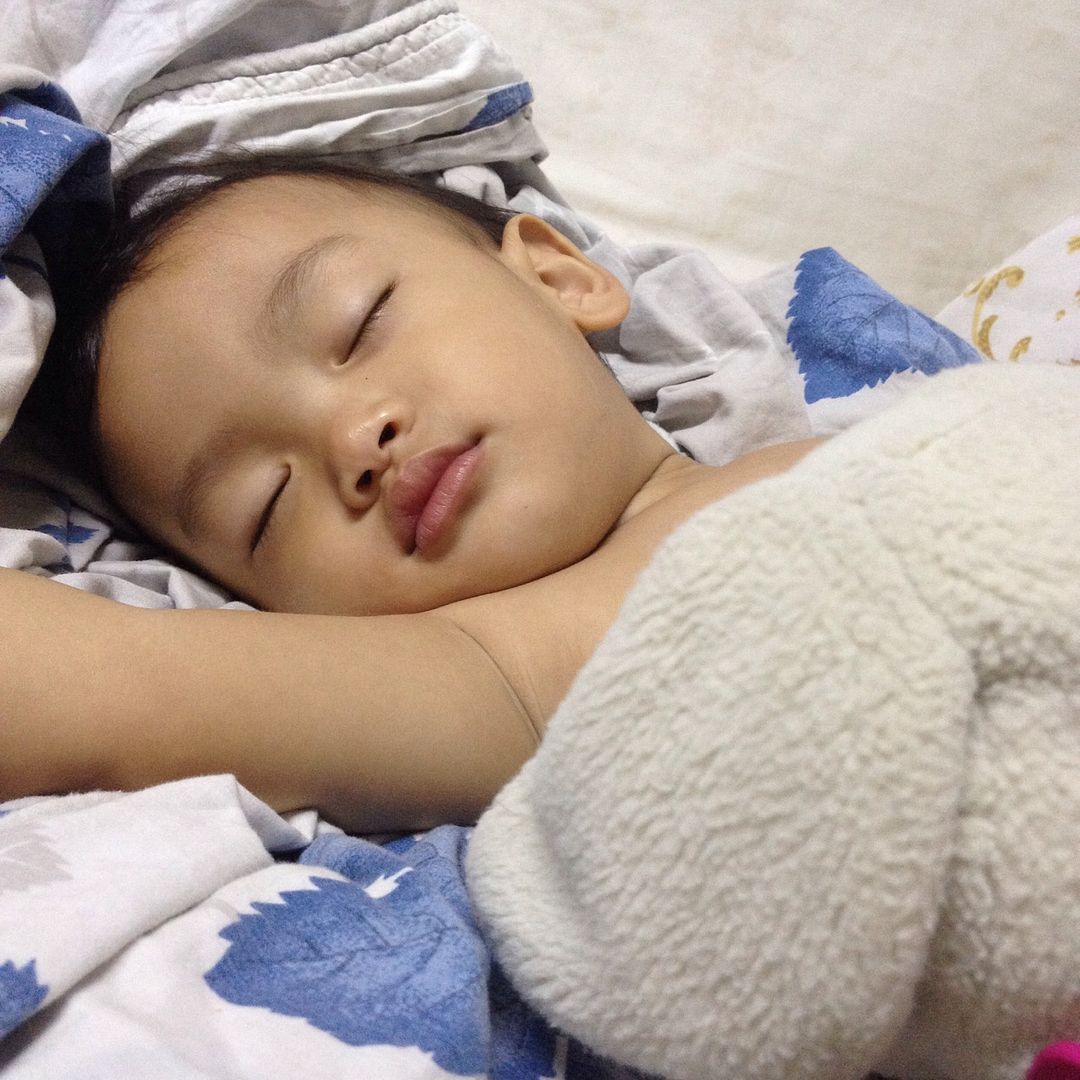 Have tips to keeping your baby Happy?
Do share it with us in our comment section.
Ready to switch to The Ultimate Comfort Diapering Solution?
Special for Singapore Mom Blogs Readers
Purchase any 2 packs of Drypers diapers from 1st June to 30st June. Send in a scanned or snapped photo of the receipt (proof of purchase), along with reader's personal particulars (Name, address, contact no. , child's name and DOB) to sg.contest@sca.com with subject title "[SingaporeMom]" to receive a $10 FairPrice voucher.
Full Disclosure: We received products and compensation from Drypers for the purpose of this review. But however, the opinions expressed herein are those of my own.
Comments
comments