Back Posting: 27 August 2014
*extremely guilty that it took me a month to update James's 2nd Birthday*
Looking at how little we are doing with James in our first trip to zoo posting,
I've decided to take pictures of James for 30 days leading up to his second birthday!

We started the morning by giving him undivided attention.
Celebrating James's birthday with just the 2 of us at Modesto's (Katong V).

Birthday boy had hungry pangs and decides that he could wait no more.
Bruschetta ($4.00/2 pcs) to the rescue!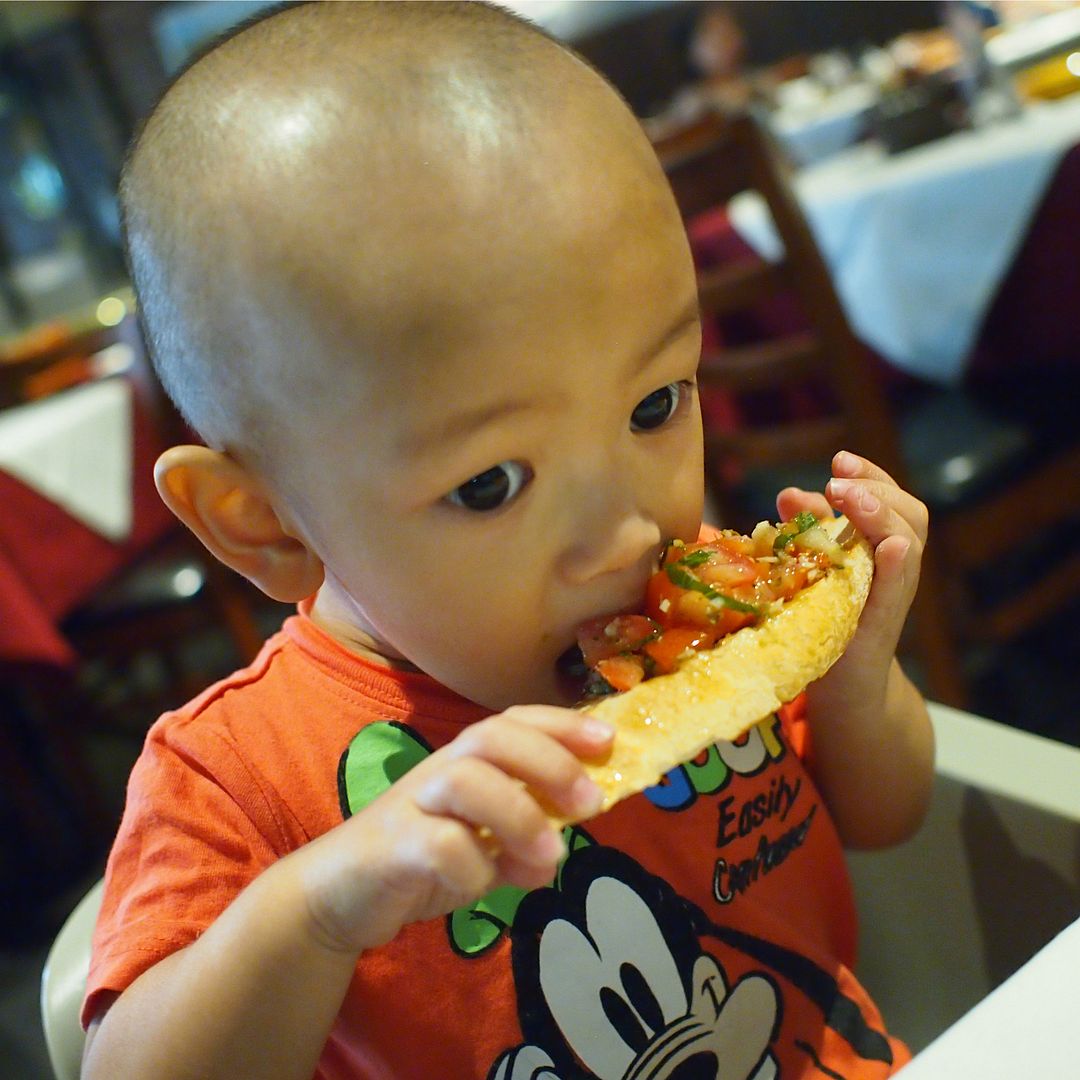 Traditional Italian Wood-Fired Pizza
Costiera (Mini: $20 Regular: $25) Prawns, Squid & Crabsticks
Rustica (Mini: $18 Regular : $23) Marinated chicken slices, mushrooms & onions

Thin, crisp crusts with delicious toppings. A choice of having it "yin yang" means I can enjoy 2 pizza flavors at one go! Perfect for greedy people like me. Pizza will be charged the amount of the higher price pizza.
Fusilli Alla Boscaiola ($23.00) & Spaghetti Mare E Monti ($29.00)


James loved the Fusilli Alla Boscaiola. He was seen stuffing his face in the bowl of pasta, enjoying it and feeling very accomplished from self feeding.
Affogato Al Café ($10.00)
Single scoop vanilla ice-cream, topped with freshly brewed Italian espresso.

Tiramisú Modesto's ($14.00)
One of the better Tiramisú I've tasted so far. And I must say I have high expectations for my Tiramisú, since there were only 2 that passed my stringent taste buds.
We were given a scoop of complimentary gelato for James's birthday celebration. We appreciate the kind gesture. James totally love digging into the gelato in search for fresh blueberries and strawberries. *2 thumbs up!*

On the overall, service has been topnotch. With a 50% off ala carte menu promotion, it was extremely valued for money! Restaurant ambiance is spacious and comfortable.
But unfortunately, Modesto's at Katong V has ceased operation since 30th August 2014. There are still 3 other Modesto's outlet situated at Orchard Parade Hotel, The Elizabeth Hotel and Vivo City. We'll be back for more traditional Italian wood-fried Pizza! 😉
The birthday boy was happy and on a sugar high from all the cakes and ice creams he had. But, this post only conclude the first part of James's Birthday celebration.
The birthday excitement goes on.
Come back and read all about part 2 of James's Birthday Celebration…
Comments
comments