I could still remember your pout, and the quivering lips when they place you on my chest 6 years ago in the operating theater of Glenegales.
Thou you no longer fit into the nooks of my arms, you are always dear in my heart.
6 years passed us by in a hurry. Today, you are a eloquent little girl.
In fact, from your 1st sentence of "I don't want!" at one year old,
you never stopped talking!
Always inquisitive.
You've also taught us many valuable life lesson.
You've taught your daddy how to talk and treat a lady nicely.
You've taught me determination, from never giving up when learning a new skill.
For this year's birthday, You asked for a "My Little Pony" themed birthday party.
I did what I do best. A quick check with Google shows that a local party supply store does carry a whole range of My Little Pony party supplies!! I swear shopping online is mentally poisonous! I spend many hours gazing over the different possibilities from www.mtradenoveltystore.com. I roped in the birthday girl to makefinal decision. We've decided on My Little Pony Loot Bags, Pinkie Pie Cupcake Toppers, Pick Up Sticks and Assorted Souvenir Cup. (Each design is thoughtfully planned out by Sophia for each of her friend)
Online shopping experience was good. I was able to pick up the goodies on the next working day. Responsive seller via phone and email. Pick up location was convenient. You'll get an additional 5% discount when you like them on their facebook page!! But, unfortunately, they are not a walk-in store. Everything needs to be purchased online.
Kitson imported many goodies (some of Sophia's favorite snacks) from all over the world for the loot bags.
Sophia helped by packing the party bags.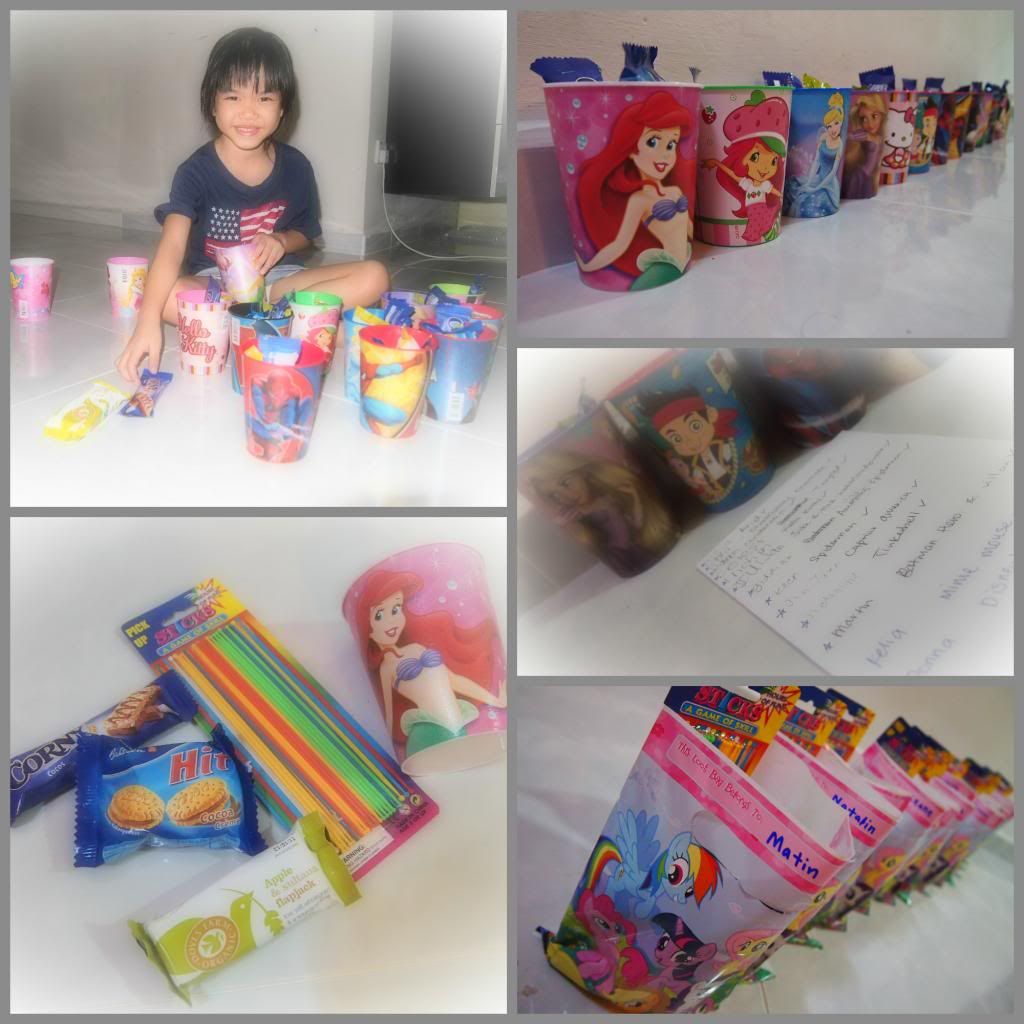 This year's birthday party was a lot less stressful due the the change of birthday celebration policy from the school. In the current new arrangements, we are only celebrating Spohia's birthday with her classmates as opposed to the whole school. But still baking with a baby who has separation anxiety, who wants to be within a baby's arm length away from you is no easy feat!
I am not a huge fan of My Little Pony, but I think rainbow cakes have great association with the theme. Along the way of preparing for this birthday party, I had a mommy eureka moment. I've learn that learning to appreciate what your child likes from him/her makes excellent bonding! I can proudly proclaim I am My Little Pony-fied. Rainbow cake tutorial can be found HERE.
I've decorated part of the cupcakes with Pinkie Pie Cupcake Topper. While the rest are decorated with fluffy white buttercream clouds and rainbow sour gummies from NTUC to represent Rainbow Dash! 2 of Sophia's favorite characters from My Little Pony. They are all looking pretty and chilling in the fridge! Waiting to surprise the princess once she wakes up.
Time for me to hit the sack and catch some beauty rest too!
---
Party Day
Oh GOD! Seriously!!!
One moment it was scotching hot,
the next moment it started to POUR!
Stress level : + 1 notch

Assembling Cupcakes on Handmade Cupcake Stand
with a dozen or more curious kids crowding by my side.
Stress level: + 1 notch

Seeing that contented smile on Sophia's face
-all my worries stress melt like lemondrops!-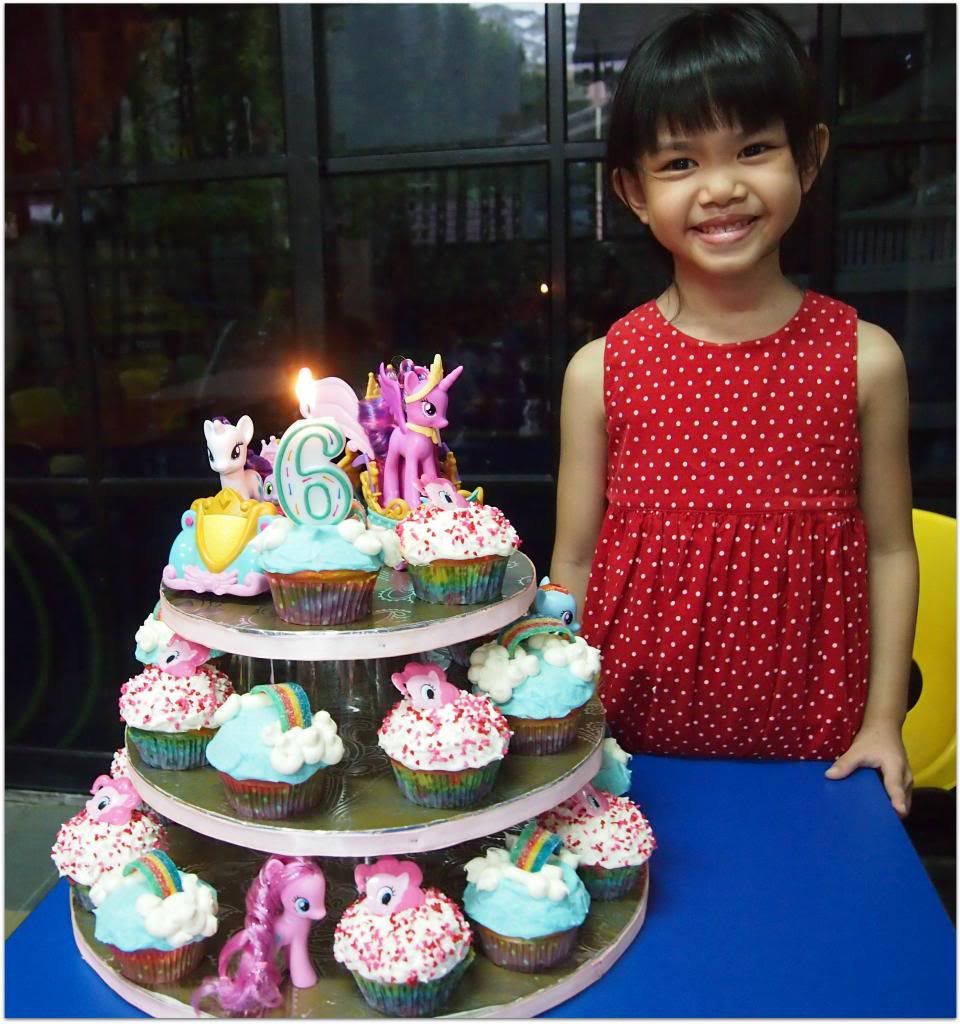 ♥Ohana means family, family means nobody gets left behind. Or forgotten.♥

Sophia giving out party bags which were carefully packed by herself.
Her classmates were busy checking out which Character Souvenir Cup they've gotten.

Finally a class photograph to remember these bunch of wonderful classmates.

Sophia got a whole bunch of My Little Pony presents from us.
Needless to say, she was over the rainbow moon.

Happy Birthday Sophia!
Comments
comments