In the midst of our busy day-to-day buzz….
We often forget how important it is to spend quality time with our kids.
Quality time of pure listening and talking with undivided attention.
We spent a beautiful Saturday morning walking around The Esplanade with Sarah.
The children were "geared" with "special" equipments which would help power up their 5 senses as we go through the highly interactive programme. Children were encouraged to freely interpret and discuss about the varies art installation.
It turns out, Hiroshi and Sophia have a pretty extensive vocabulary for art, since they have been talking non stop throughout the programme!!
One of the many things we've enjoyed in the programme was story telling by Sarah. The children were literately bewitched. Especially the story of old Singapore which was told through storigami was particually engaging for the kids.
That was not all. We also get a special take-home activity kit which was full of ideas to help continue the arts experience anywhere and everywhere.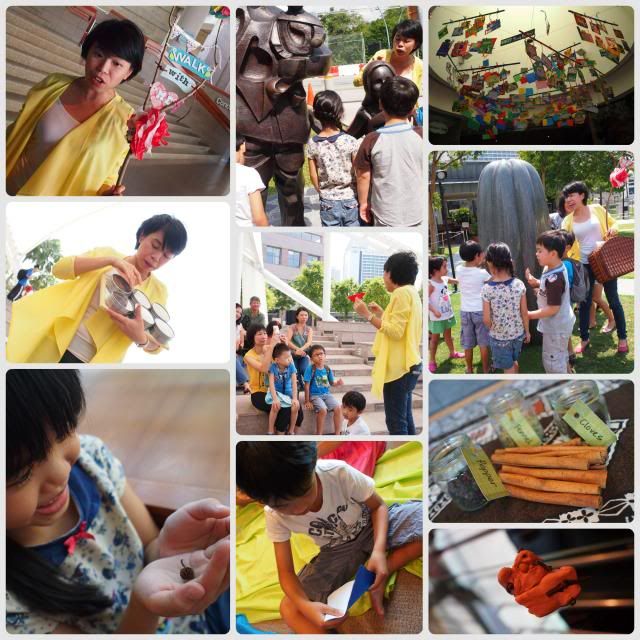 Do check out Octoburst 2013.
A children's day festival organised by The Esplanade which runs from the 4th till 6th of October.
"Take a walk with me" by Sarah Lee, an event not to be missed.
Book your tickets now and wander along with Sarah on this multi-sensory discovery trail. Through stories, drama games and other interactive activities, you'll discover the art, architecture and rich heritage of the Esplanade district.
Disclaimer: we have been invited to "Take a walk with me" by Sarah Lee. All views and opinions are our own.
Comments
comments