Located at 903 Bukit Timah Road, Outpost 903 Gastrobar is inspired by the portmanteau culture of gastrobars in the UK: quality grub in a cozy bar within the neighborhood.
Outpost 903Gastrobar features more than forty beers and ciders, with six beers on tap, and a long list of wine and spirits.
You could easily spot Outpost 903 Gastrobar by the sharp black-and-white mural wall and distinctive water tank amidst the quiet neighbourhood at Bukit Timah.

Decorated with many interesting rustic furnitures. To which, some were directly imported from Vietnam. Even from all the mis-match-ness, the interior of the restaurant was warm, cozy and inviting.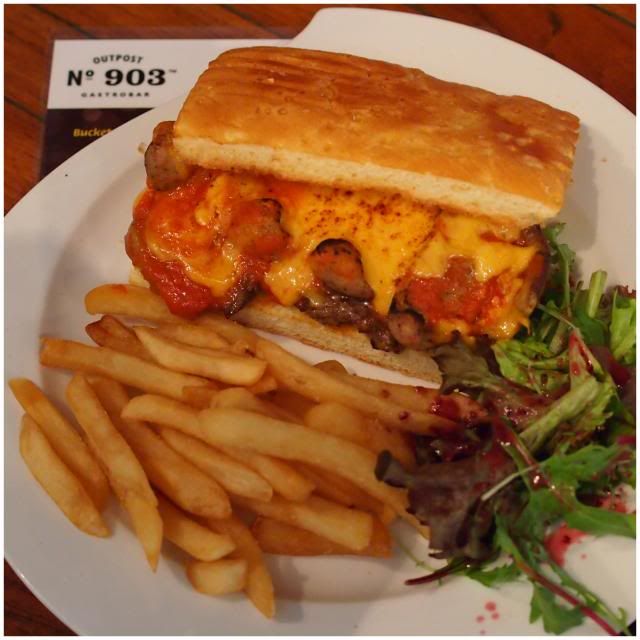 ← Cheesy Steak Sandwich ($20)
Perfect combination of thin sliced rib eye & Pork bratwurst with home-made tomato sauce topped with mozzarella & sharp cheddar cheese on ciabatta bread.
Absolutely flavourful! This is one of my favourite sandwich from the entire brunch menu.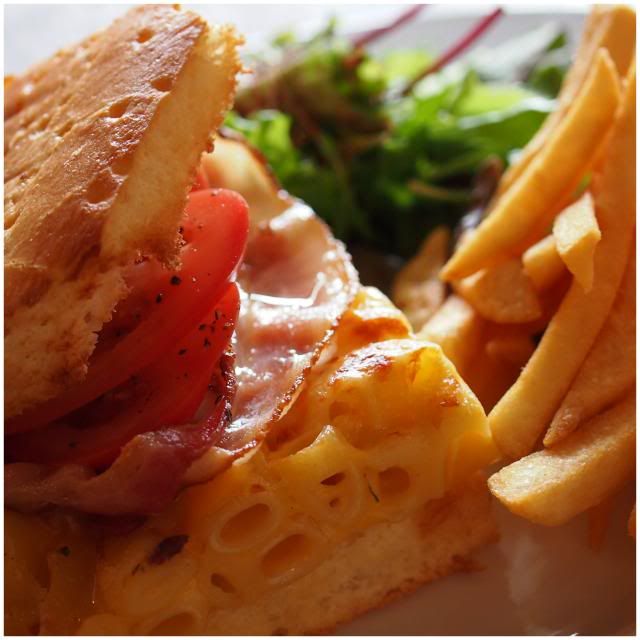 → Mac & Cheese Bacon Sandwich ($16)
Generous slice of Mac & Cheese topped with streaky bacon & Spicy Marinated tomato slices sandwich between toasted brioche.
Interesting texture of Mac & Cheese against the light and fluffy bread. It was so good, I constantly find James leaning over to pick on my bread!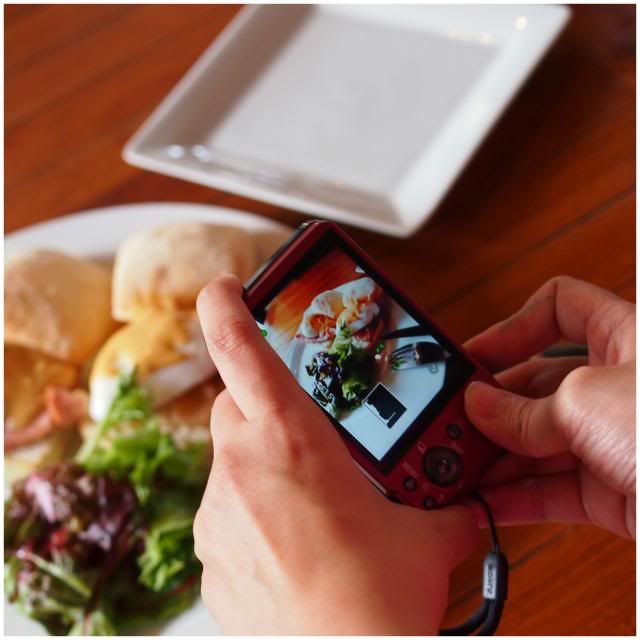 ← Benedict Duo ($14)
Poached eggs served two styles (bacon & ham) on mini ciabatta bread.
Perfect for those who couldn't quite decide between Ham OR Bacon in their sandwiches. Now, you can have them both and eat them at the same time.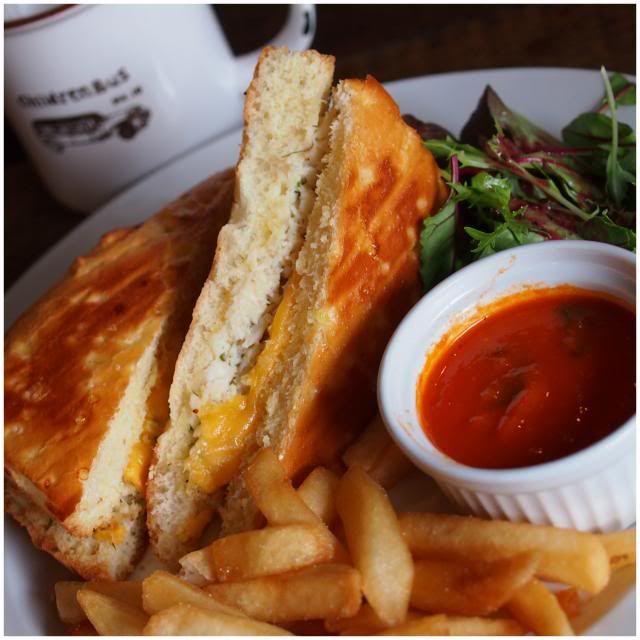 → Mac & Crabmeat Sandwich ($20)
Juicy Crabmeat sandwiched between two sliced of toasted brioche with cheddar cheese served with tomato soup dip.
Definitely eat this with the tomato soup dip. It does make a world of difference from eating it, as it is…..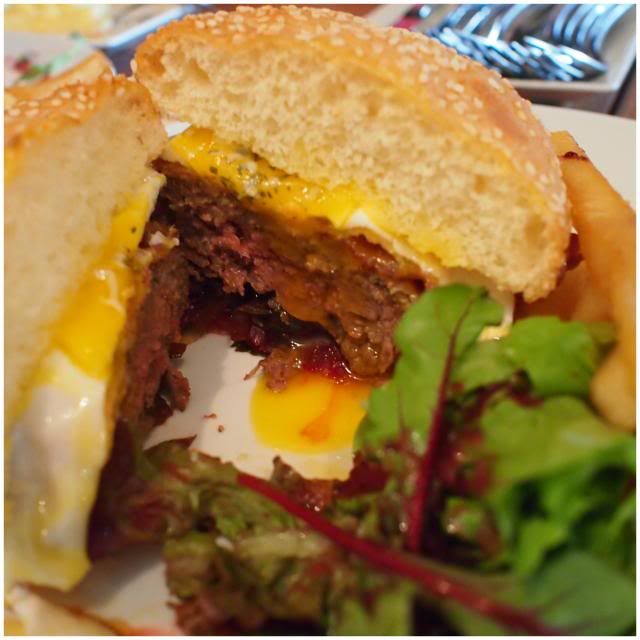 ← 903 Burger ($16)
Home-made beef patty, lettuce, tomato, sweet onion, gherkins sandwich between toasted sesame buns.
Another of my favourite from the brunch menu. I was immediately sold by the generous thick home-made beef patty dribbled with runny egg yolk from my sunny side up.
All main courses are served with salad and french fries.
There is something about the blueberry infused vinaigrette salad dressing that leaves me craving for more…..
Options for side dishes are liberal…… Other than the standard that is shown as of above, you could also opt for all salad or all fries. Truffle fries are also available with a nominal top up.
I am literatly filled to the brim at this moment.
But yet, I love my desserts too much to skip it.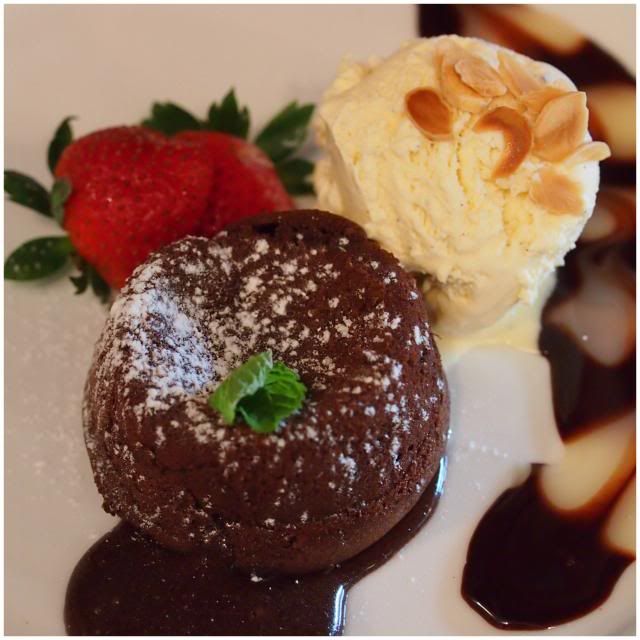 ← Chocolate Lava ($14)
feather-light crust with molten chocolate center served with vanilla ice cream
A picture paints a thousand words, so this no need for words right? *drool*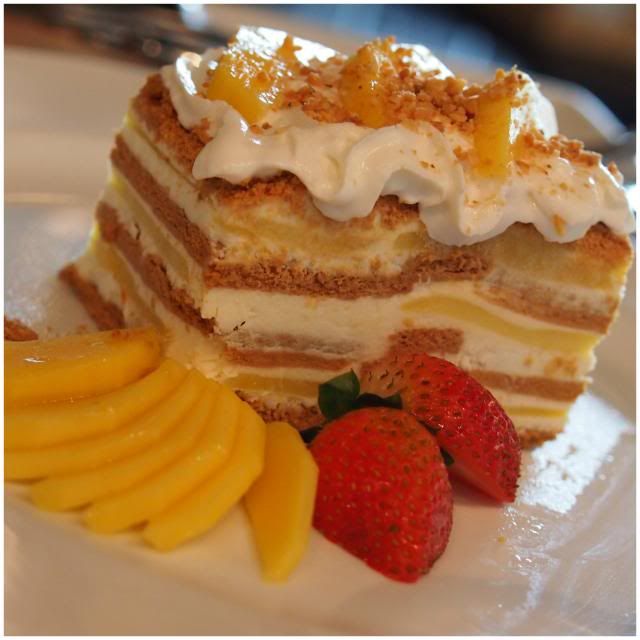 → Mango Float ($12)
Layered graham biscuit with mango cream, topped with fresh mango slices.
I love anything with with mango. The layering of graham biscuit, mango cream and fresh mango makes an interesting texture for this dessert. Simply refreshing!
Good food is best enjoyed in good company…..
Check out the other bloggers that joined us for brunch;
Lynn, Cherie, Winnie, Mabel, Estella, Lady Boss; Mediacorp host Lin You Yi, Agnes Tay from AT Marketing Consultancy, Me & baby James.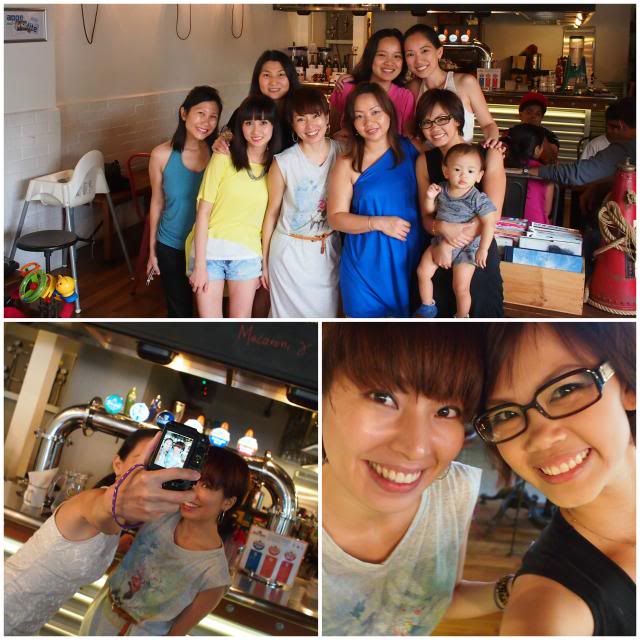 Mabel sharing the art of taking a selfie.
1. Find your Better Angle
2. Point Camera Top Down
3. Look into the Lens and SMILE!
4. Go Shutter Happy! And select the BEST picture!:)
I never thought I'll be caught taking a selfie in public, but I am getting the hang of it. The Olympus EP3 is seriously a tad too heavy for single hand operation. Time to train those muscles by taking more selfies!! 😀
We truly enjoyed our experience at Outpost 903 Gastrobar.
Will definitely be back for beers and dessert!!
Outpost No. 903 Gastrobar
903 Bukit Timah Road
Singapore 589620
Tel: 6468 4903
Opening Hours
Mon: 17:00 – 00:00
Closed on Tuesdays
Wed – Thu: 17:00 – 00:00
Fri: 17:00 – 02:00
Sat: 15:00 – 02:00
Sun: 10:00 – 00:00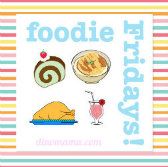 Comments
comments