The Republic of Singapore Air Force is celebrating its 45th Anniversary of defending our skies. When a friend offered tickets to the RSAF45 Family Day, I had to pound on it immediately. Doesn't matter if I was outnumbered by the kids. 3 against 1 with Hiroshi hobbling in his cast.
Hiroshi is a vivid aviation fan boy! I know that this would mean a world to him getting so up close and personal with fighter jets!
You could take a walk 45 years down memory lane through Exhibitions,
Experience Air Craft Simulators,
or even Watch Short Movie Clips at the RSAF Pavilion.
Remember to drop by the Photo Booth at the RSAF Pavilion.
Play dress up with mini sized uniforms for the kids!

Be Bedazzled by over 17 Aircrafts and Weapon Systems at the Static Display Area.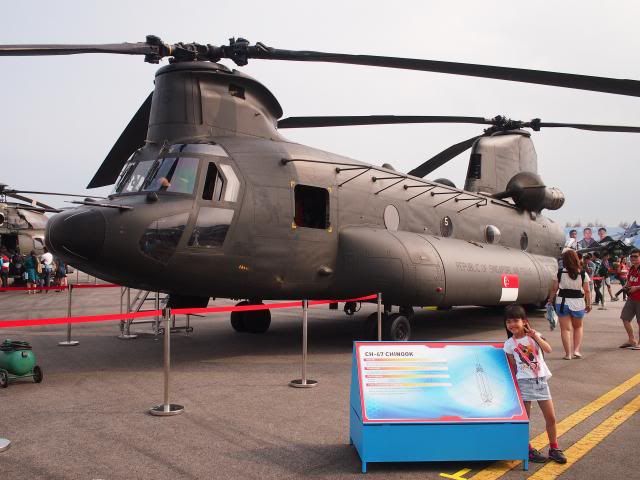 Black Knights; the official combat ready aerial aerobatics team from RSAF featuring six F-16 Fighting Falcon are a huge attraction for the RSAF45 Show. The Black Knights patriotic new looks were accompanied by exhilarating new manoeuvre!

I've always been impressed with Singapore Armed Forces.
But, for RSAF45, it wasn't the hardware that wowed me. It was the software.
A couple of officers took the initiative of walking around the static display area with Hiroshi. Despite under the hot sun, the officers were patiently carrying Hiroshi from one aircraft to another! They even ran to queue up in advance so that Hiroshi does not have to wait for the next aircraft visitation!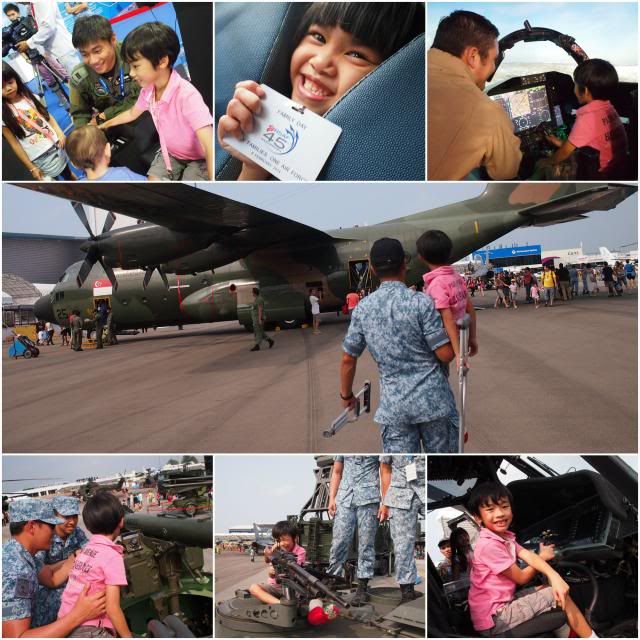 I didn't get the names of the officers, but I would like to express my thanks to these wonderful service men. You've made me feel that there is still warmth, care, and compassion in a structured organization based on hierarchy.
---
You can still catch RSAF45 @ Singapore Airshow (Changi Exhibition Centre)
on 15 & 16 Febuary 2014.
Ticketing Details
Adults: S$22
Child: S$9 (3 to 9 years old)
Group Package: S$144 (4 entry tickets + 1 Carpark Label)
The ticket prices includes a complimentary two-way Airshow Shuttle transfer to and from Singapore Expo and Changi Exhibition Centre. Admission is free for children below the age of 3.
Tickets to Singapore Airshow 2014 can be Purchased through the official agent, SISTIC.
Comments
comments