To infinity and beyond!
This school holidays,
Makes Space For Imagination
as your little kiddies report for duties at The IKEA Space Camp.
There are 6 missions in the Solar System:
MISSION 1
Build a Space Spaceship
– Think out of the box, with a box. Build your very own Spaceship using recycled cardboard. We made own very own Spaceship, went to Mars, made an unscheduled stop at Venus and headed right back to Planet Earth. What do you think of your Spaceship?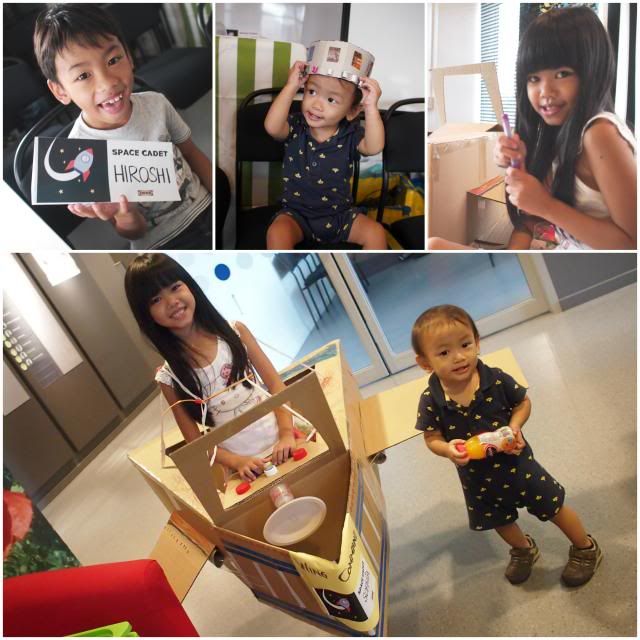 MISSION 2
Martianator
– Aliens, Martians, fuzzy monsters. Draw abd color whatever creature's on your mind. Top 20 drawings will get turned into real soft toys!
MISSION 3
Space MonStar
– Play with Imagination and design your own space-themed costume. Then strut your stuff down the catwalk!
MISSION 4
Gastronaut
-Be the star in the kitchen. Decorate delicious cookies and cupcakes with creative toppings and take them home for a celestial feast!
MISSION 5
Orbital Course
– Ever wondered how a space cadet would train? Experience a fun and imaginative obstacle course and see if you can complete it!
MISSION 6
Comet Shootout
– Defend the universe from alien invasion. Launch space comets and see if you can hit enough aliens cans and get FREE ice cream vouchers!
Complete any 2 activities to earn 2 Space Stamps!
Upon completing your mission, submit the report card at the submission booth near the Customer Relations at the store and receive a FREE $5 IKEA Gift Card.
That's not all!
For all brave cadets complete 2 mission,
you stand a chance to win a Children's IKEA bedroom makeover worth s$10,000!
The IKEA Space Camp is happening on 13 & 14 June
from 10am to 2am at IKEA Tampines and IKEA Alexandra.
Check IKEA's website for more information.
Comments
comments