-Sponsored Post-
During my 10 years stint as a professional stay at home mom, I had the luxury of watching over my kids' diet like a hawk. I used to think that as long as my kids keep a well balanced diet, I do not have to supplement them with vitamins and minerals.
But right now, after working full time, I am hardly keeping tab. Dunno what 垃圾 they eat at school or outside! I now see myself falling into the kiasu mom trap, looking endlessly for vitamins and minerals to supplement the kiddo's diet.
But, each time I walk into a pharmacy I get overwhelmed by many different types of vitamins and mineral for kids. Not knowing what to get for my kids, I consulted a friend who is an expert in this field. "I don't normally recommend any vitamin and mineral supplements for healthy kids with a well balanced diet. If you really want to supplement your kids diet with vitamin and mineral, a general multi vitamin supplement is good enough." says Pauline Xie, Senior Dietitian, from National Healthcare Group Polyclinics. Pauline, who is a mother of 3 sits on the expert panel of young parents magazine too!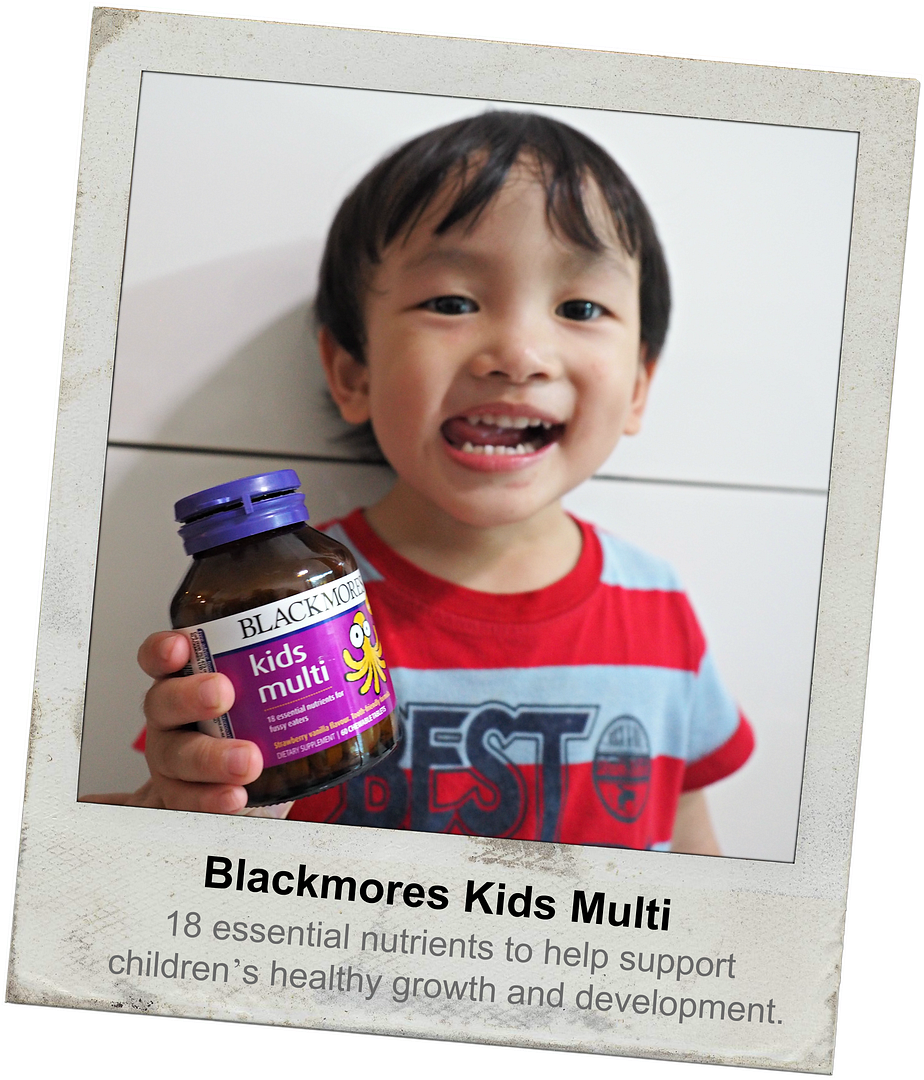 Among many goodies that Blackmores sent, I quickly turned my focus onto Blackmores Kids Multi. A vitamin and mineral formulation specifically formulated with 18 essential nutrients to help support children's healthy growth and development.
Vitamin A, Vitamin B1, Vitamin B2, Vitamin B3, Vitamin B5, Vitamin B6, Vitamin B12, Folic acid, Vitamin C, Vitamin D3, Natural Vitamin E, Biotin, Calcium hydrogen phosphate anhydrous, Potassium iodide, Ferrous fumarate, Magnesium phosphate, Manganese amino chelate & Zinc oxide.
James loved the strawberry-vanilla flavoured chewable, with no artificial sweeteners.
Then we have The Brain Boosters!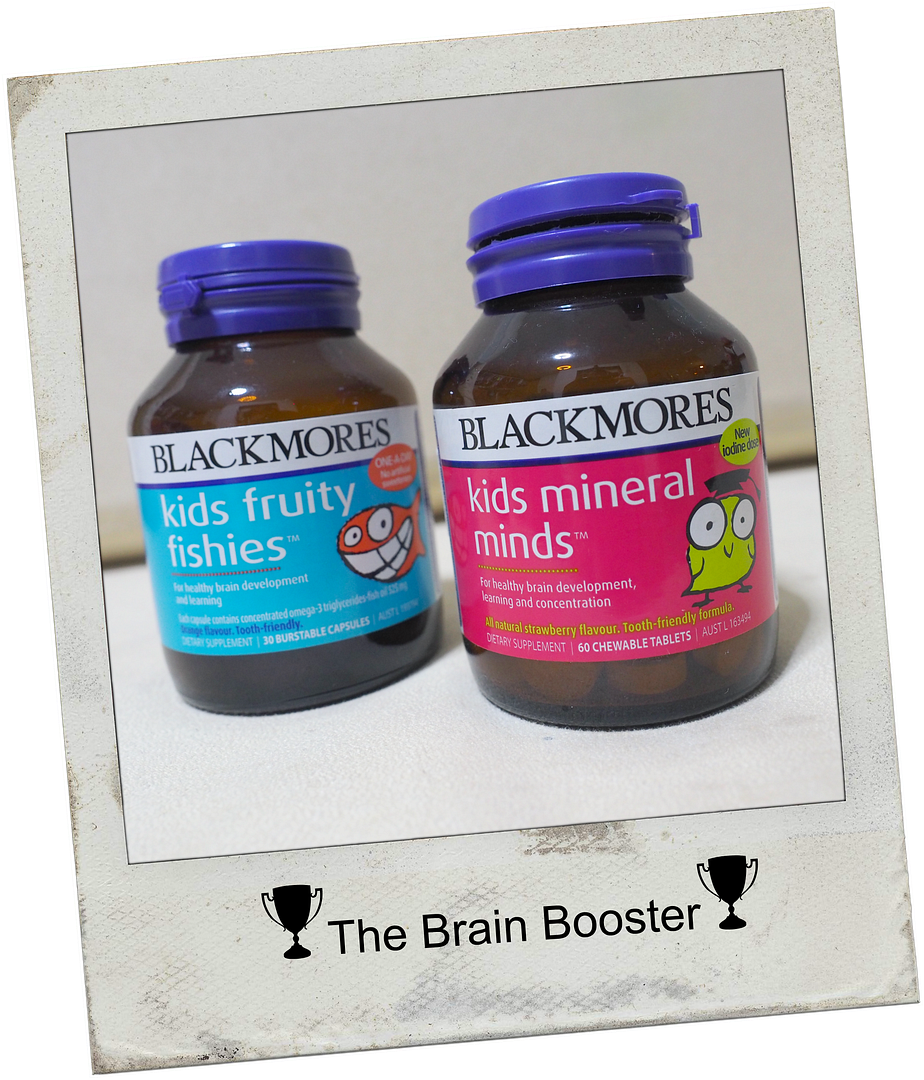 Blackmores Kids Fruity Fishes are natural raspberry-orange flavoured chewable omega-3 fish oil capsules that helps support healthy brain development and learning. Studies has shown that omega-3s helps support healthy mood and behaviour in children.
Whereas the strawberry flavoured chewable Blackmores Kids Mineral Minds is a mineral formula that may help support healthy brain development, learning and concentration in children.
It is recommended that both products should be taken together in order for it to harness it's full potential.
And lastly, cheers to healthy gut…
Blackmores Kids probiotic power is specially formulated for children in a convenient sachet.
This special formula promotes "good" bacteria in the intestine which in turn helps regulate bowel movement and support the child's immunity. Probiotics are also good for kids with eczema. James experiences lesser eczema flare ups after regular intake of probiotics.
Free Kids Probiotic Powder samples are available at Blackmores Flagship Store.

Blackmores is available at major pharmacies such as Watsons, Guardian, Unity as well as departmental stores. Visit Blackmores Flagship store at Parkway Parade, B-111.
Check out Blackmores Facebook Page or Website to get more up to date information on Blackmores products.
Full Disclosure: This is a sponsored post. Compensation for this post was provided by Rise & Shine. Opinions expressed here are my own.