-Sponsored Posting-
If you follow us closely on our facebook page and instagram, you would have noticed our agony when it comes to picking a childcare center for James.
The childcare centers in Punggol are packed to the brim and have waiting list as long as the great wall of China! So when we were offered 4 days of trial classes by Learning Vision we were extremely delighted!
James was all excited when I told him that he'll be going to school!
Bright eyed Bushy tail I'm-finally-going-to-school look.

#butfirstletmetakeaselfie
Learning Vision has many centers located conveniently around the island. We were enrolled into Learning Vision at Hwa Chong. The campus is surprisingly S P A C I O U S!

Stringent Health Check at the entrance of the school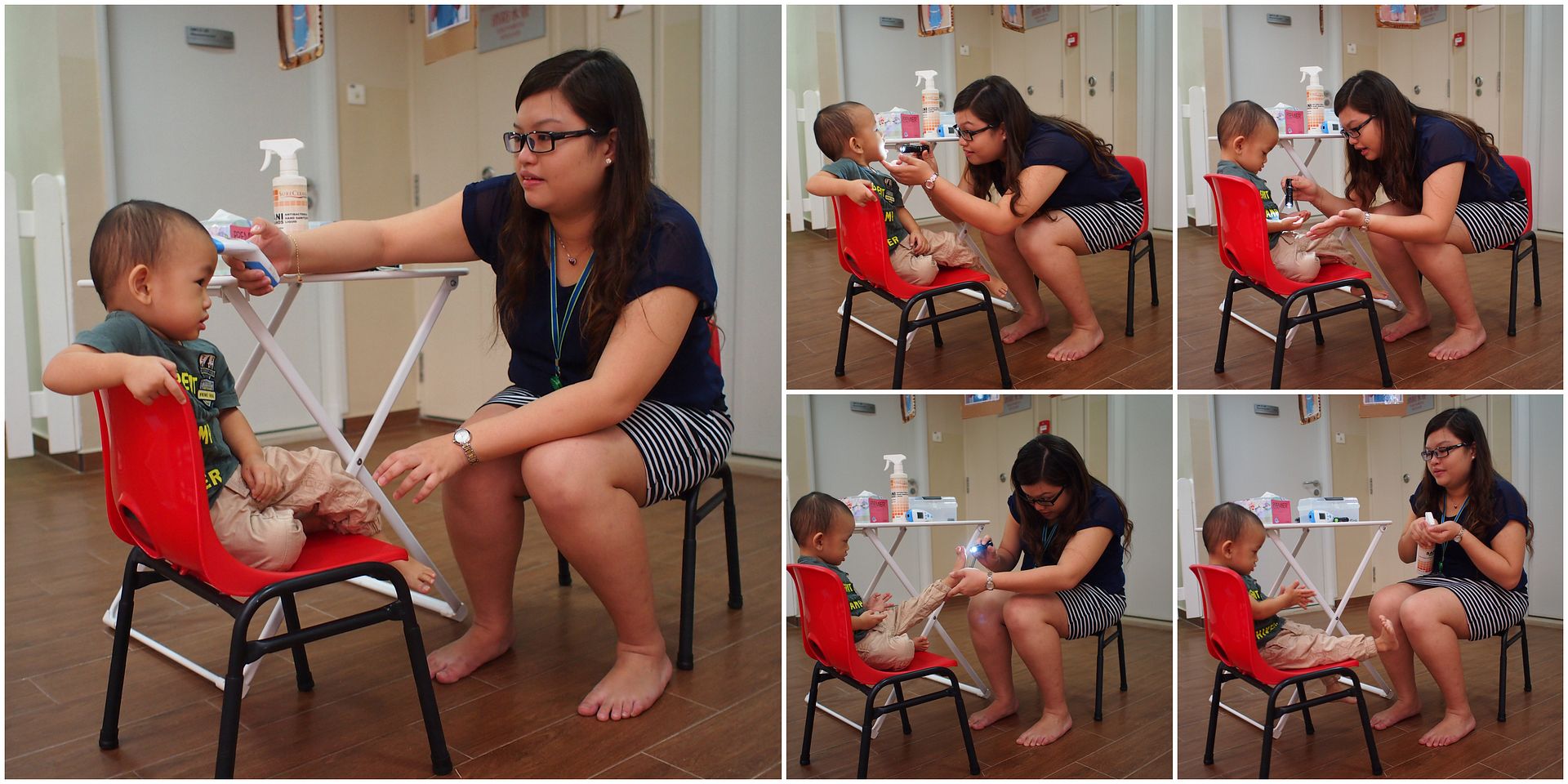 Shoes were placed neatly in the cubby holes provided.

Healthy Breakfast were served.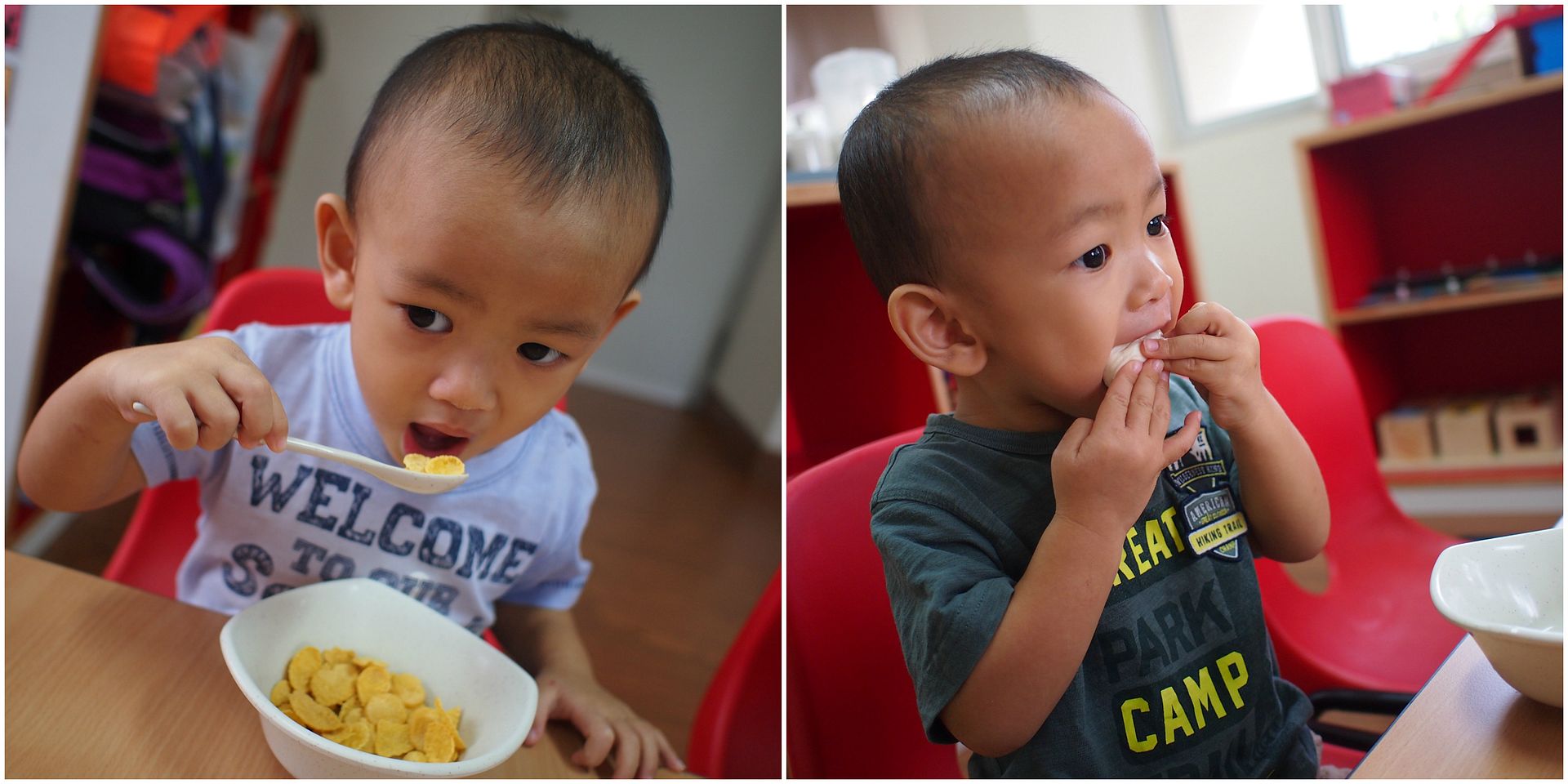 Kids were washing their hands after breakfast and frequently throughout the day.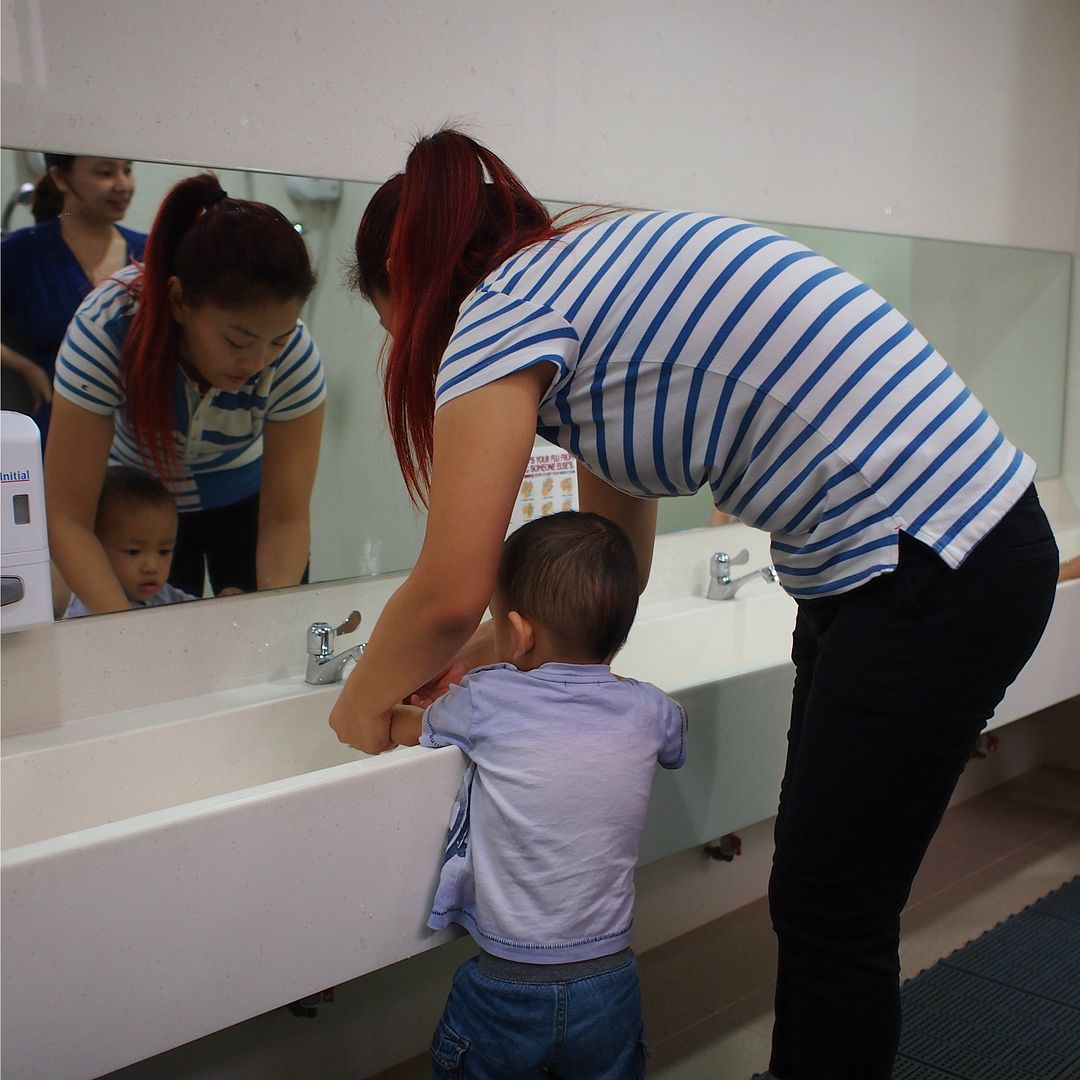 "Tell me and I forget,
teach me and I may remember,
involve me and I learn."
I was impressed that most of the learning activities were unconventional. I haven't seen a single worksheet for the whole 4 days that we were there! There were many opportunities for children to learn hands-on.
James learns the word 面包 and 草莓果酱 by spreading strawberry jam on bread all by himself. Licking his fingers, smacking his lips and eating it!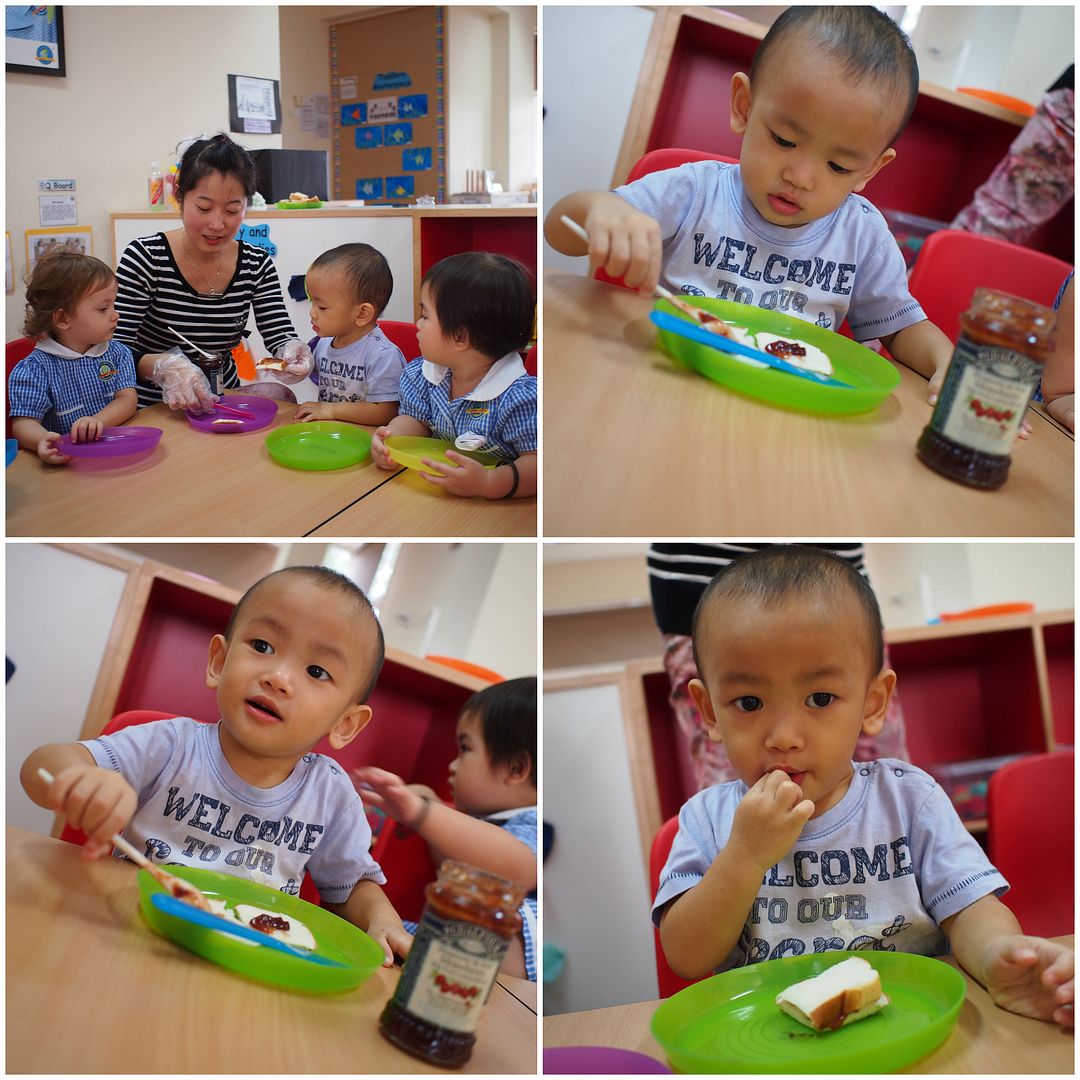 Teachers play a very important role in a child's life. Even more so when a child spends more than 8 hours in a childcare center with its care giver. I felt that the teachers at Learning Vision Hwa Chong genuinely love kids and their jobs too.
I wouldn't have remained this cool with a roomful of abstract finger art painters, but the teachers remained nurturing. James painted a bunch of delicious looking 葡萄.

圆形笑脸饼干. It was hard for James to resist those colorful chocolate bits while putting eyes and mouth on his "rounded face smiley biscuit".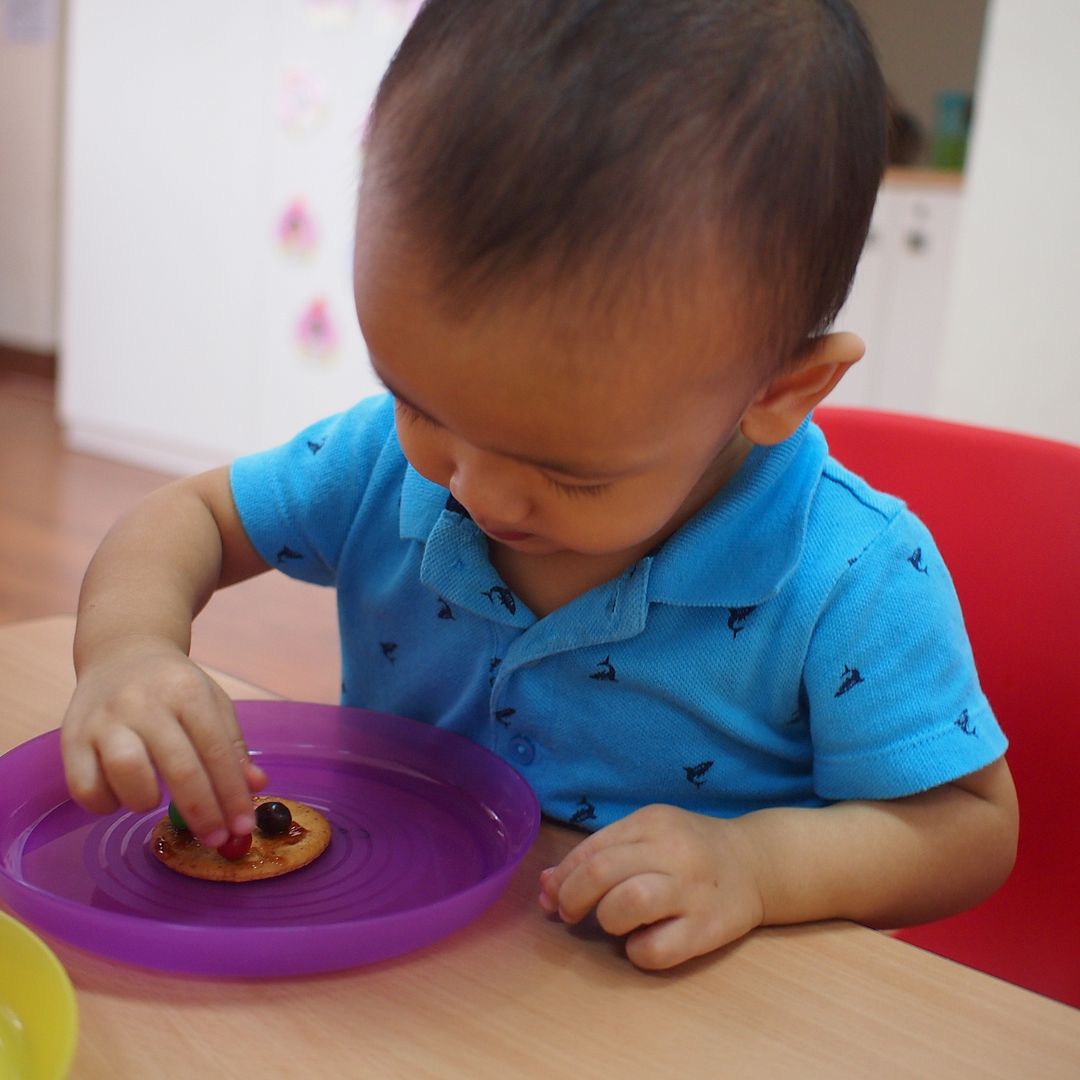 Even a simple session of story telling could become an opportunity to hone confidence of public speaking skills. Bringing story to life with puppetry. *two thumbs up*

There were also a lot of singing and dancing, which the children thoroughly enjoyed!

And if weather permits, they can even play outdoor!
But before we go, teachers put on insect repellant for the kids.

That Glorious Playground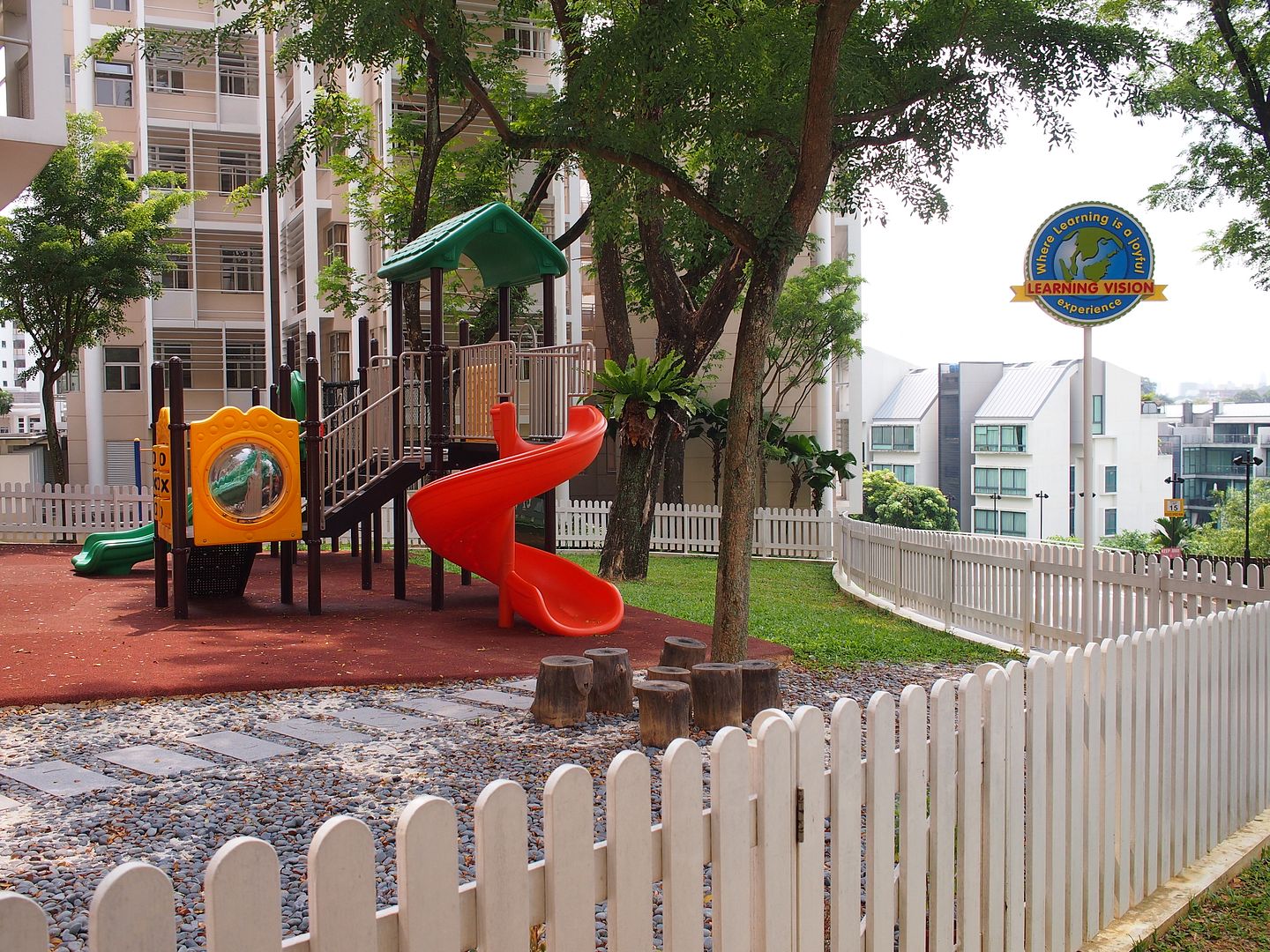 Judging from those happy faces, this has got to be the BEST part of school!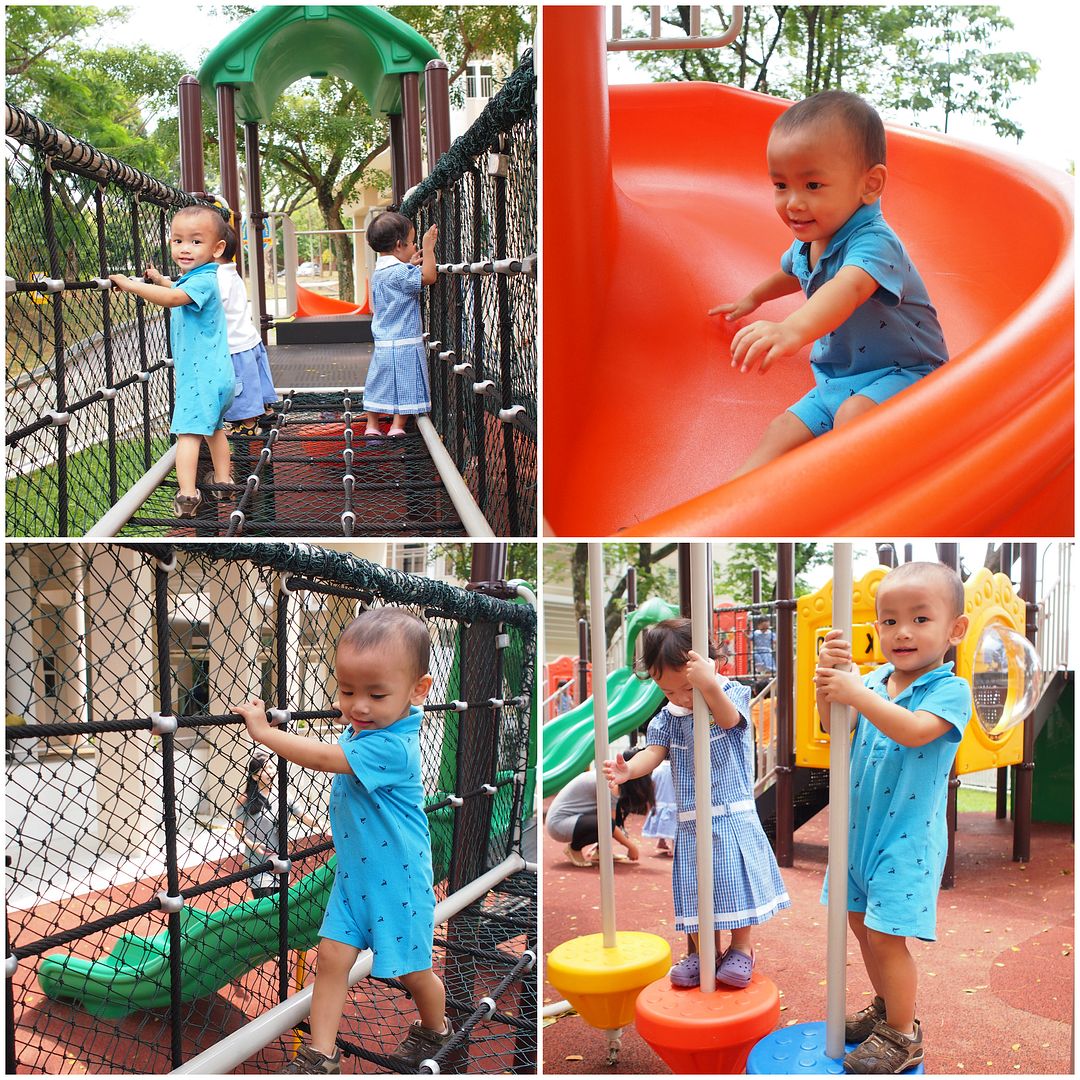 Learning Vision has a practice of serving Fruits before Food since research has shown that eating fruits before food is more beneficial as compared to vise verse.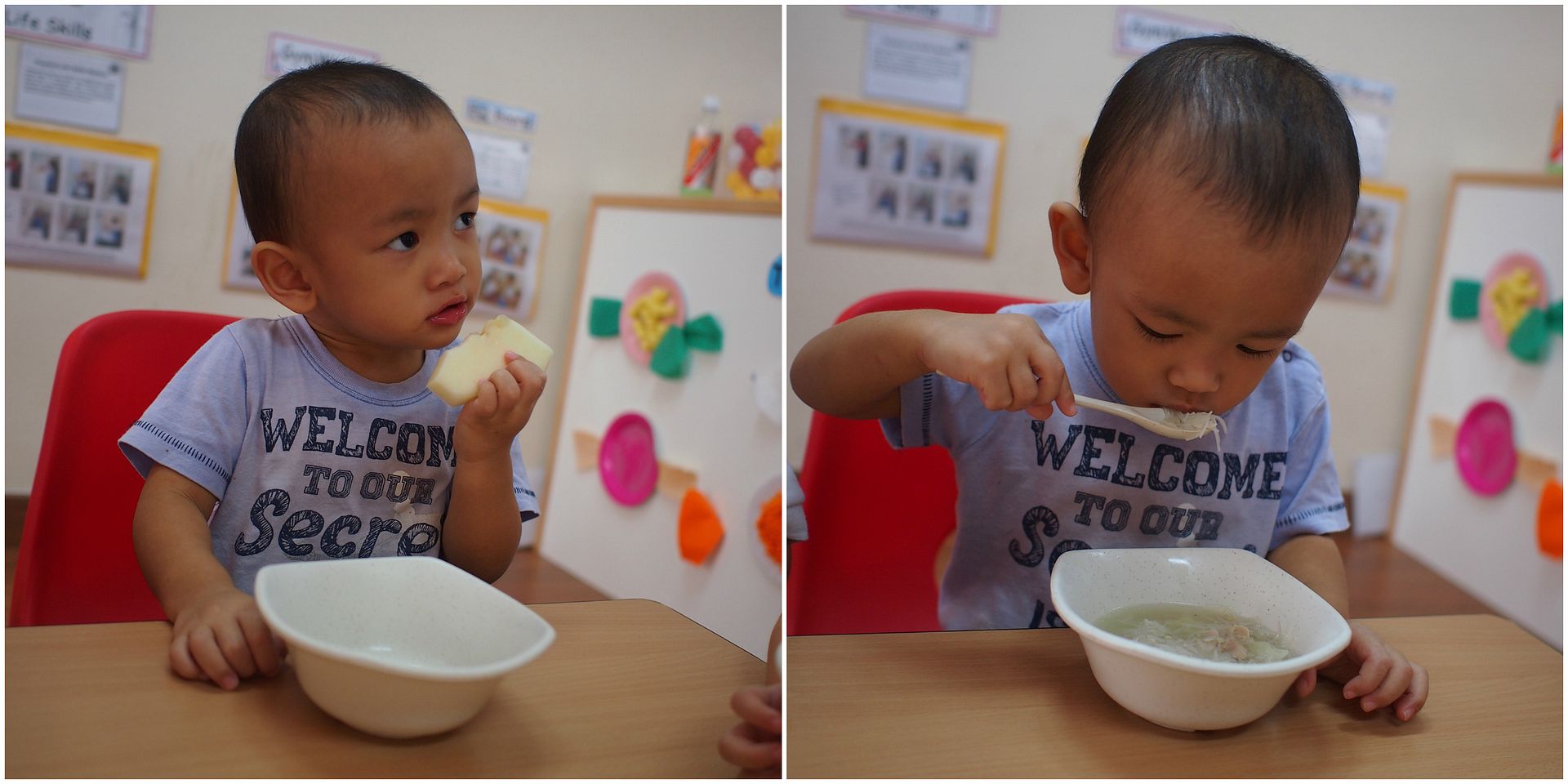 James sharing a lighthearted moment with teacher Alicia. Teachers were seen handling food with gloves each time food was being served.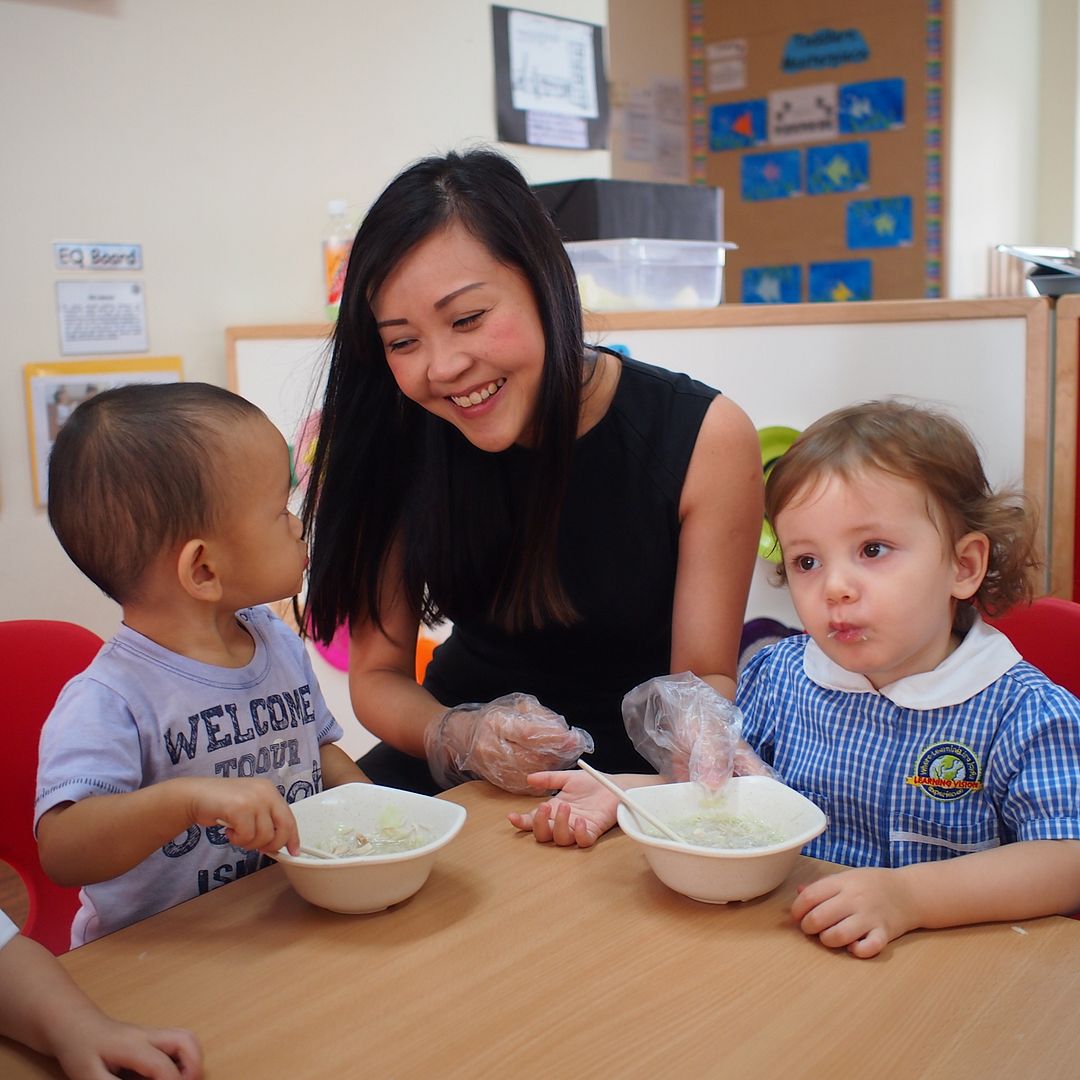 If a child was enrolled into a full day childcare program, they get to shower up before taking a little nap. James waiting patiently for his turn to hit the shower. It's amazing to see how James was able to socially fit in even when he has never been to school before.

The rest of his classmates took their bottles and napped,
while my little rebel had other plans.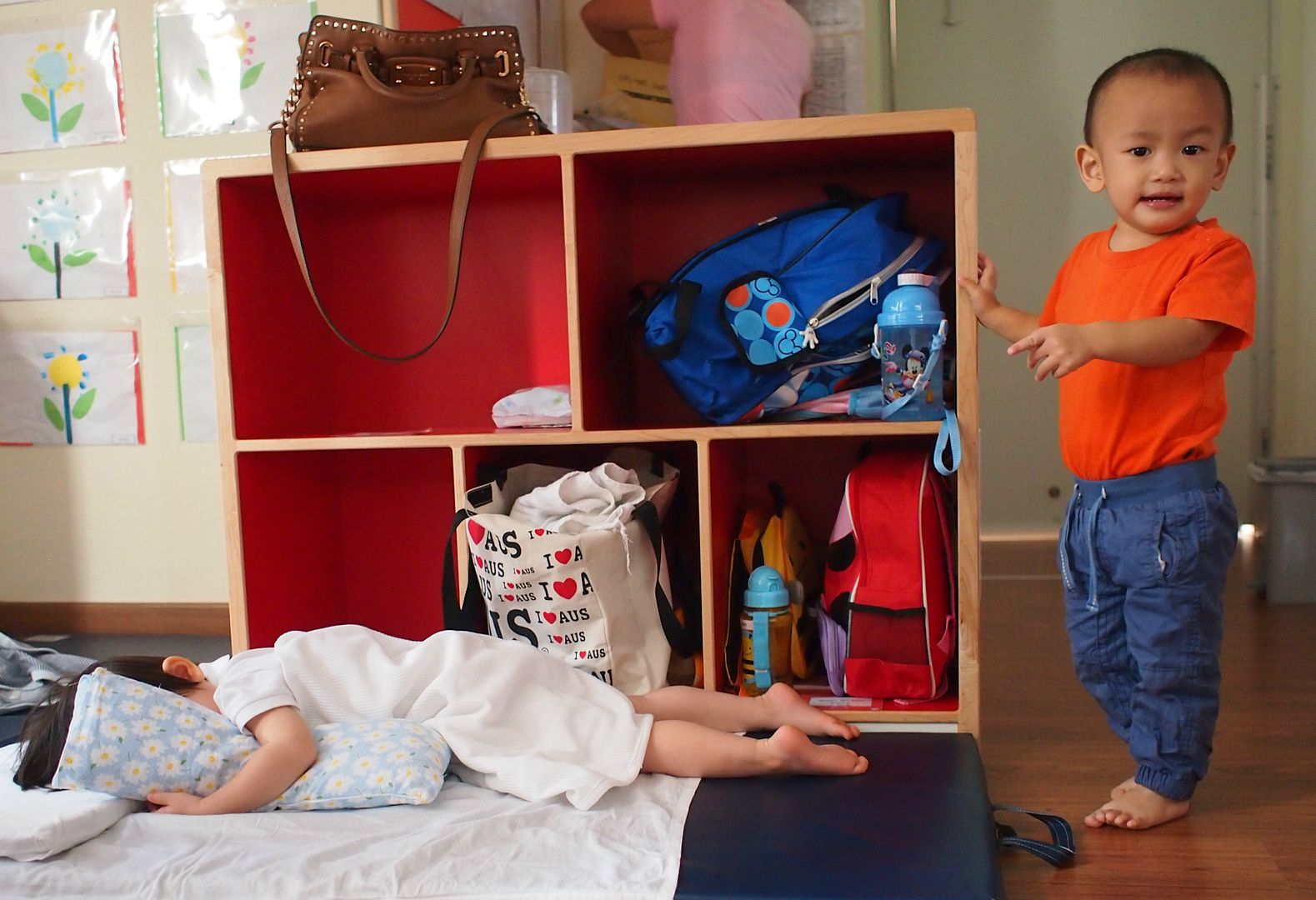 After a good nap,
it's time for a little snack.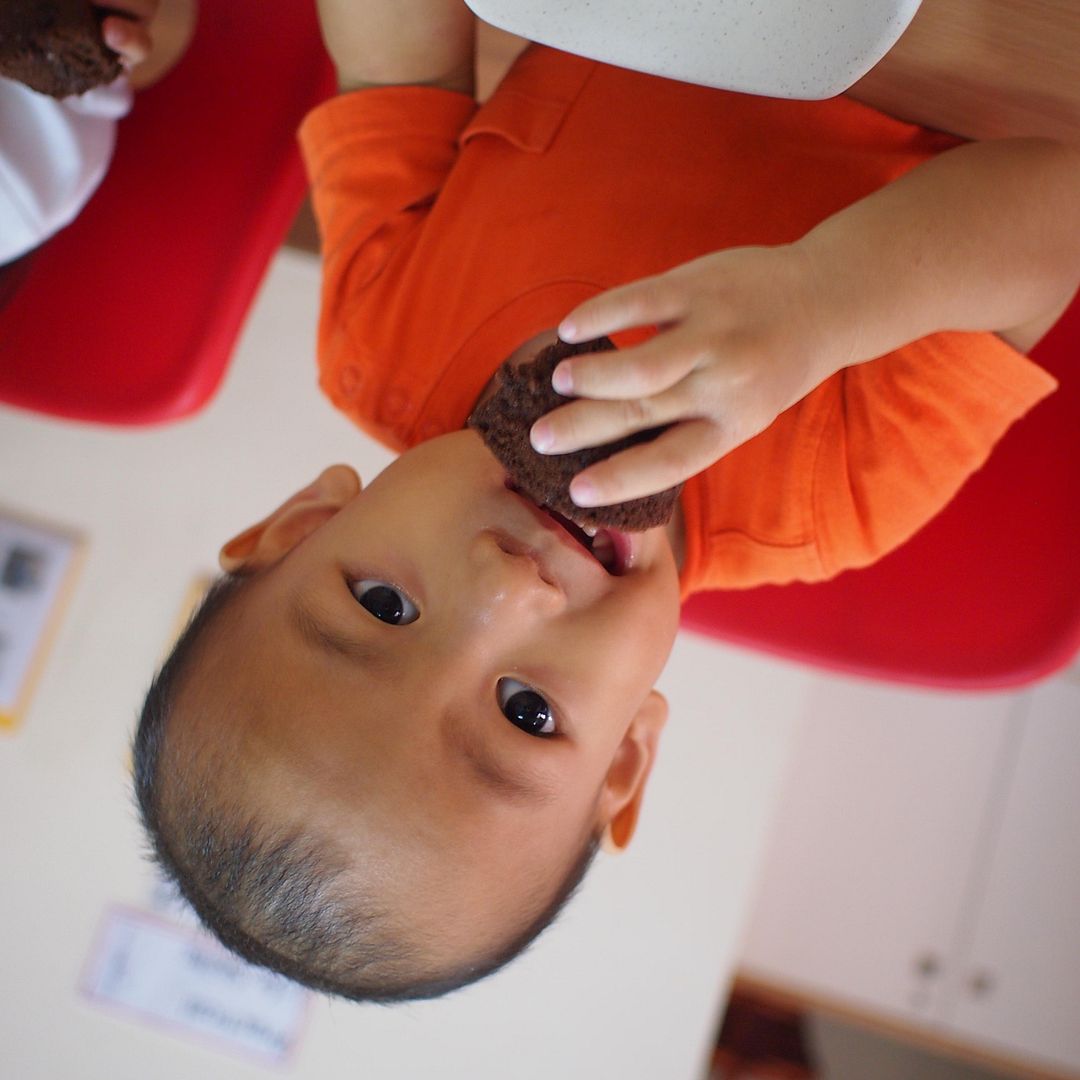 Then there were more singing and dancing.
While waiting for parents to come pick them up, children could choose to read a book…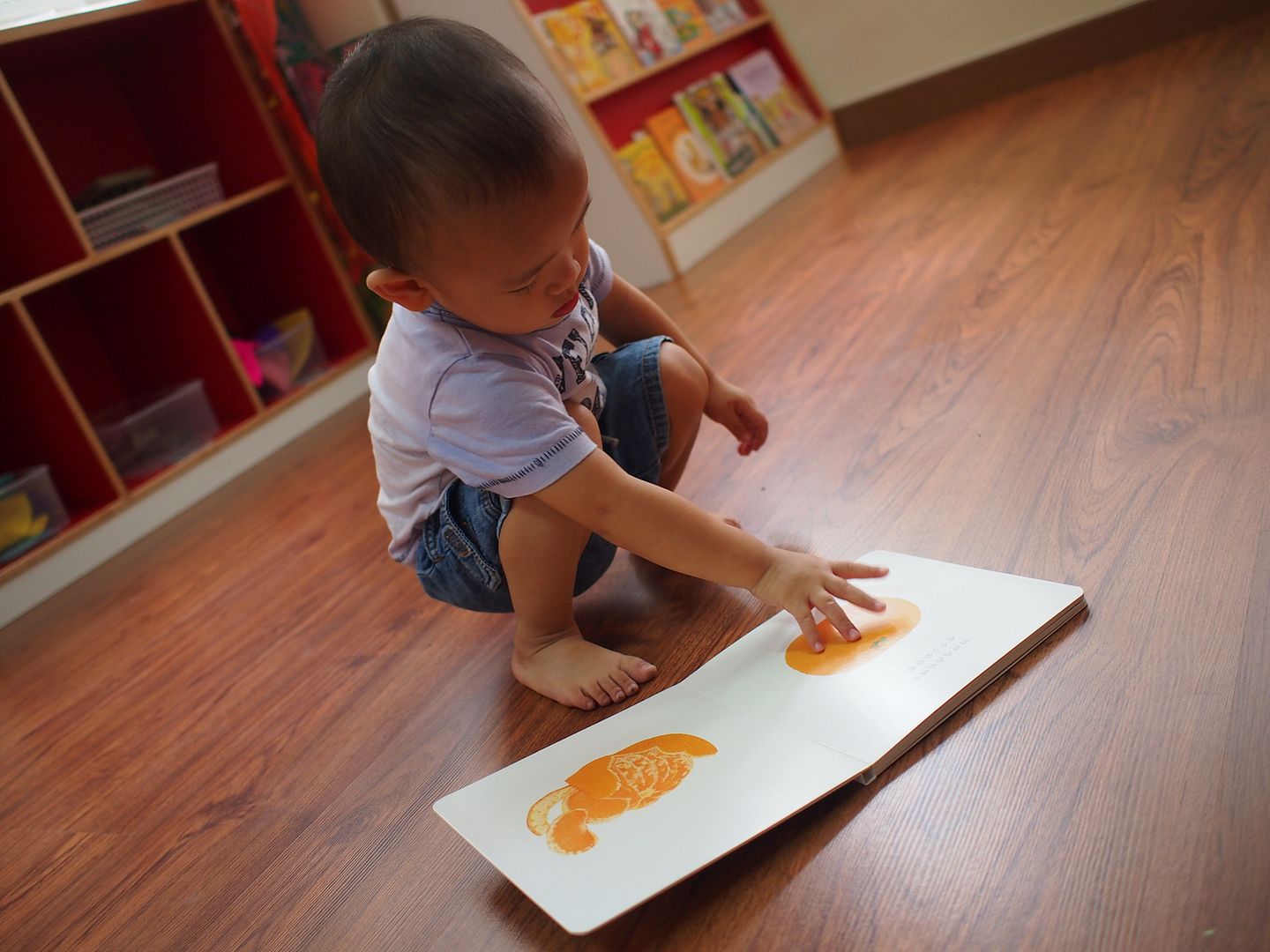 Or perhaps even explore a manipulative toy from the easily accessible cubby hole…

James is totally in love with the stringing toy!!

School has proven to be a joyful learning experience for James. I was surprised to see the bond building up between teachers and James in just 4 short days. James even hugged teacher Alicia on his last day of school.
Aww… That was really heart warming!
Even though James has grown to love the school and the teachers at Learning Vision, it's a pity that the traveling distance to Hwa Chong is a tad too far for us. I'll be checking out other branches and hopefully have a secure childcare placement for James soon.
Interested in checking out Learning Vision too?
With 21 easily accessible centers islandwide,
arranging for a personal tour around the school is a breeze.
Simply Call 67810888 or Email enquiries@learningvision.com.sg
Check out Learning Vision's website (www.learningvision.com) for more details,
and to like them on Facebook to stay updated on their upcoming open house and the latest happenings at the centers.
Comments
comments