It has been a month since we started on our color transformation journey with Dulux. For us, it has been a journey of discovery with realization on how fast Hiroshi is growing.
He has always been fascinated with planes and enjoys traveling, so we all agreed that a travel themed room would be most appropriate for his room makeover.
BEFORE
Apart from the colorful blanket placed at the foot of the bed, there is no tell tale sign that this bedroom belongs to a kid. Too much clutter, too practical and too boring!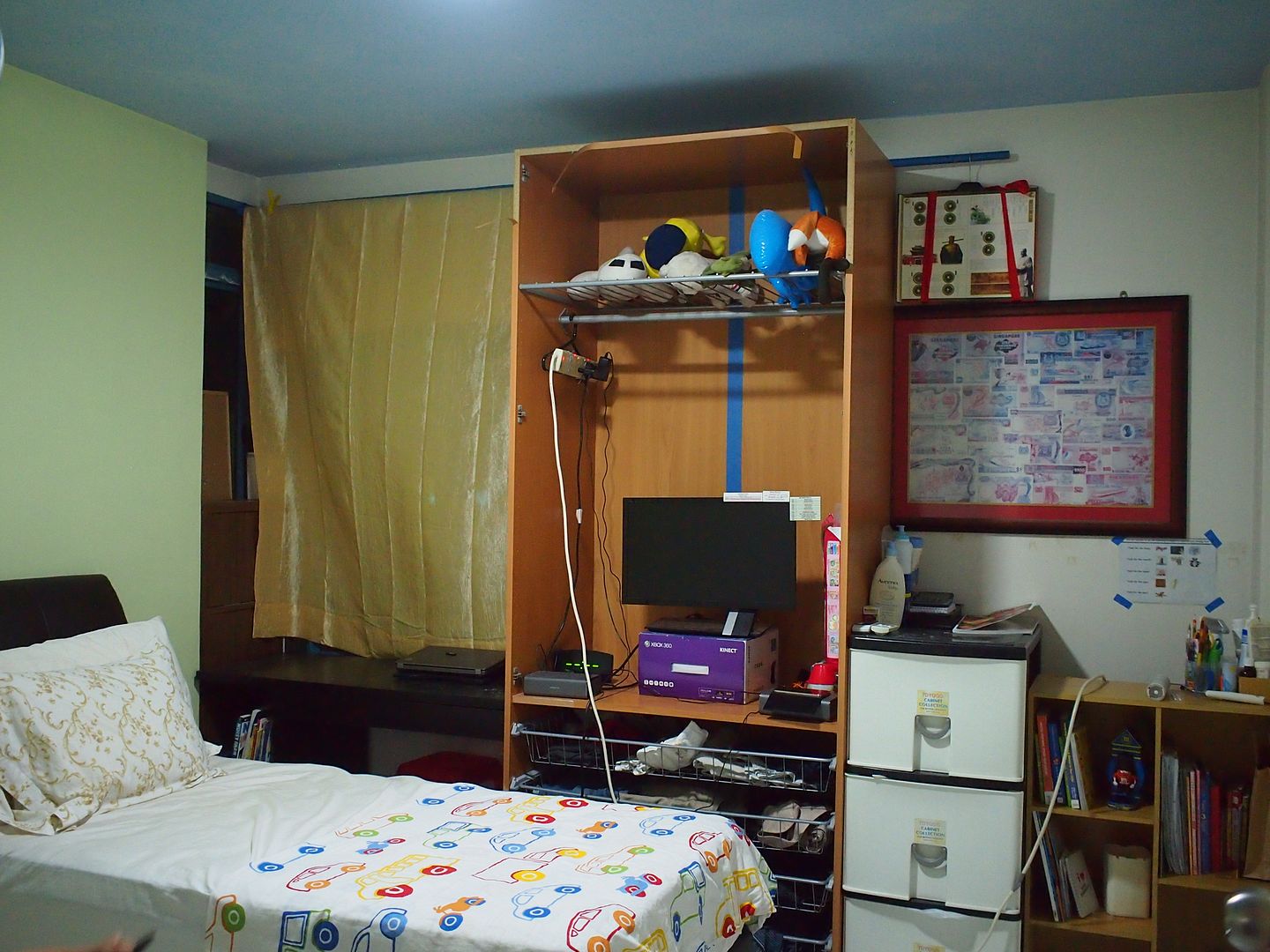 In the past, we've always been the typical play-it-safe kind of homeowners who prefers sticking to "safer" shades. But, through our color transformation journey with Dulux, we've learn so much more about using colors to renew and re-energise our homes.
AFTER
A blank canvas has unlimited possibilities.
Dulux Lakemount Blue walls with white ceiling.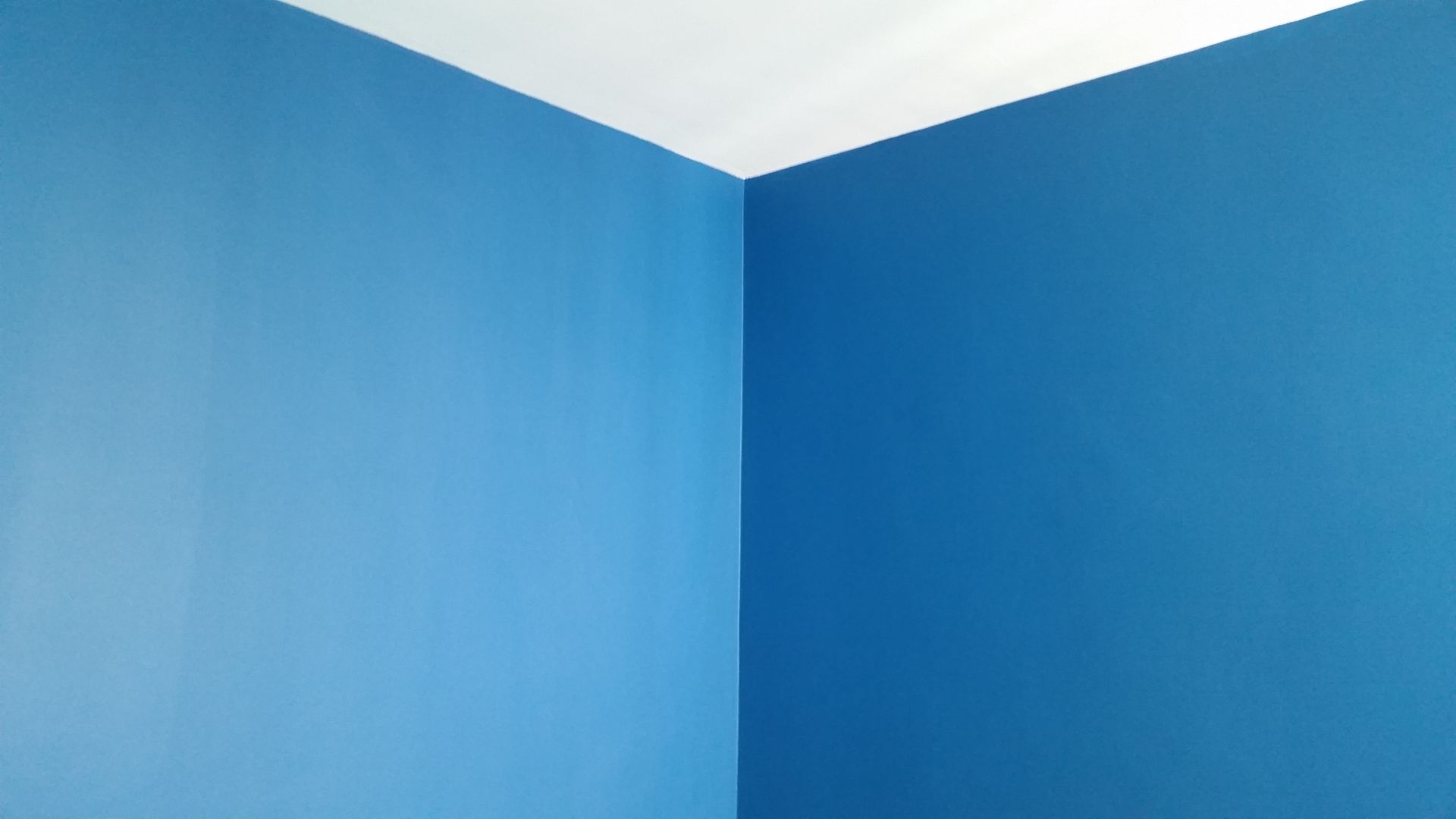 Choosing the color Lakemount Blue has been liberating for us. And they were right! A new color… A ((WHOLE)) new experience! The color blue feels restful and adds character to the entire room makeover.
Let's take flight into our travel themed room.
Jem and KelWin putting on highlights of the travel themed room with Dulux wash and wear paints. Jem painted the silhouette of the world map in Dulux's White Pearl. While Kelwin meticulously painted a retro looking airplane in Dulux's O'hara (red), Peacan Tree (brown), White Pearl and Nobel Grey. It's exciting to see our plans turn into reality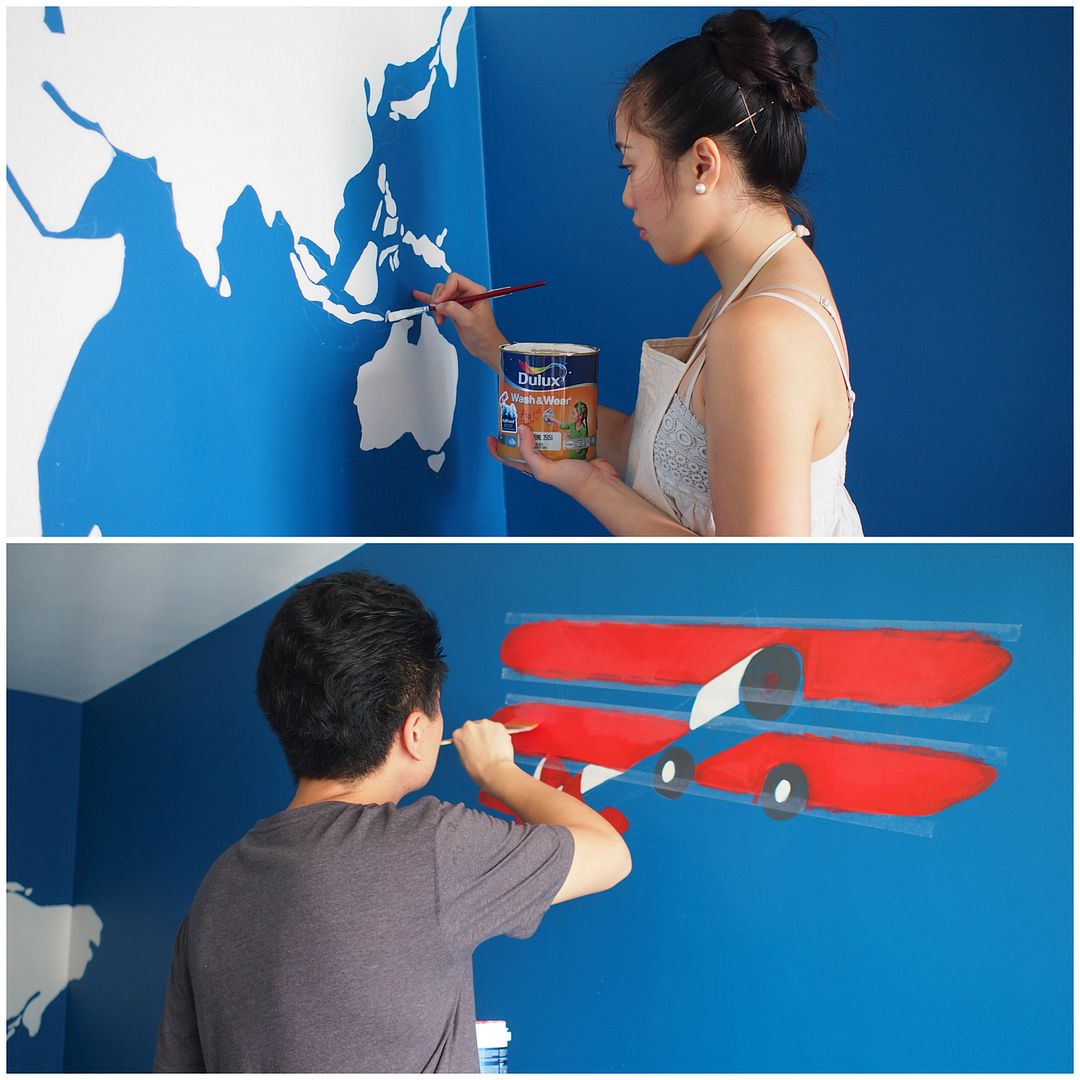 Another element to consider when decorating a themed bedroom is the use of appropriate bedding. In order to compliment our lakemount blue walls and O'hara (red) airplane, we've decided to keep the color theme of the room to mainly blue and red.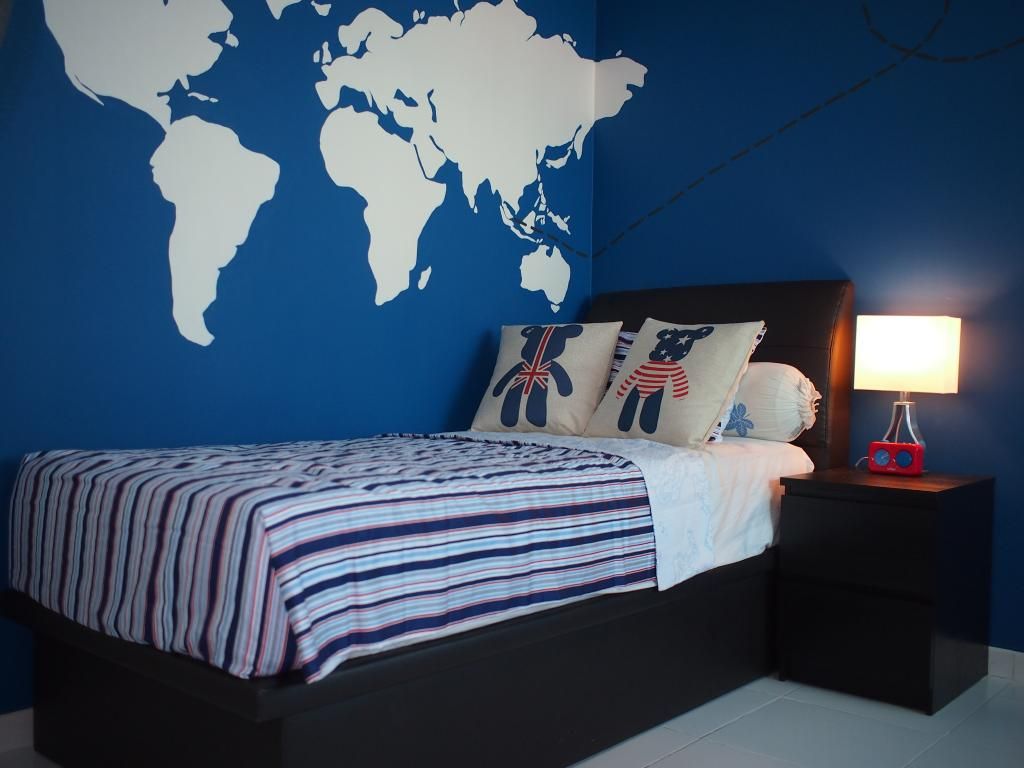 Bear-y America and Bear-y Britain throw pillow effortlessly adds a dash of travel mood to the entire bedroom. My hunt finally paid off after shopping for days when I found this quilt cover set. Not only does it match the color theme of the bedroom perfectly, the reverse side of the quilt cover shows the picture of a traveller's map too! Pretty isn't it?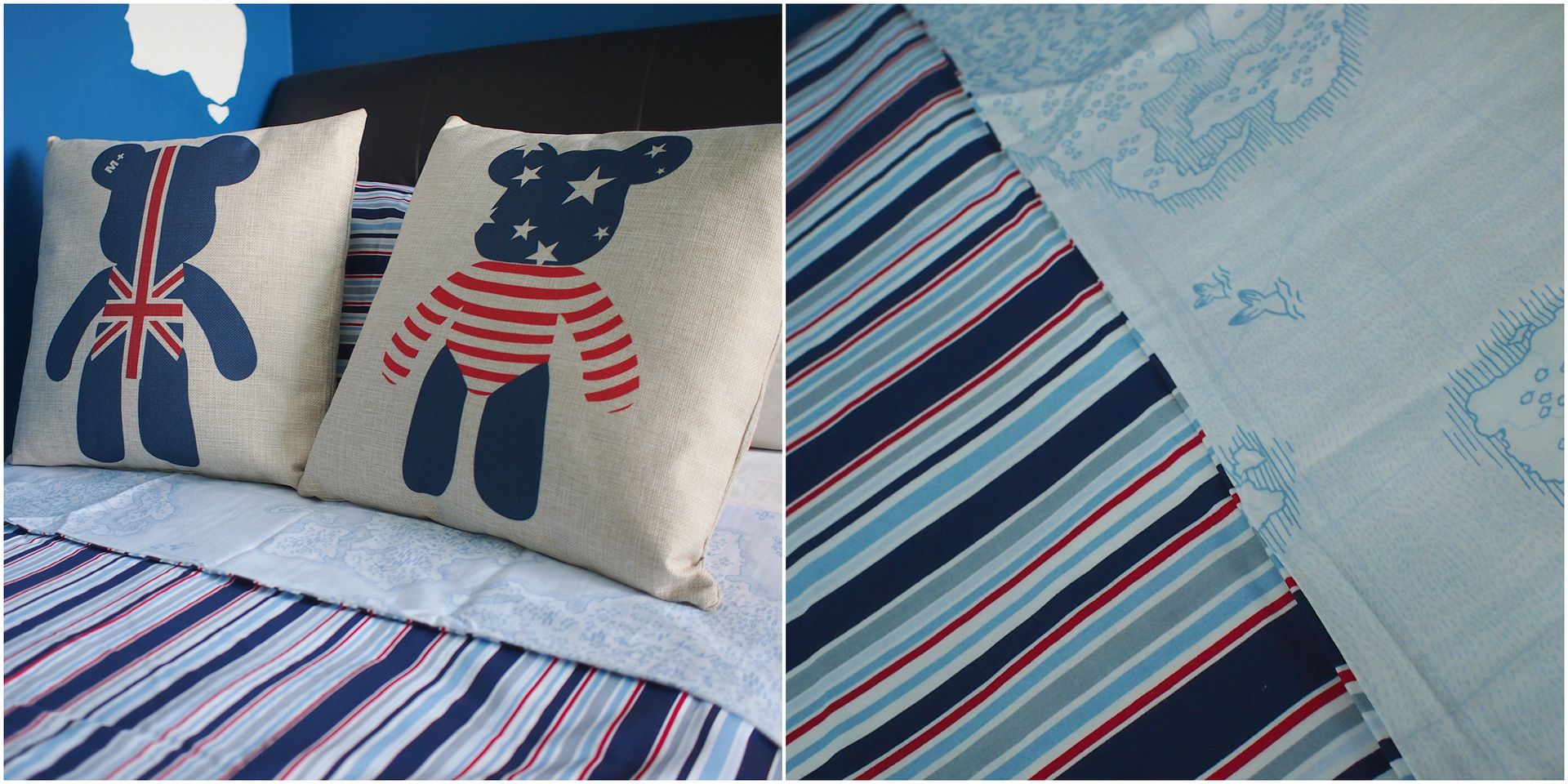 Hiroshi is madly in love with his old "new" bed.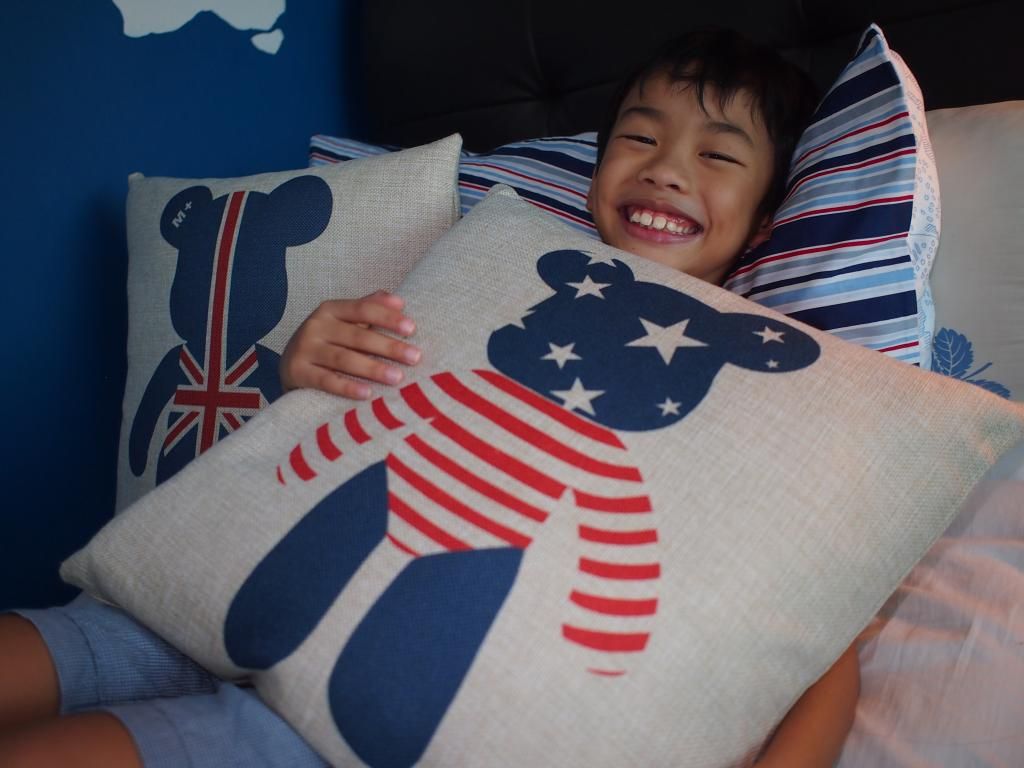 You're off to great places, today is your day.
Your mountain is waiting, so get on your way! ~Dr Seuss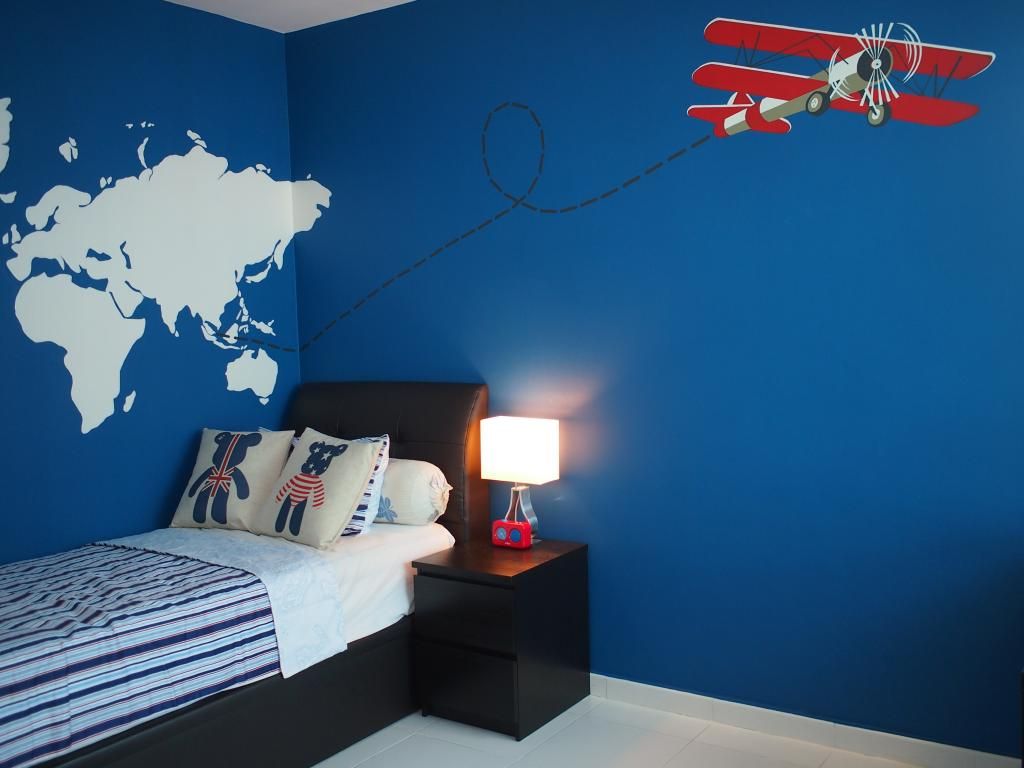 We've also added a bedside lamp to create a softer look and warmer ambience against the Lakemount Blue walls. A splash of color from the bedside alarm clock to dress up the dark colored bedside table.
Study table is placed near the window for ample natural sunlight. Due to Hiroshi's ADHD condition, we've kept his study table distraction free with just a study lamp and a mini rotating globe. Definitely a more conducive environment as compared to before.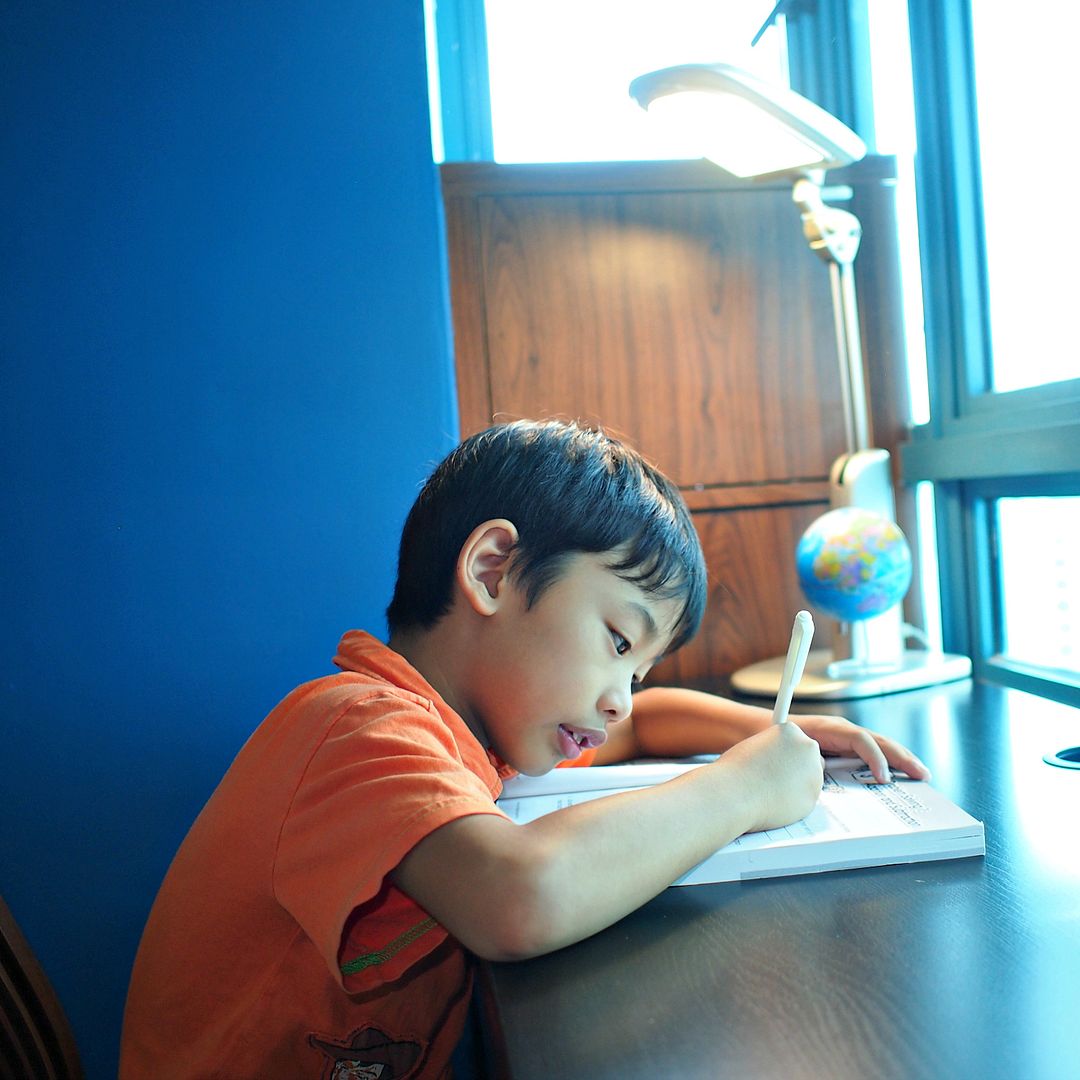 Despite being such an active boy, one of Hiroshi's favorite quiet time activity is reading. He can be at it for hours, so this cozy corner will be his spot to chill and unwind.
No travel themed room is complete without the use of world clocks. City names under the wall clocks are custom made vinyl stickers. Easily available at those printing shops located in Bras Basah Complex. They are very simple to put up too!


Notice the difference in wall colors?
We've painted this corner of the room in Dulux Song Porcelain, and this photograph doesn't do the color justice! Song Porcelain is a beautiful shade of white infused with a subtle tinge of violet. Brilliant contrast to the Lakemount blue walls. Apart from giving the room an illusion of a wider space, it also sets the mood for the reading corner.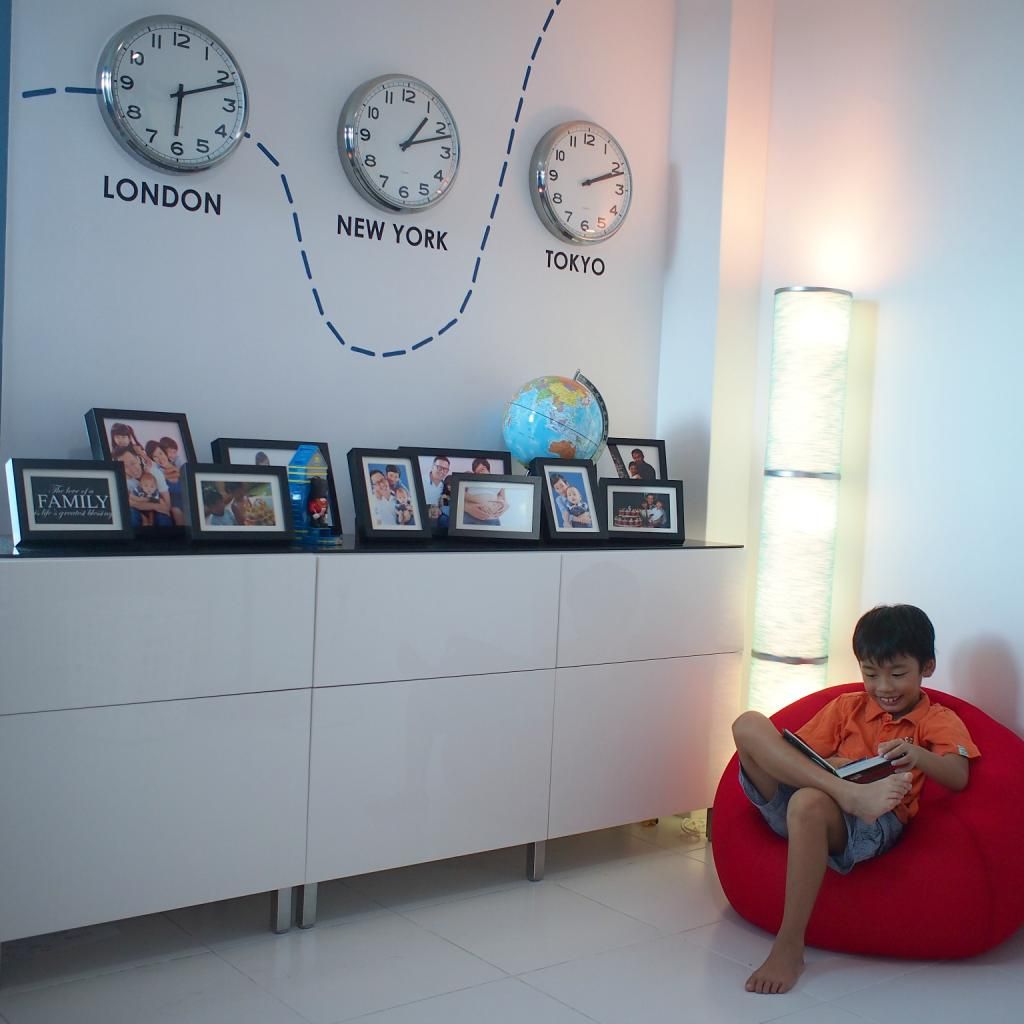 And on top of our new cabinet lies happy memories and souvenirs of our travel experiences. The big globe that sits on the cabinet provides hiroshi a fun and great way to look at the world we live on, allowing him to reminisce his past travel experiences and to plan his next itinerary.
Other than creating a cozy environment, the blue standing lamp and red bean bag perfectly blended our color theme into the quiet reading corner.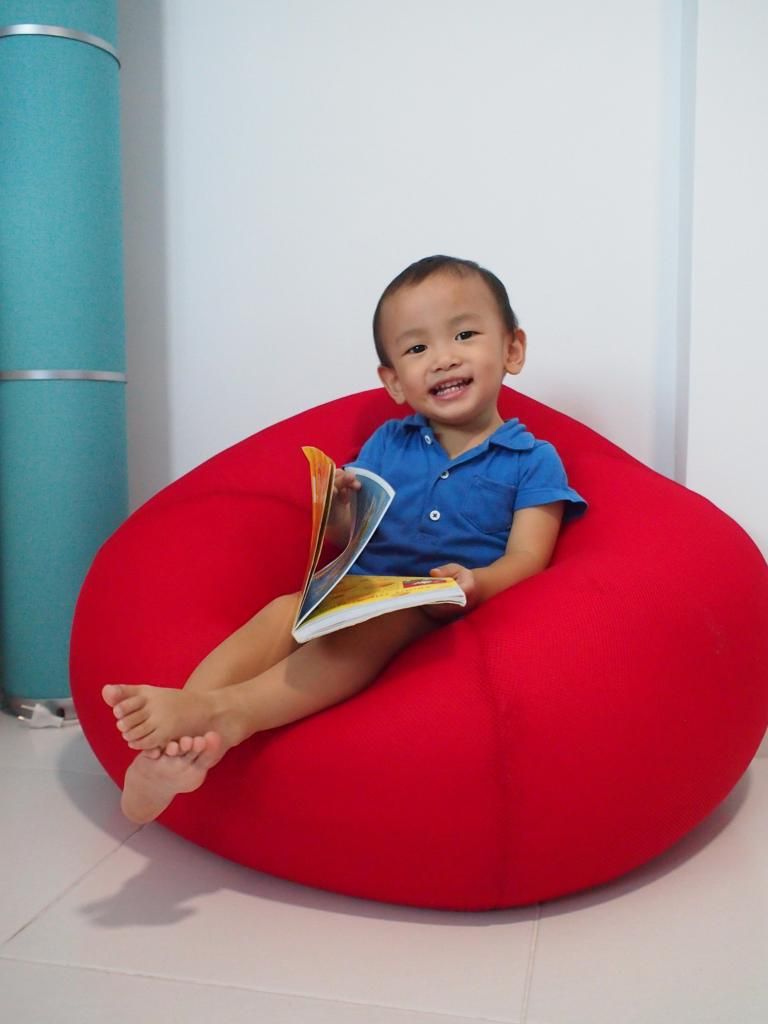 The kids were delighted to play their part in the room makeover.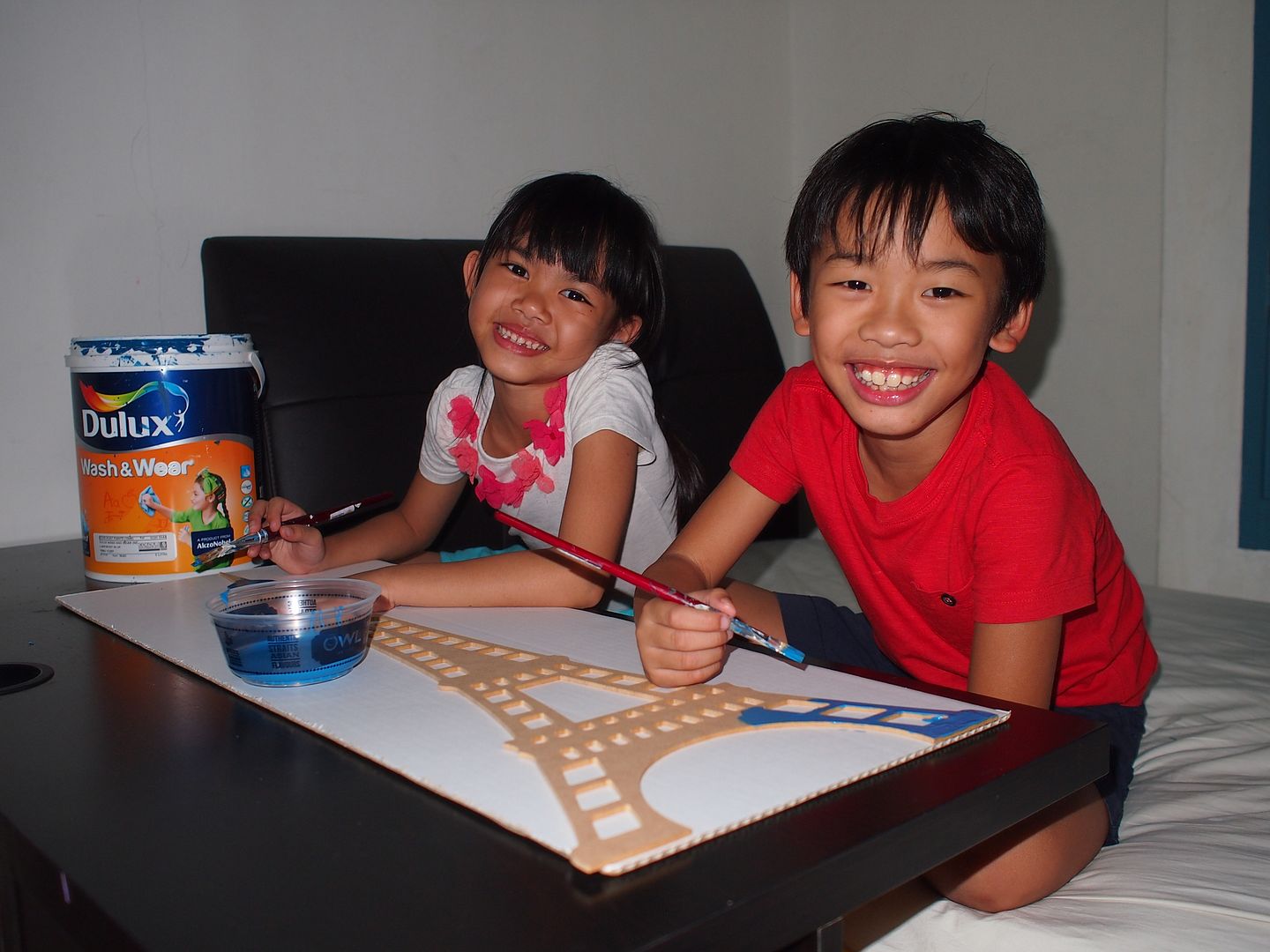 We found some theme fitting decor from Spotlight and painted them with Dulux paints.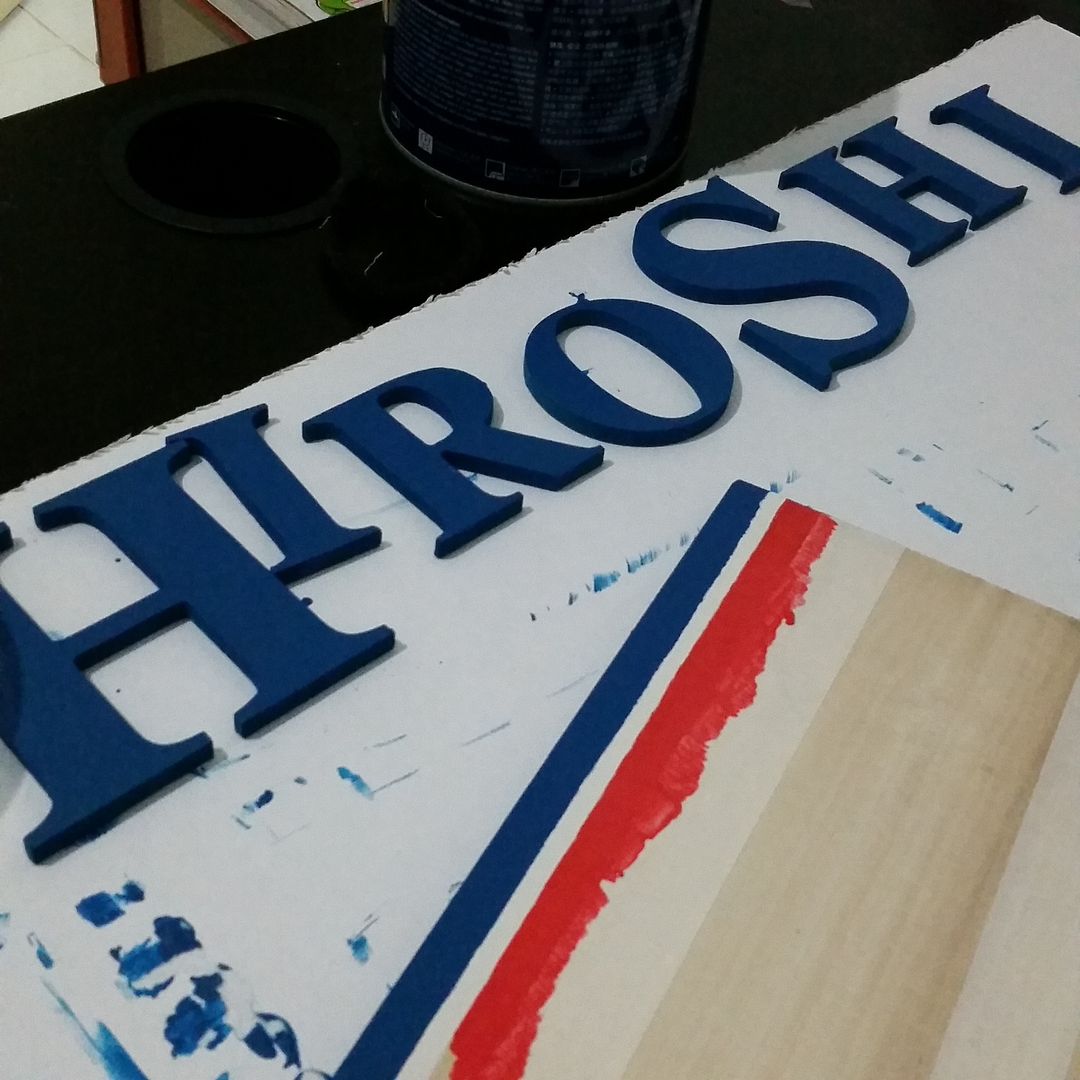 Bonjour! A customized door sign for the room.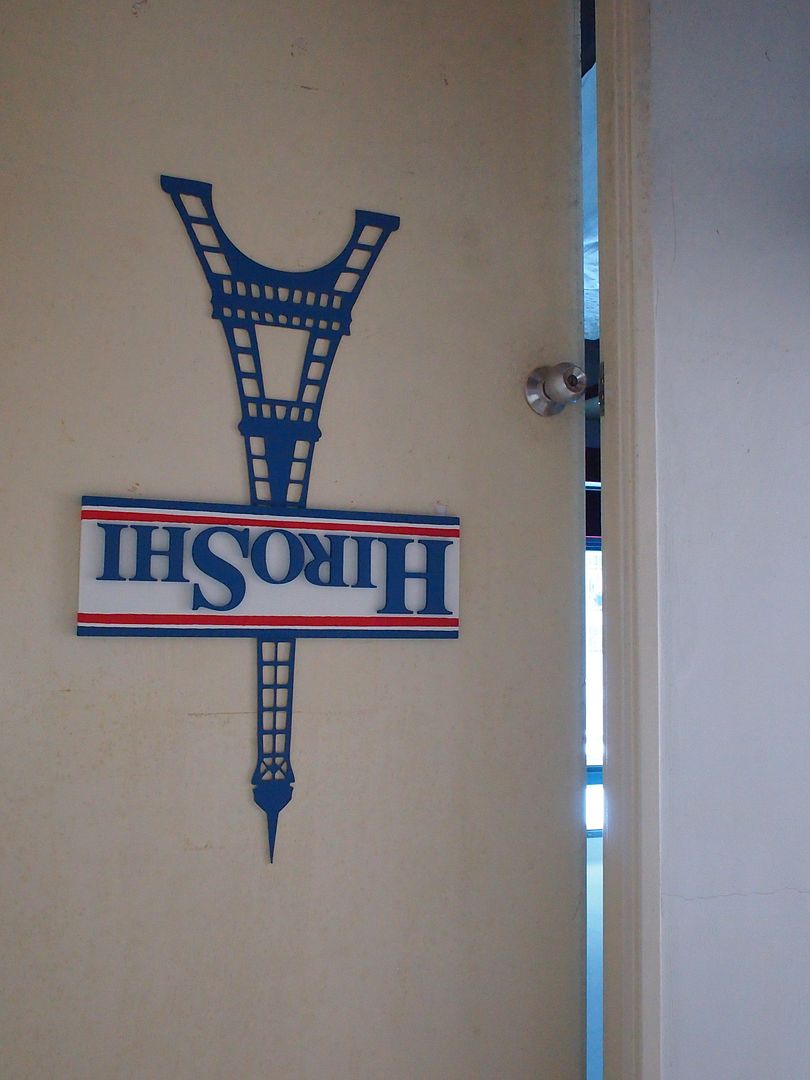 Inspired by our room transformation?
Check out Dulux's tips to giving your home a perfect make over.

Take advantage of the promotion and attractive paint packages offered by Dulux Paint.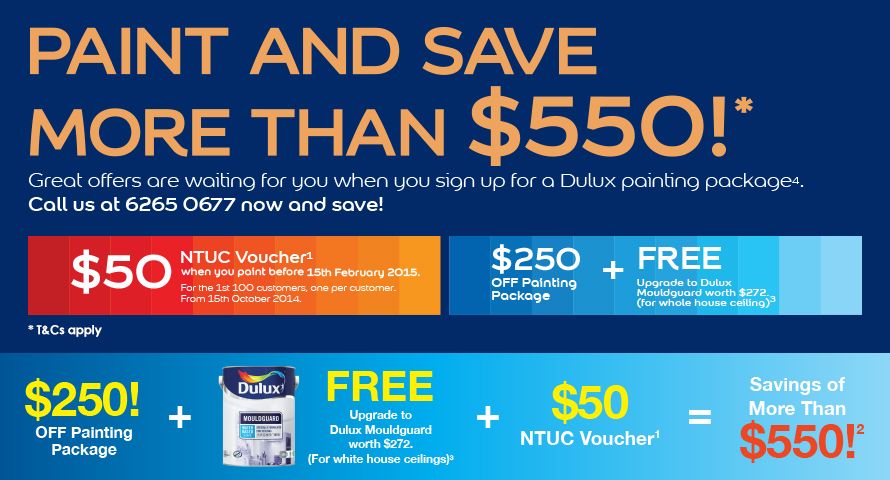 What's More?
SingaporeMomBlogs readers saves MORE!
Enjoy additional $30 off painting packages when you call 6265 0677 and quote IS550.


(hotline is open on weekday 8.30am – 5.00pm)
VOTE and WIN
Starting from 8 December, vote for your favorite blogger with the best room transformation on Dulux Facebook page for a chance to win up to $600 worth of prizes!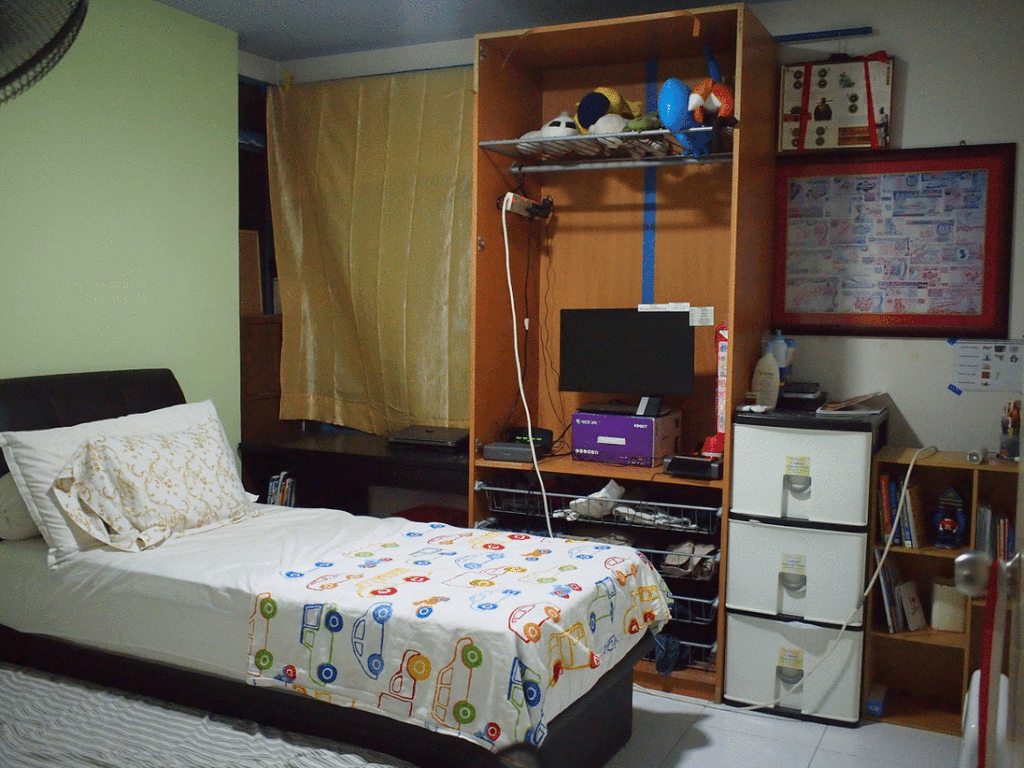 Our room transformation was a bliss with Dulux Professional Painting Services.
This is what you can expect from engaging professional painters from Dulux:
Pre-Paint
Before the actual paint job, the good people from Dulux came down to our house for a site inspection. Professional painting contractors from Dulux assessed our walls and gave us professional advice ranging form products to colors.
Actual Paint Job
The professionals from Dulux arrived on time and worked efficiently as a team. They shifted furniture and protected them with plastic sheets. And even laid mats on the floor to protect my flooring too!
The professional painters started taping edges of the electrical sockets, switches and skirting of tiles. Damaged walls from my DIY heydays were plastered. Sealant paint was painted over parts of the wall that needed cover ups. And then they proceeded to paint the entire room with care.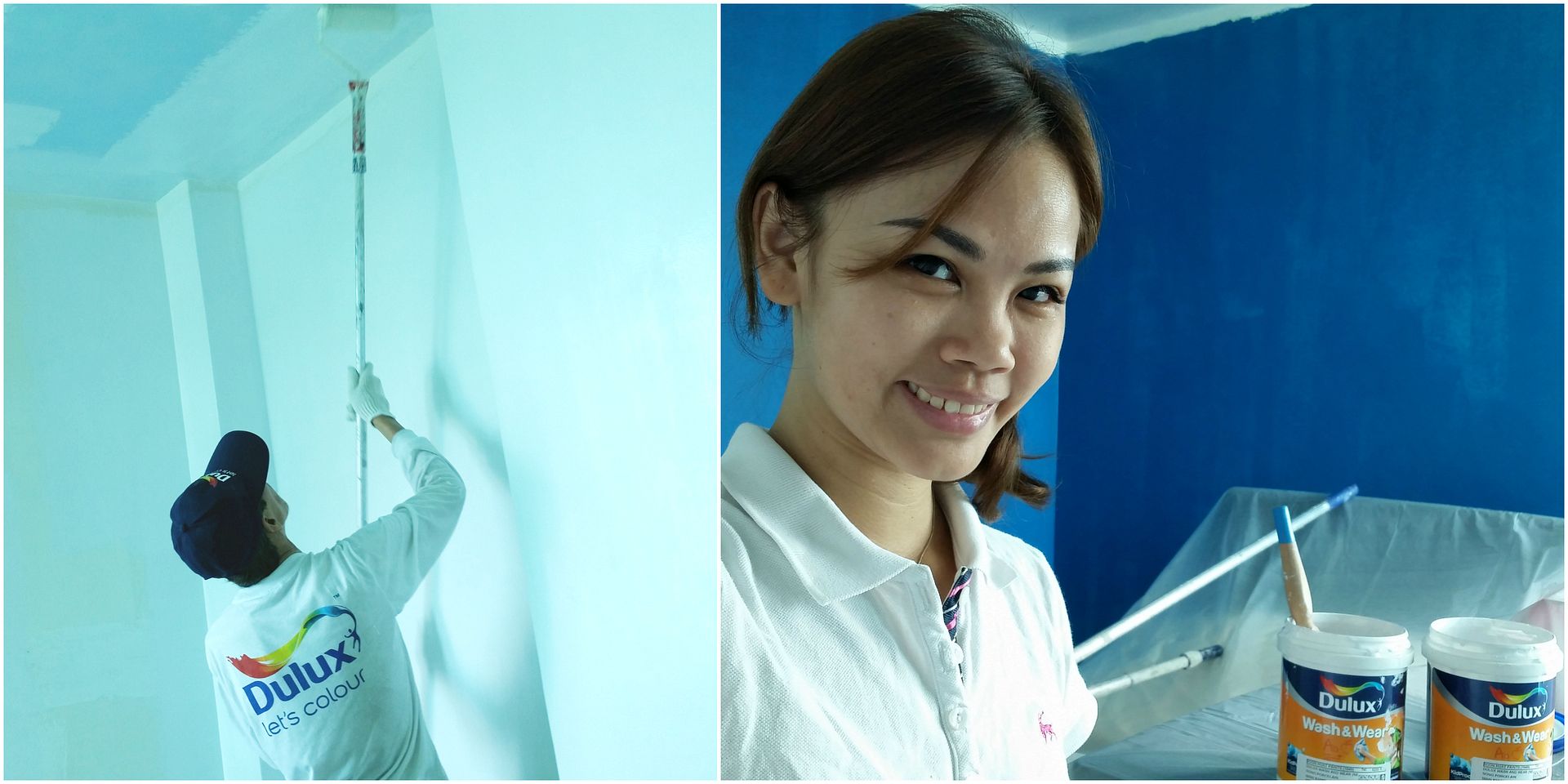 They even cleaned up after the paint job and shifted furniture back.
Have you heard of a paint job that comes with warranty? Well, you heard me right! Dulux offers 1 whole year of guarantee against paint defects for your newly painted homes too! Now that's what I mean by having a peace of mind.
We were extremely satisfied with the services offered by Dulux Professional Painters. They have made our room transformation so much easier as anyone who has painted a room before can testify that painting is always the most difficult, and not to mention back breaking part of a room makeover. Two thumbs up for the professional team of painter at Dulux for such a wonderful job well done.
Hiroshi is happy that his personal space has been rejuvenated with a fresh coat of paint, with colors that spell calm and peacefulness.
Thank you Dulux for making a dream come true effortlessly!
For more inspirational ideas online, Please visit
– Facebook: fb.com/dulux.sg
– Instagram: @duluxg
– Pintrest: pintrest.com/duluxsg
– Youtube: youtube.com/duluxsingapore
– Website: www.dulux.com.sg
Comments
comments