9 years ago an unexpected job fell on my lap.
Faced with the choice of no alternative childcare option from close ones,
expensive infant care and inflexible working hours.
Kitson and myself made one of the most important decisions of our lives.
Surviving on a Single Income!
Being a mother is a tough job. But being a young mother with a husband that travels around the world frequently makes it even harder.
Many have doubted my ability to perform or even stay on the job.
But with positivity and a very supportive husband,
We survived.
This is my top 5 essential tips for SAHM with new baby.
1. Reprogramme
I've read many books on pregnancies when I was expecting Hiroshi. Many painted rosy pictures with failure to properly illustrate worst case scenarios. Every child is different. What works for one might not work for another. Parenting cannot be defined by books. Just go with your guts!

2. Breastfeed
If ever possible, latch directly. Save time since there are No bottles to wash and sterilize.
3. Co-Sleep + Synchronized Sleeping
Rather than waiting for a full orchestra to happen… I prefer to co-sleep with my kids. It is easier to pacify a half awake baby than to battle with one that is already screaming his/her lungs out!
Being a mother is tiring, especially in the early days. Make sure you synchronize your sleeping patterns with your baby. Sleep with your baby. Take multiple cat naps. A well rested mom usually performs better.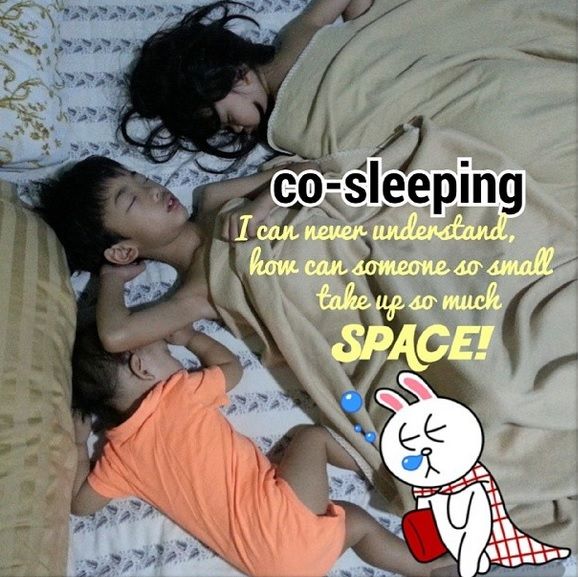 4. Be Selectively Blind
Your sanity should rank the highest in the chart of your needs. Not housework, not dirty dishes, nor laundry. Take care of yourself and the rest will fall it place.

5. Accept HELP.
There is no award for loosing your mind and putting on a brave front to be Supermom. We all need a little help from time to time.

This post is written for the "SAHM Survival Tips" blog train ran by Gingerbread Mum. There will be a total of 31 mums from the Singapore Mom Bloggers Community to sharing their personal SAHM Survival tips, so make sure you come back here and click on the button below to get more tips!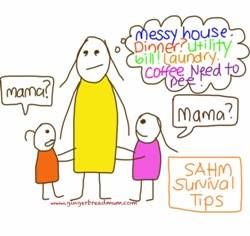 The next mom on this blog train is Estella at SoOddlyDreamlike.

Mama to a little girl named Joy, Estella is passionate about breastfeeding. She spends her time learning to cook, teach and bring up the love of her life. Estella loves make up, shoes, food and travelling and has recently returned to life as an occasional singer/host. So Oddly Dreamlike is a blog on her parenting and living in Singapore.
Comments
comments