I've always walk by the aisles of makeup products from Daiso with a skeptical mind. How much can you demand out of cosmetic that only cost $2 each? Out of curiosity, I bought a whole bunch of Daiso makeup and attempted my daily makeup routine from start to finish.
I must say I am pretty impressed with the results! Find out which Daiso makeup product made the cut and which were just simply a waste of money…

All the Daiso Make up products used in this look.
(I didn't use the eyelash glue and fake eyelash)

Liquid Foundation and Press Powder
Liquid Foundation: Texture is thick and seriously promising. Only problem was… it wasn't. Coverage seems alright, but blending is definitely a pain in the ass.
Pressed Powder: Love the packaging! Look so AnnaSui-ish! Does the job and finishes off with slight shimmer. But I nearly kena death by suffocation from the pungent latex smelling sponge!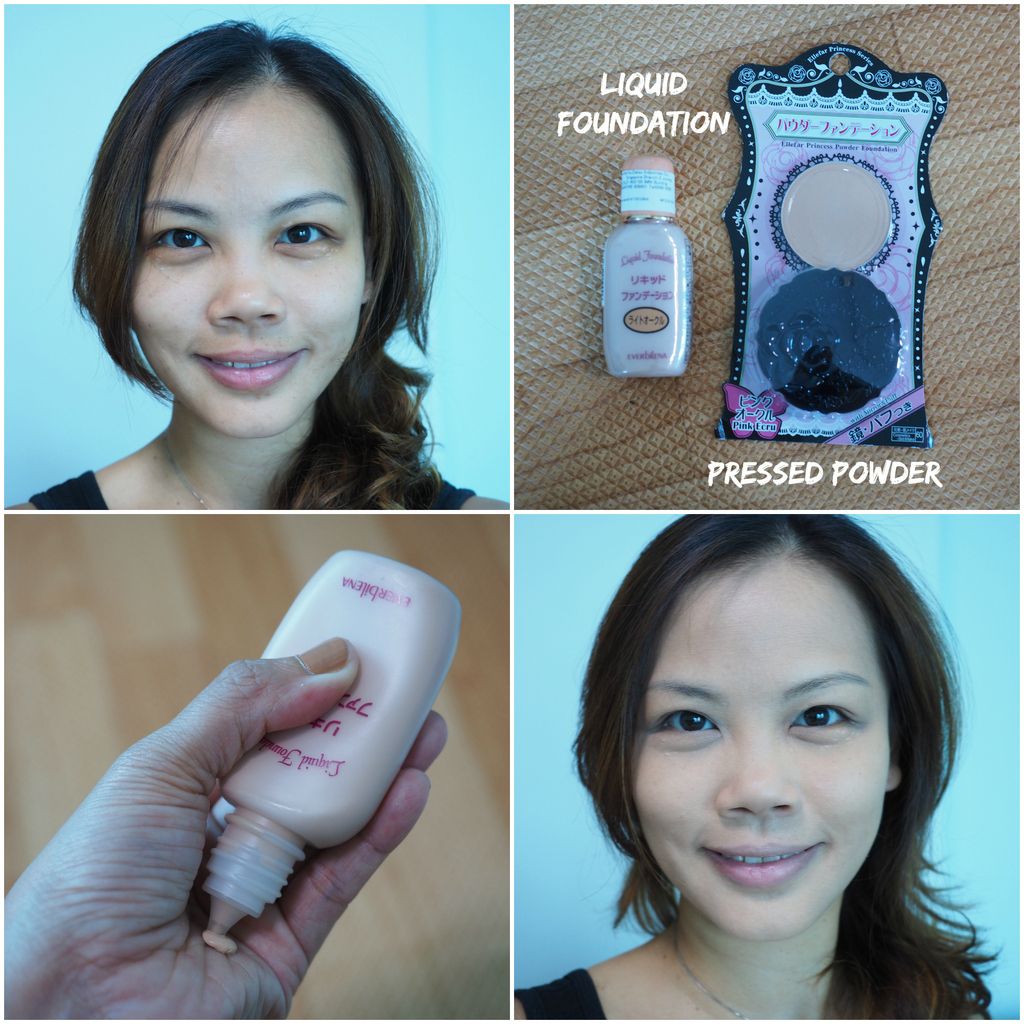 Sure looks like a hell lot of products for a pair of eyes!

Eyebrow Pencil: Love the "triangle" shape on the eyebrow pencil. Very similar to iconic samurai sword shaped Shu Uemura hard formula eyebrow pencil, but a way thicker version!
Eyebrow Gel: Huge cumbersome mascara wand. Runny formula. Terrible buy!

Eye Shadow: Meant to use this together with the cream eye eye shadow base, but totally forgotten about it. Highlight, and blending colours were not prominent, only the darkest brown shows up in picture.
Liquid Eyeliner: Great silicon applicator. Not thick enough of a consistency that I'll like a liquid eyeliner to be. I was taken aback to see glitters in the black eyeliner. But it kinda grew on me and I've been reaching for this Daiso liquid eyeliner for the past few days.
Mascara: The tightly packed silicon bristles on this mascara adds volume to my lashes. I loved it so much that I didn't had to wear any fake eyelash to glam up this look!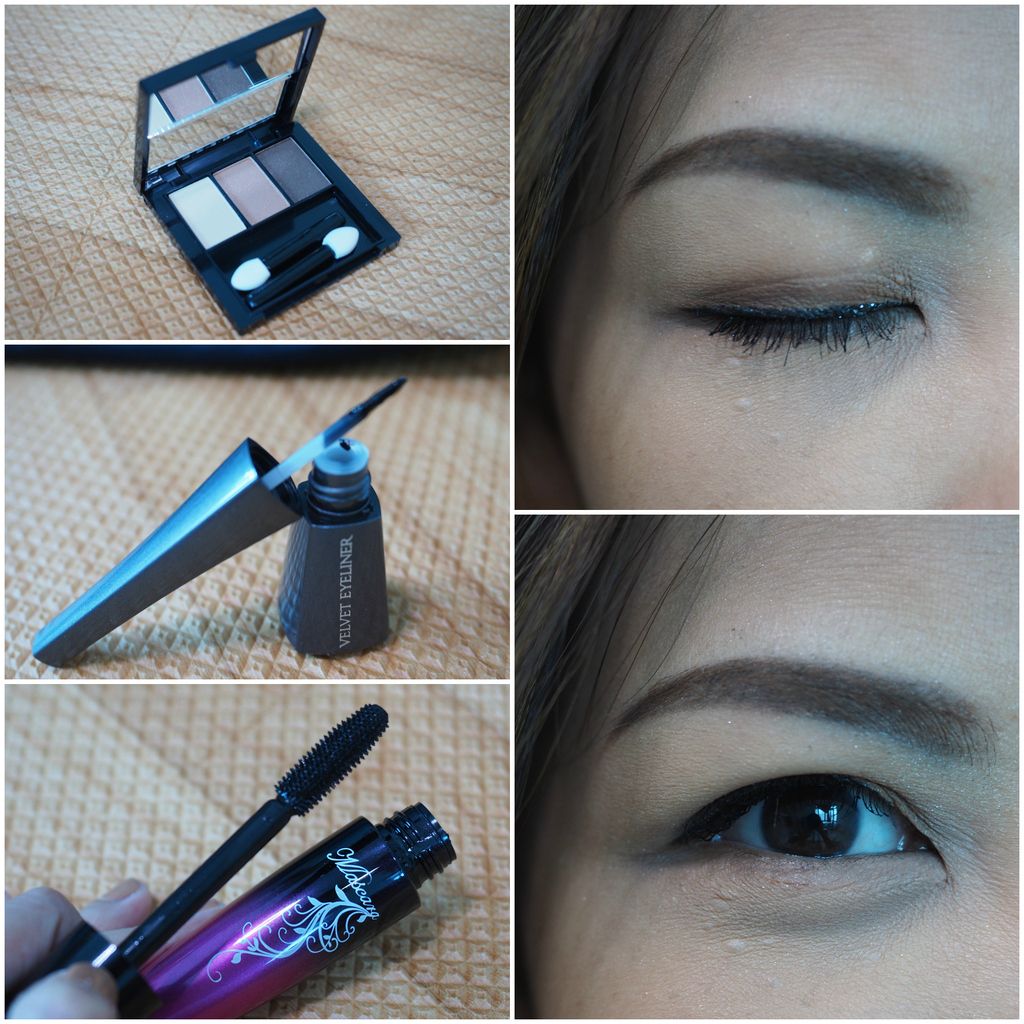 Cream EyeShadow Base: Used pearl coloured eyeshadow base for the lower inner eye and Copper colored eyeshadow base for the lower outer eye. Amzing creamy texture! Overlay cream eyeshadow base with eye shadow. Applied mascara to lower lash.
Pencil Eyeliner: WASTE OF MONEY! Nothing much shows up!


Blusher: There was no way anyone could apply blusher with that tinny weeny brush that came with it. That was why I got an additional powder brush! The lovely color of the blusher hardly shows through. All I got was just a "healthy" glow. (Strangely, it shows on pictures leh!)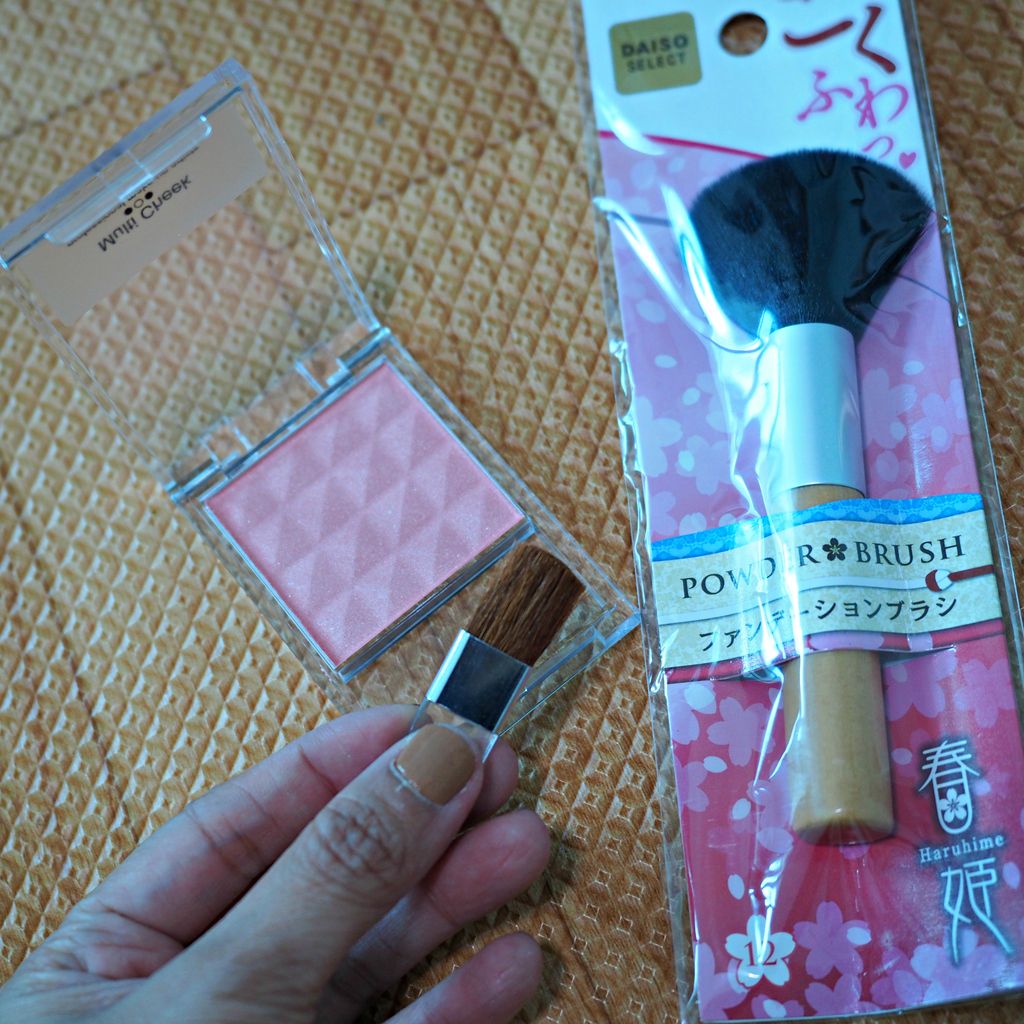 Lipstick & Lip Gloss: Used the lip gloss only in the middle of the lips to give the illusion of fuller lips. No brainer. Both worked as it should be for me!

Let me know which other Daiso makeup products are part of your holy grail.
I'll love to try them out too!
Comments
comments