We've seen many Instagram worthy pictures, as well as read many positive reviews of Karmakamet. So this place is a die die must go on Cherie's list of our Bangkok gastronomical adventure. We wasted no time and headed straight to Karmakamet after check in.
SUKHUMVIT 24 / KARMAKAMET WORLD
30/1 Soi Metheenivet, Klongton,
Klongtoey, Bangkok Thailand
Open daily 10.00-23.30 hrs
The place is literally like a secret garden. Damn zen loh!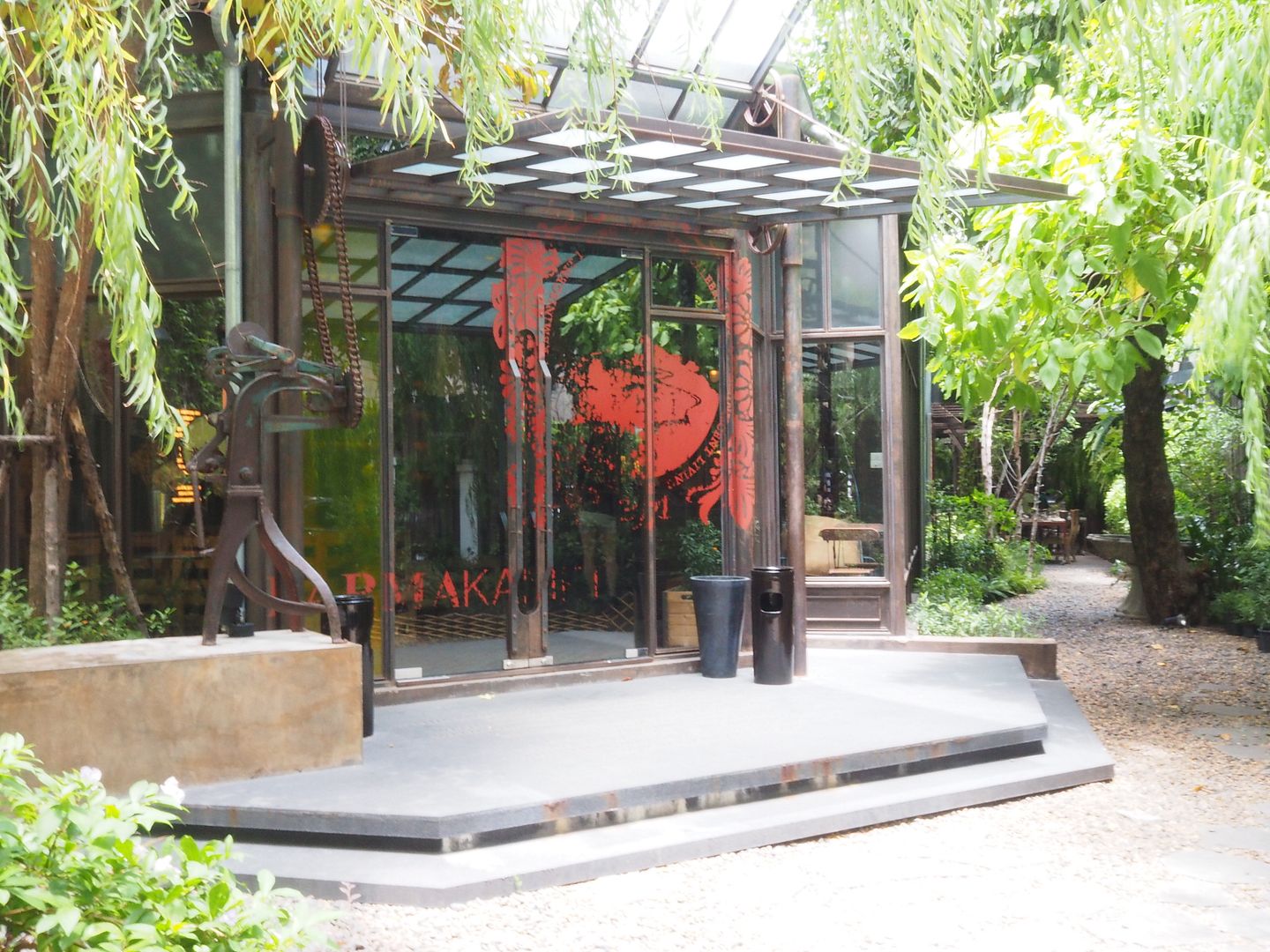 Wasn't sure if it was from the potpourri sacks hanging from the ceiling or the neatly lined up bottles on the rack… The restaurant smells super heavenly! Love the interior!

Sadly, the food did not live up to expectation.
It's not bad, but yet, not good enough to leave an impression.

If you need a place to take pictures of your Bangkok haul #ootd, or Instagram worthy food pictures, this is it… But, if you're looking for good food, I'll suggest you try somewhere else.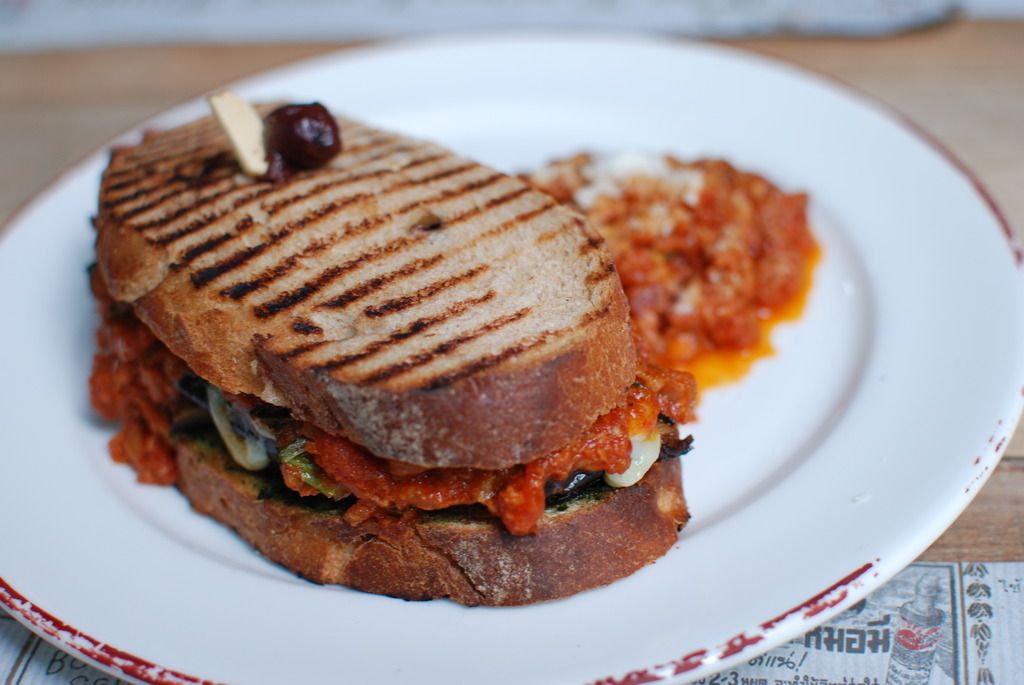 My very first experience holidaying with a girl friend. And I had to learn this the hard way… Cherie is a bloody marathoner! Extremely efficient shopping marathoner to be precise.
Chatuchak Market is a shopping haven for girls out there. Only problem was, I'm not your typical girl who likes clothes, shoes or bags. I much prefer tech products. The 60 minutes foot rub we walked past looks really tempting. But, Cherie was going to ditch me if I don't keep up…
Despite my feet protesting, Cherie insisted that we should get coconut ice cream before we head back. I swear there was a dozen that lined the streets of Chatuchak Market! But, she demanded we have THAT ONE outside toilet 3.
I remembered muttering under my breath… "this better be good!". After heading in the wrong direction and walking back to the right one, we finally gotten our coconut ice cream fix. Refreshing coconut sorbet with assorted toppings is so bloody worth it. It's even served in the coconut husk! Got FREE coconut juice somemore leh!!


Street food at Sogo World Trade Center
I'm not a huge fan of pineapples, I avoid them as much as I could. But when we saw those "baby" pineapple, Cherie insisted that I have to try them. And boy was she right on this one. These little gems packed a punch. So sweet and yet it doesn't irritate my tongue! Lovin' it!
According to Cherie, these BBQ cockles are overpriced but, I couldn't care less really. Big, succulent cockles dipped in Thai Chilli sauce. It's damn heavenly loh!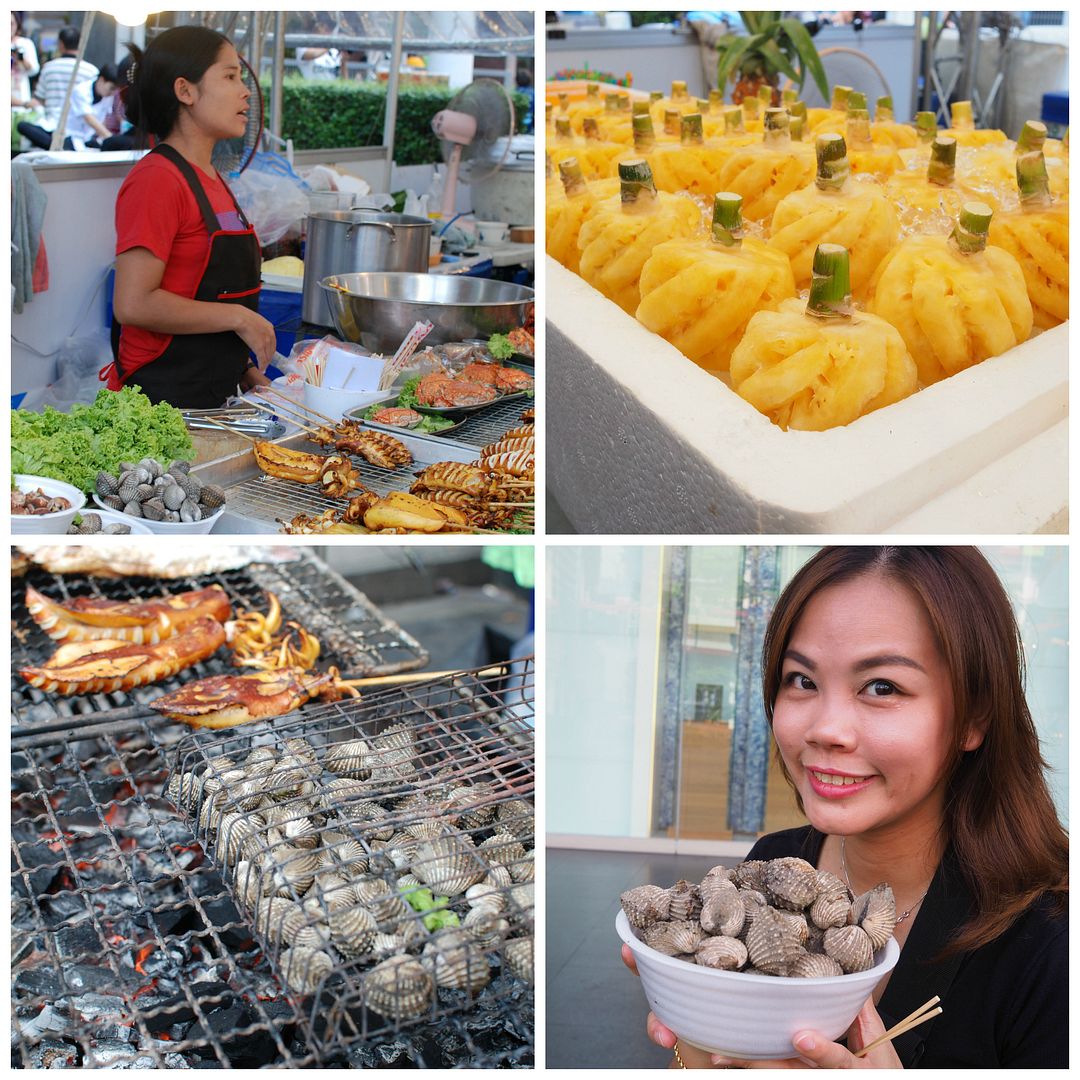 Cherie arranged a blind date for us to meet up with stranger in Bangkok. Just before you think that we are both very 随便, we're not hor! Stranger in Bangkok is a Singapore-born Malaysian parent blogger who is currently working and residing in Bangkok.
Our generous host invited us to Ping's Thai Teochew Seafood Restaurant. We had so much food that we couldn't even move right at the end of our lunch date. I'm going to just highlight couple that resonated well with our taste buds. Texture and taste of the Braised Fish Maw & Crabmeat in Broth is perfect to the T. Never knew I could take my fish maw soup with mustard vinegar or Thai style chilli sauce apart from my usual vinegar.
Or nee (yam paste) is one of my ultimate favorite for Chinese dessert. It's that one dish that keeps me staying back for wedding dinners that ends super duper late. This one served at Ping's Thai Teochew Seafood Restaurant is a delicate balance between yam and pumpkin paste. The ginkgo nuts adds texture against this uber sinful dessert. The other dessert that won both our hearts was the Chilled Coconut Jelly. It was so refreshingly good, I had 2! #glutton
Ping's Thai Teochew Seafood Restaurant
Address: 2nd floor, Pathumwan Princess Hotel,
444, Phayathai Rd., Pathum Wan, Pathumwan, Bangkok 10330 Thailand
Tel: (02) 661 7860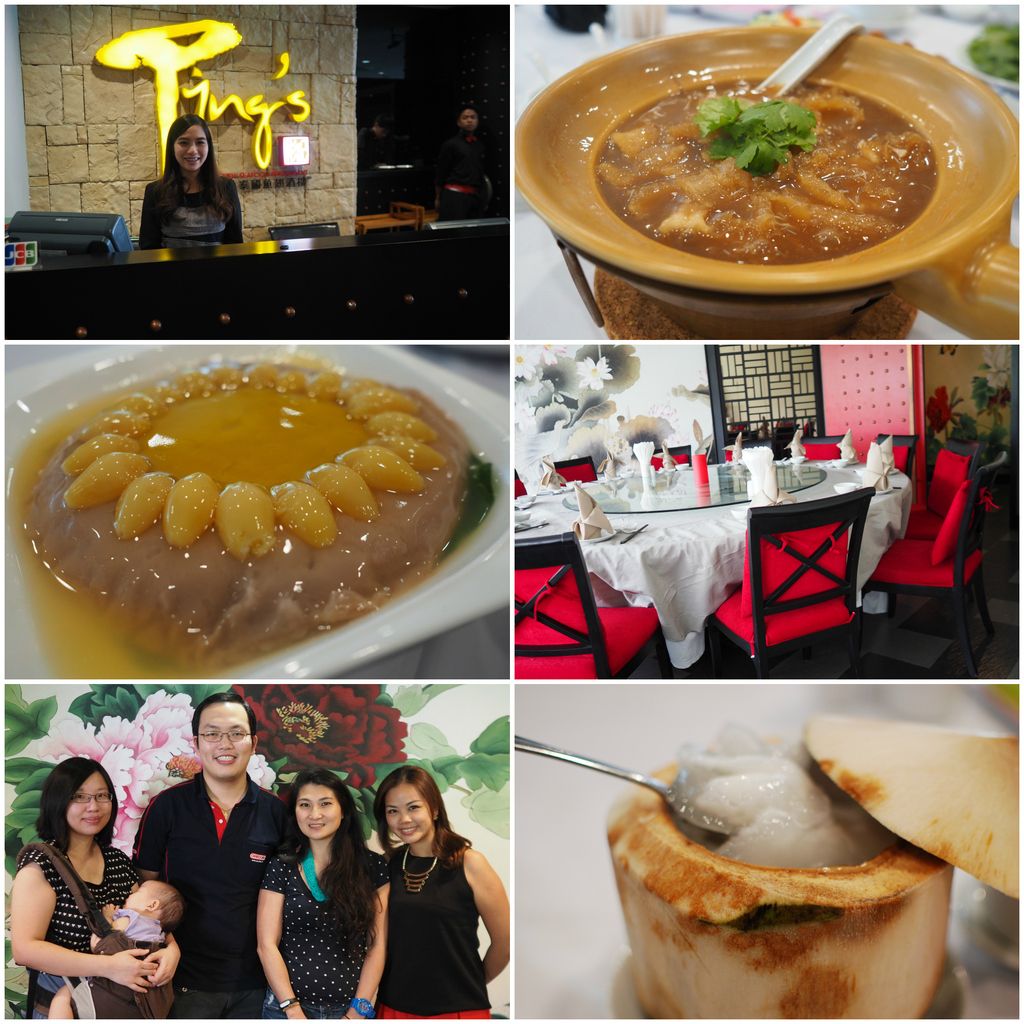 I had so much fun hitting so many milestones all at once. First time traveling with a girl friend as well as being on a budget airline. Even though it wasn't my first time in Bangkok, but it was my first time truly exploring the land of smiles.
I could definitely see myself doing this again in the near future. And as for Cherie, we're still in talking terms after the Bangkok trip. Cherie says that's because I still owe her money.
I intend to keep it that way! 😆
What about you?
What have your experiences been like holidaying with a girl friend?
Comments
comments