Sorry for the long long hiatus…
Still trying to balance work, family and hopefully blogging.
With that being said, I salute mothers! We're all pretty amazing!!
It's been quite some time since I last caught up with friends.
So when Cherie asked me out for a Moo-Ka-Ta date,
I had to agree immediately even thought I had no freaking idea what mookata was!
(YES!! I was living under some rocks for not knowing what mookata was!!)
Confession of a Mookata virgin
As we walked into Golden Miles Complex, I had a very strong feeling that mookata is definitely Thai! Cherie was pretty hyped up coz we're going somewhere that serves one of the best mookata in Singapore. As we arrive at New Udon Thai Food, I stared blankly at the signboard… "We're having Japanese Thai food?" my ignorant mind whispered.
Before I could even open my mouth to ask, a guy beckon Cherie and myself into the restaurant. As we walk pass tables of portable gas stoves with shinny copper skillet, it suddenly dawn onto me that we're having BBQ STEAMBOAT! Thai Barbeque Steamboat to be precise.

Once seated we were immediately presented with a combo of vegetable, meat and seafood platter. Nope, we didn't order it, it came as a standard starter set. ($45)
Crabstick, fishball, hotdog, prawn, squid, chicken & pork liver.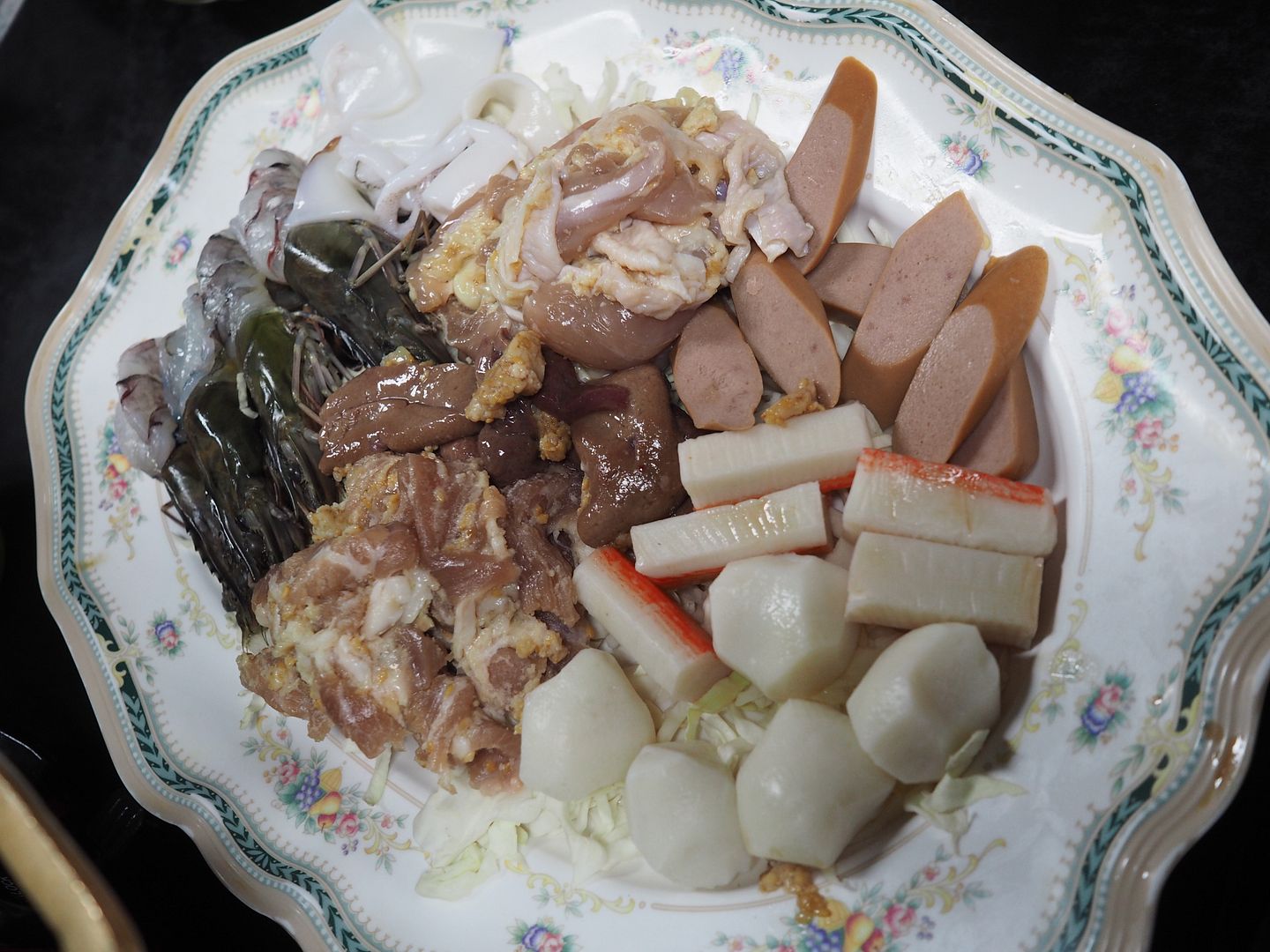 Assorted vegetables, enoki mushroom, glass noodles, eggs and pork lard.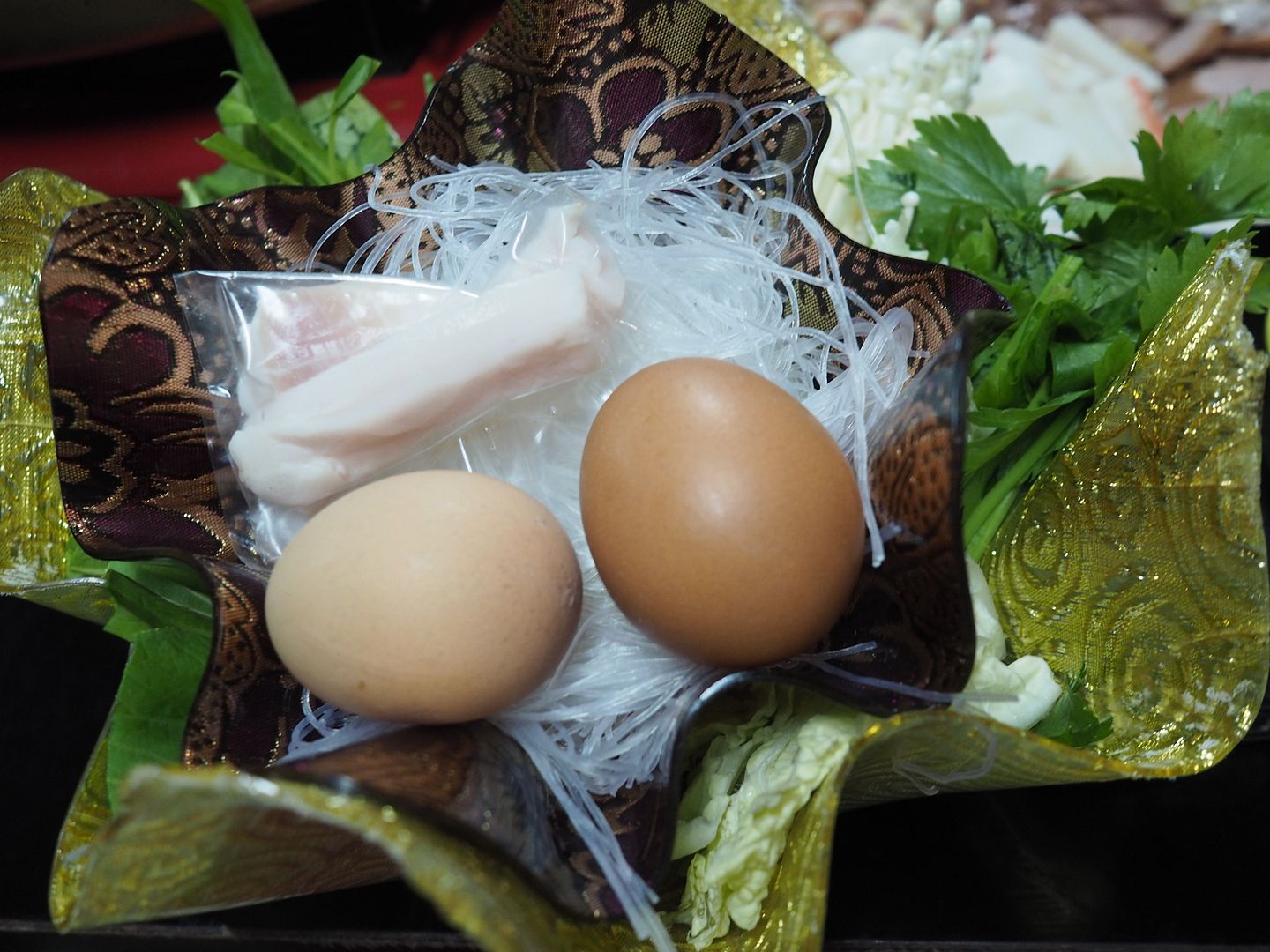 The thai waitres filled our shallow skillet with soup from a kettle and my personal mookata expert carefully greased the top of the skillet. (Oh… FATS, FATS, FATS!)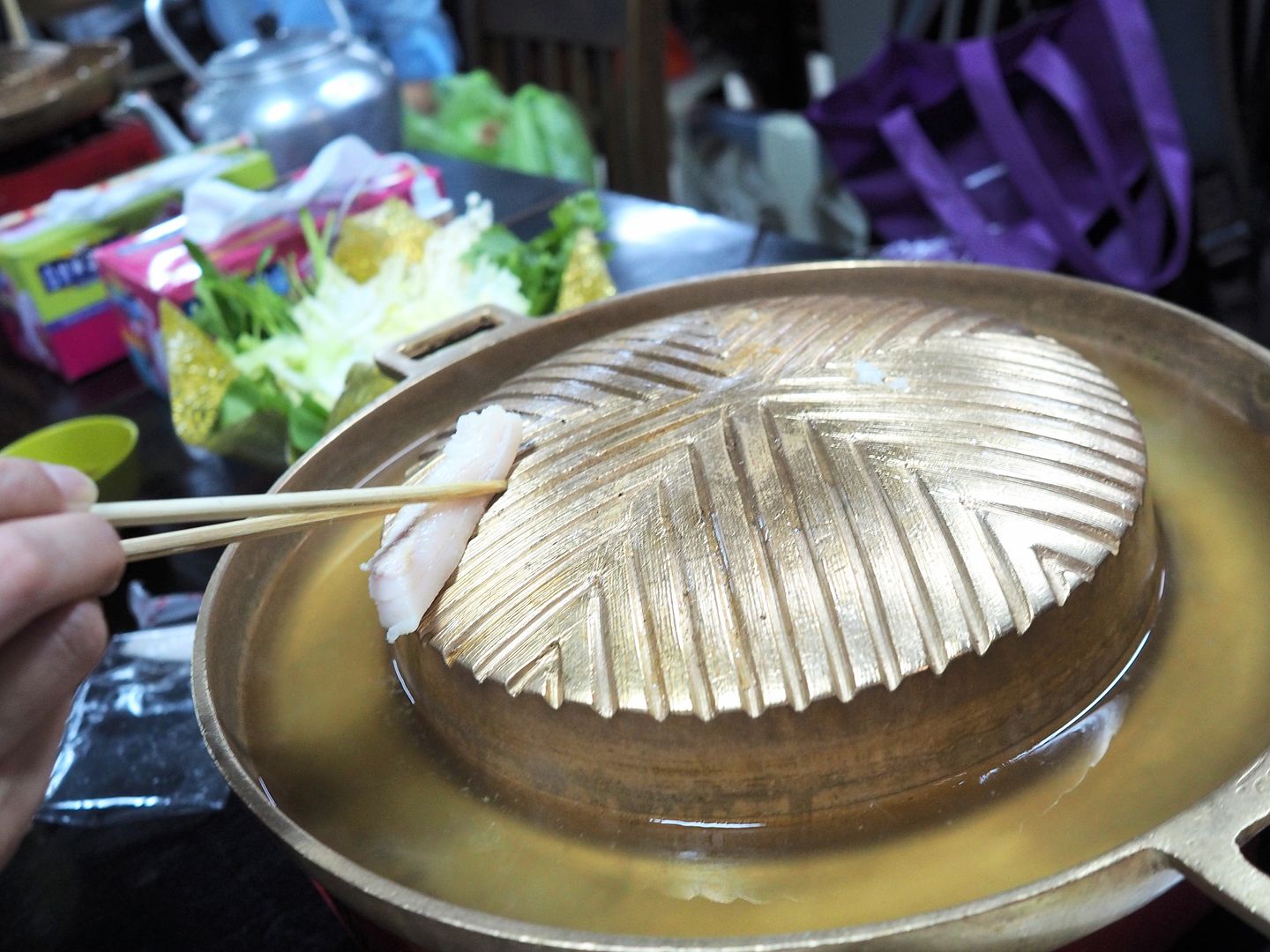 Cherie instructed me to coat the meat with eggs. And she repetitively stressed, "ON THE MEAT ONLY AHH!" Apparently this process gives a smooth and nice coating to the meat.

The grooves on special skillet allowed "juice" from barbequed food to seep back into the soup. The chicken is marinated with seasoning and generous amount sesame seeds. It's oh-so-good!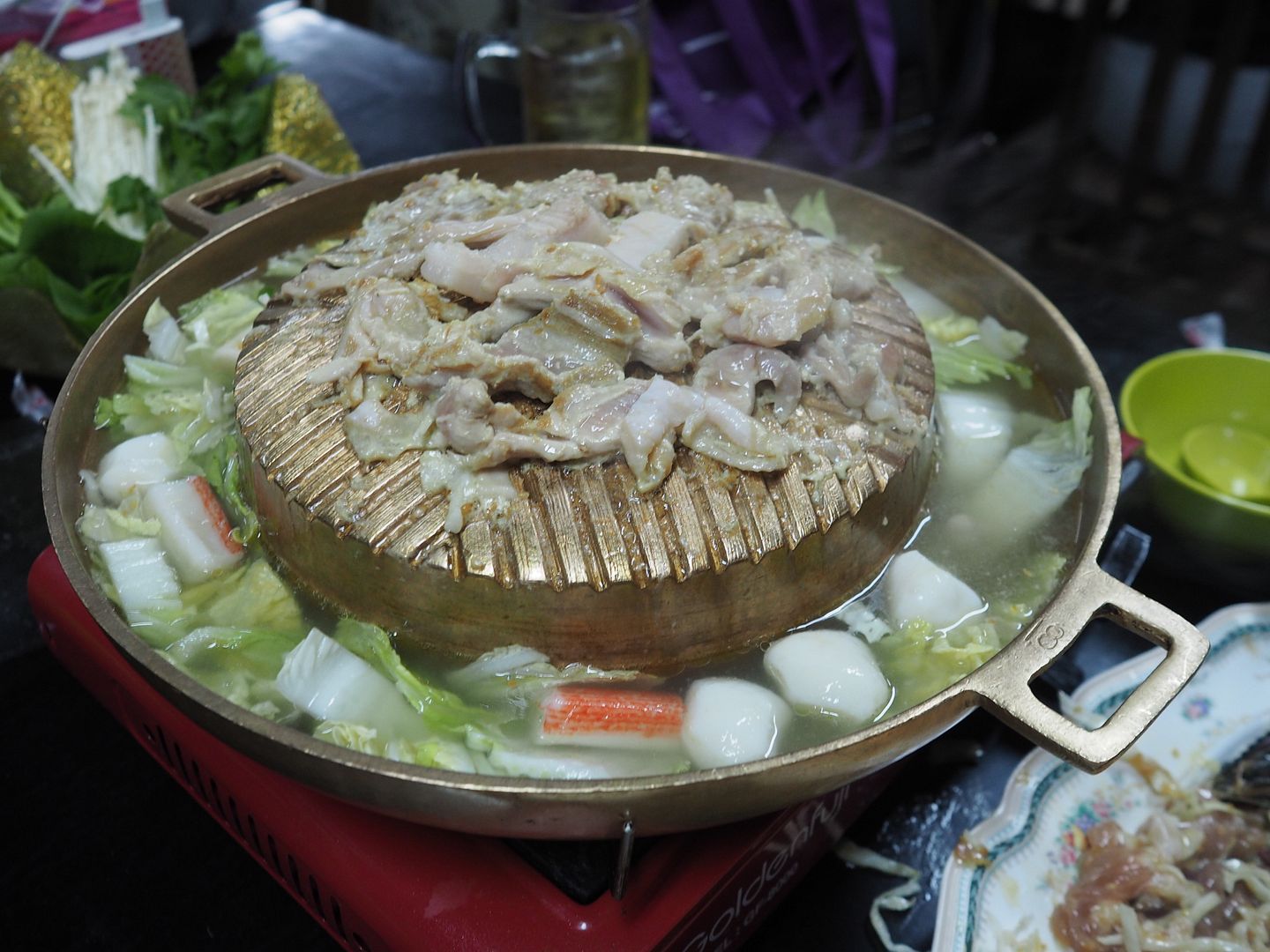 The mookata virgin finally asked the question of the day. "BBQ and Steamboat meals are pretty generic. What makes Thai BBQ and Steamboat any difference from others?"
The dipping sauce of course! There is just something about the sauce that I truly enjoyed. It wasn't too spicy, yet flavouful and again it is spiked with a generous amount sesame seeds!!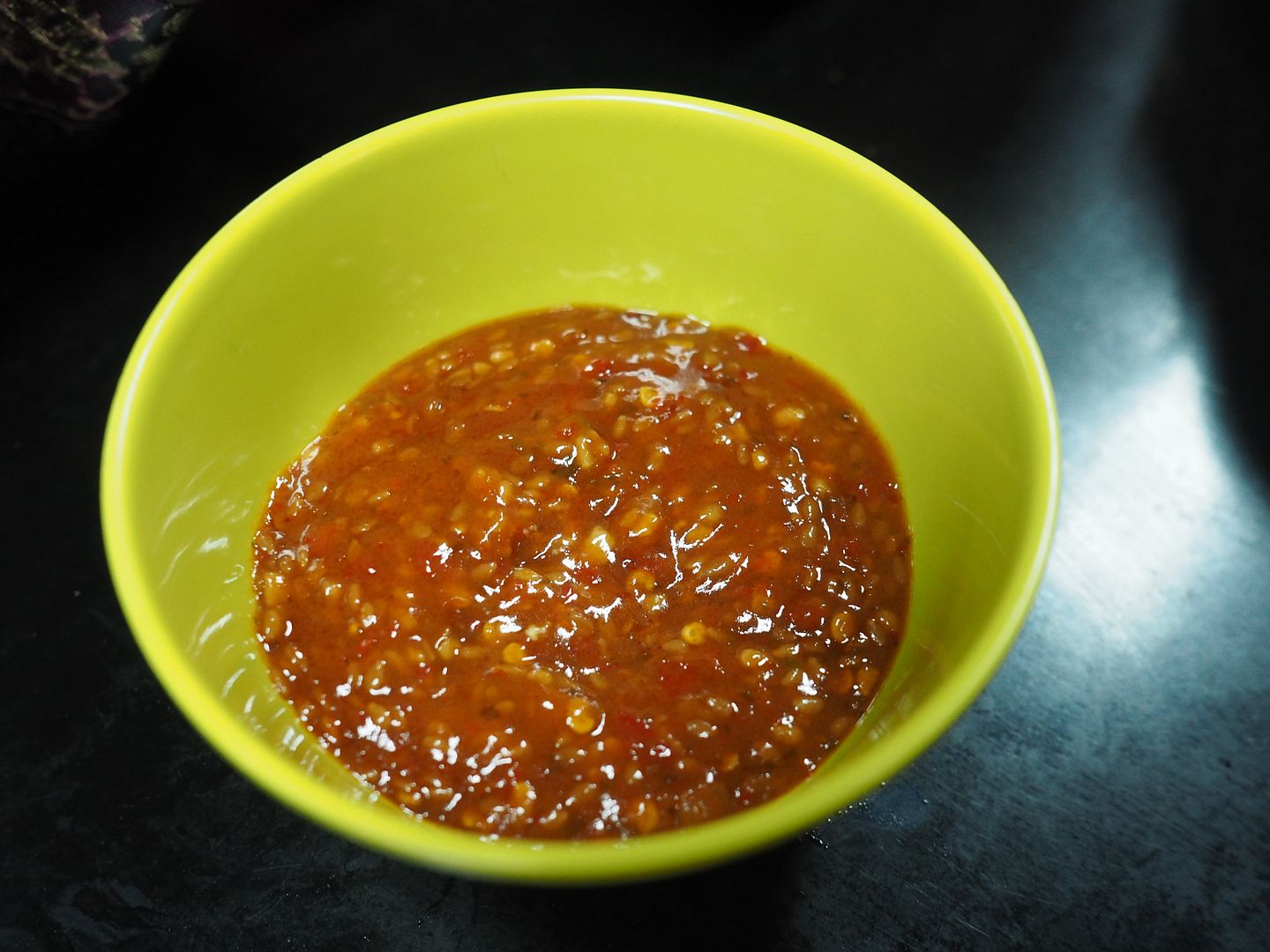 Cheers to being Virgin No More!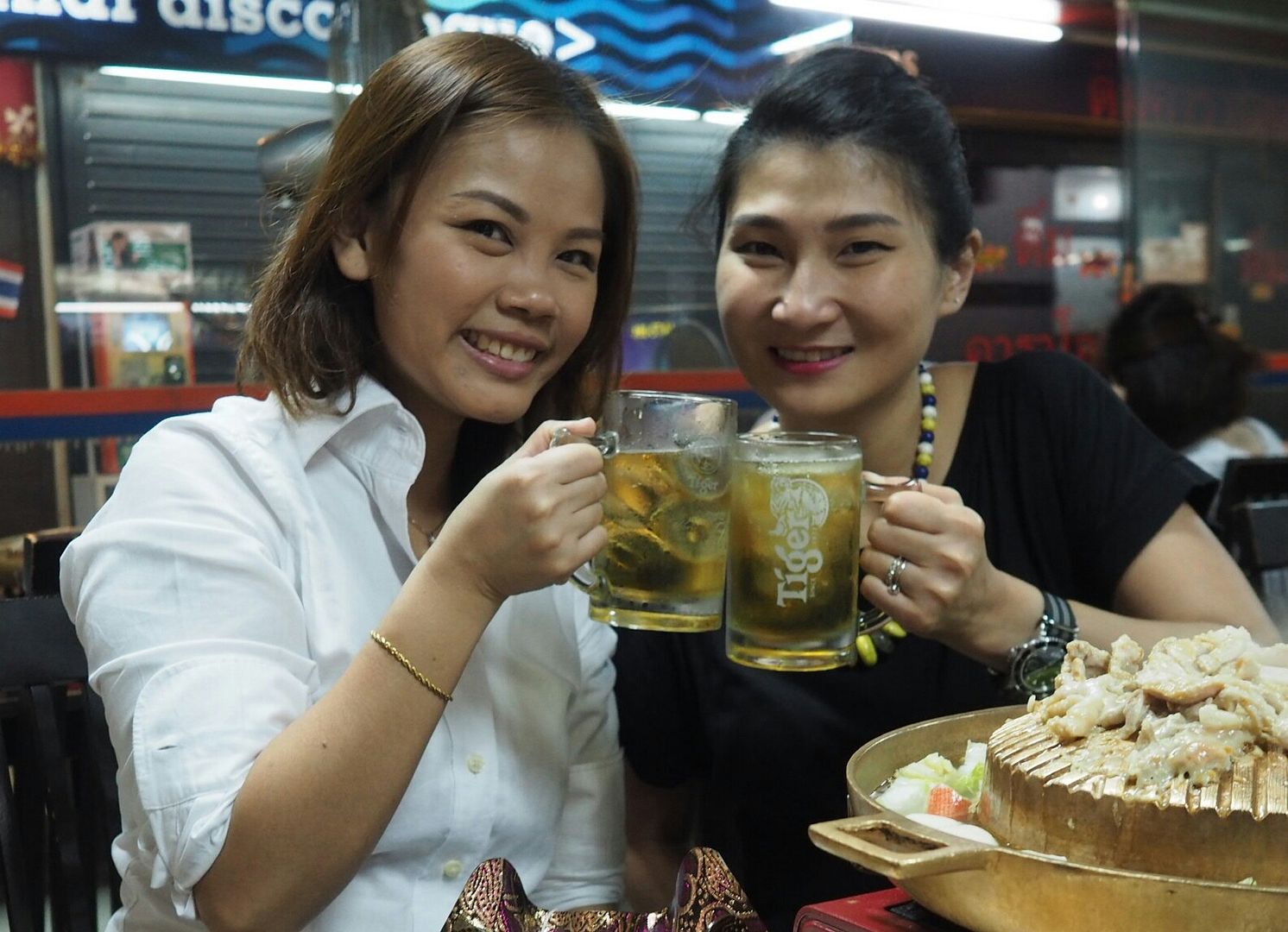 New Udon Thai Food
5001 Beach Road #01-55
Golden Mile Complex
Singapore 199588
Opening Hours: Open daily 11am to 9pm
Nearest MRT Station: Nicoll Highway & Lavender
Comments
comments