-Media Invite-
i Light Marina Bay, Asia's leading sustainable light art festival, returns for its fourth edition to illuminate Singapore's iconic Marina Bay. Themed 'In Praise of Shadows', the 2016 edition features 25 innovative and environmentally sustainable light art installations by creative talents from around the world. Through the use of intelligent lighting, the Marina Bay waterfront will be transformed into a kaleidoscopic display of light, colour, shadows and play for people of all ages to enjoy.
To promote an environmentally-responsible behaviour for a sustainable future, the participating artists have incorporated the use of recyclable materials and adopted energy-efficient lighting technologies in the creation of their stunning light art installations. Every aspect of the festival will adopt a more effective and efficient management of resources to meet this commitment to the environment.
Beyond its spectacular showcase of visual art and urban space, the festival also offers a dynamic line-up of events and programmes over four weekends. With eclectic performances, delectable outdoor dining options, engaging workshops and more, i Light Marina Bay 2016 presents a multi-sensory experience with something for all.
i Light Marina Bay map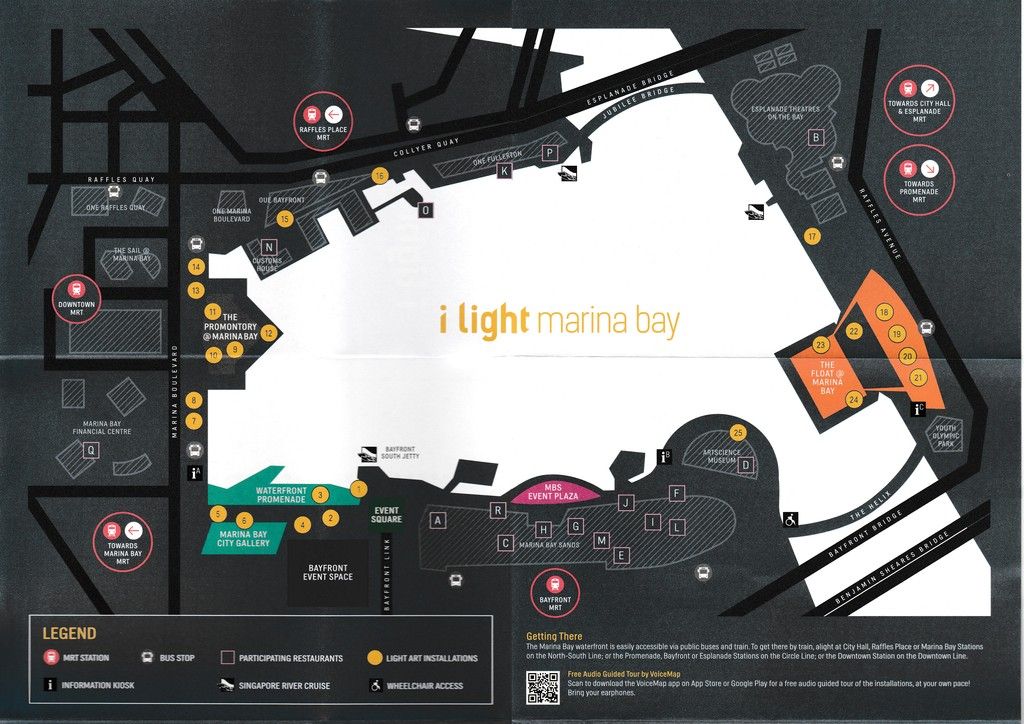 Art Installation Location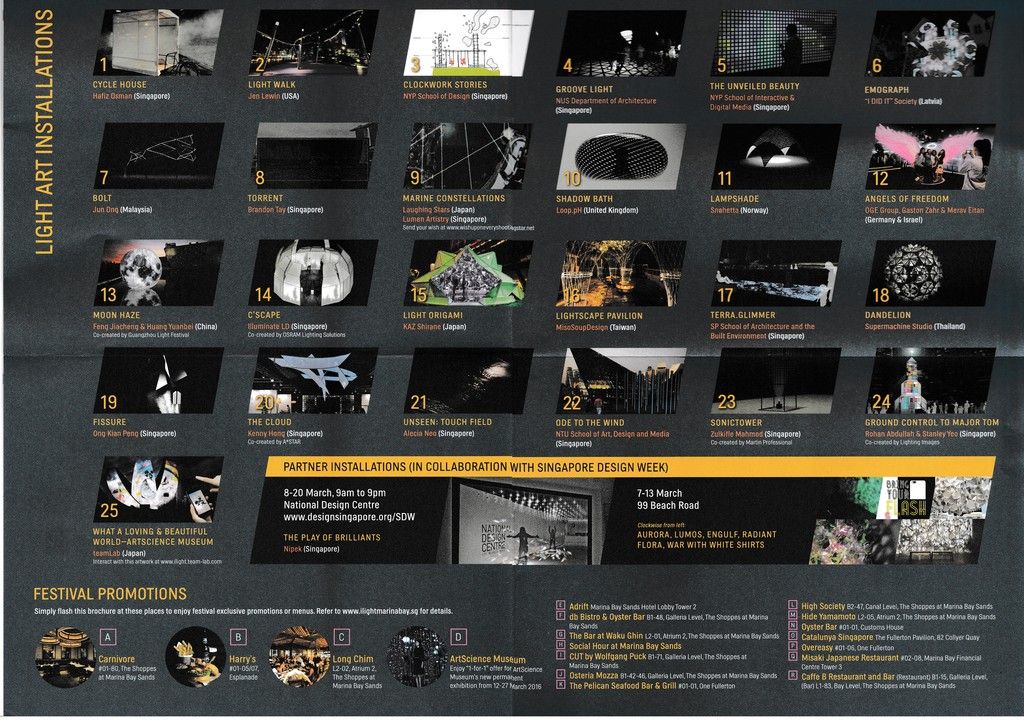 Die Die MUST see Art Installation
What a Loving & Beautiful World by teamLab (Japan)
Location: ArtScience Museum

First carved in tortoiseshell, ox and deer bone, and bronzeware, Chinese characters were said to each contain their own world. Projected on the facade of the ArtScience Museum, viewers can participate by 'swiping' the Chinese characters onto the facade of the building using a web application. The result is a colourful, multi-sensory experience that continuously evolves as images are released from these Chinese characters, while influencing and changing each other within its own immersive, computer-generated world.
Interact with this artwork at ilight.team-lab.com.
Lampshade by SnØhetta (Norway)
Location: The Promontory @ Marina Bay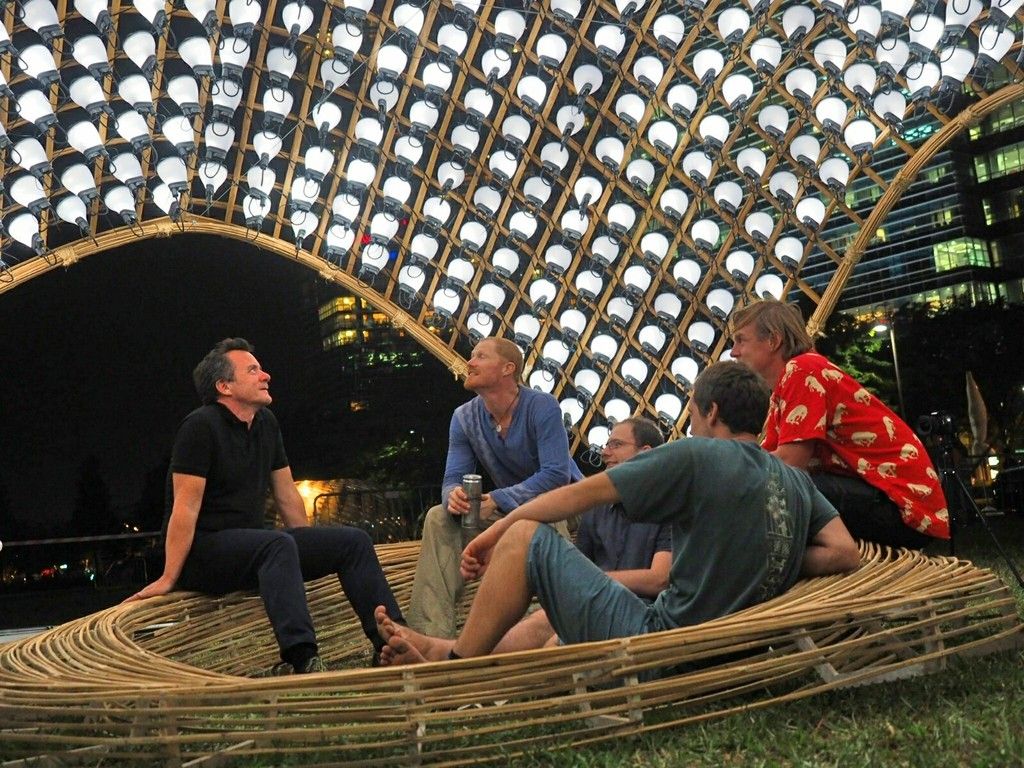 Lampshade is made of simple bamboo structures covered in photovoltaic cells to prevent sunlight from entering its interior in the day, while lighting up intensively at night with solar energy enough to power a thousand lamps. The installation challenges the perception of artificial light as an element that is dependent on its energy source, and invites visitors to discover links in harnessing sunlight and the eventual electric light.
Made to be both socially and environmentally friendly, the lamps used in this installation will be donated to off-grid communities after its display while the bamboo structure and its light fixtures will be recycled as construction scaffolding.
Light Origami by KAZ Shirane (Japan)
Location: OUE Bayfront (15)

Light Origami invites viewers to explore reality by entering a giant 3D kaleidoscope. The domed structure is bathed in light and constructed using over 320 origami shapes made from mirrored panels to show what light can look like when folded like paper. Changing spectrums of light are projected within the space, mirrored in the facets of the space while creating an entrancing kaleidoscope of light.
Angels of Freedom by Gaston Zahr and Merav Eithan (Germany & Israel)
Location: The Promontory @ Marina Bay (12)
I shot straight on with the beautiful skyline of Marina Bay Sands right behind me…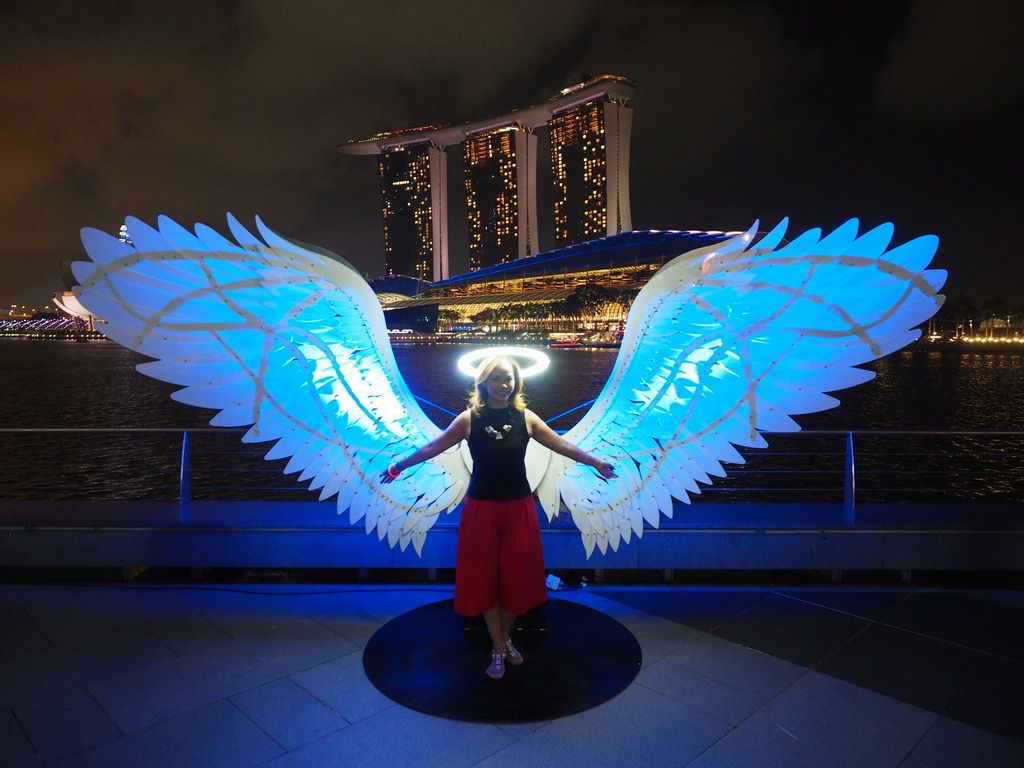 While Santo took this shot at a lower angle to include more of the beautiful skyline.

Five sets of giant, colourful wings invite visitors to come close and interact with the symbolic angels. This installation seeks to remind visitors of their true selves and to always remain connected to loved ones and those who matter.
Most importantly, wear sensible shoes and have fun exploring all 25 brilliant art installation.
Make sure you strategically plan your route so that you could end up at the Häagen-Dazs pop-up Royal Tea Salon at The Promontory to end your night with a sweet note. Try the new Royal Milk Tea or Green Tea flavour, absolutely love the robust tea fragrant! I heard they have ALCOHOL served with ice cream too! Ultimate indulgence!!

Haagen-Dazs pop up store i Light Marina Bay 2016″>
For more updated information about i Light Marina Bay 2016, please visit their Facebook page at www.facebook.com/marinabaysg.
Download i Light Marina Bay 2016 Festival Guide Here.
Comments
comments