I'm not too sure if it is a good idea
to have your nieces and nephews following you on Social Media…
And this is WHY…
Recently, Hiroshi (@hellohiroshi) started following his aunt on instagram.
He faithfully stalked, liked and commented at every food picture that was posted.

Eventually the obligating aunt had no choice but to bring the kids out for an ice cream treat over pinky instagram promise.
In contrast of sleepy town at Blk 128 Toa Payoh Lorong 1,
the Ice Cream Parlor; Creamier was buzzing with activity.

Happiness is staring at the whole range of Handcrafted Ice cream
after queuing for the past 20 minutes.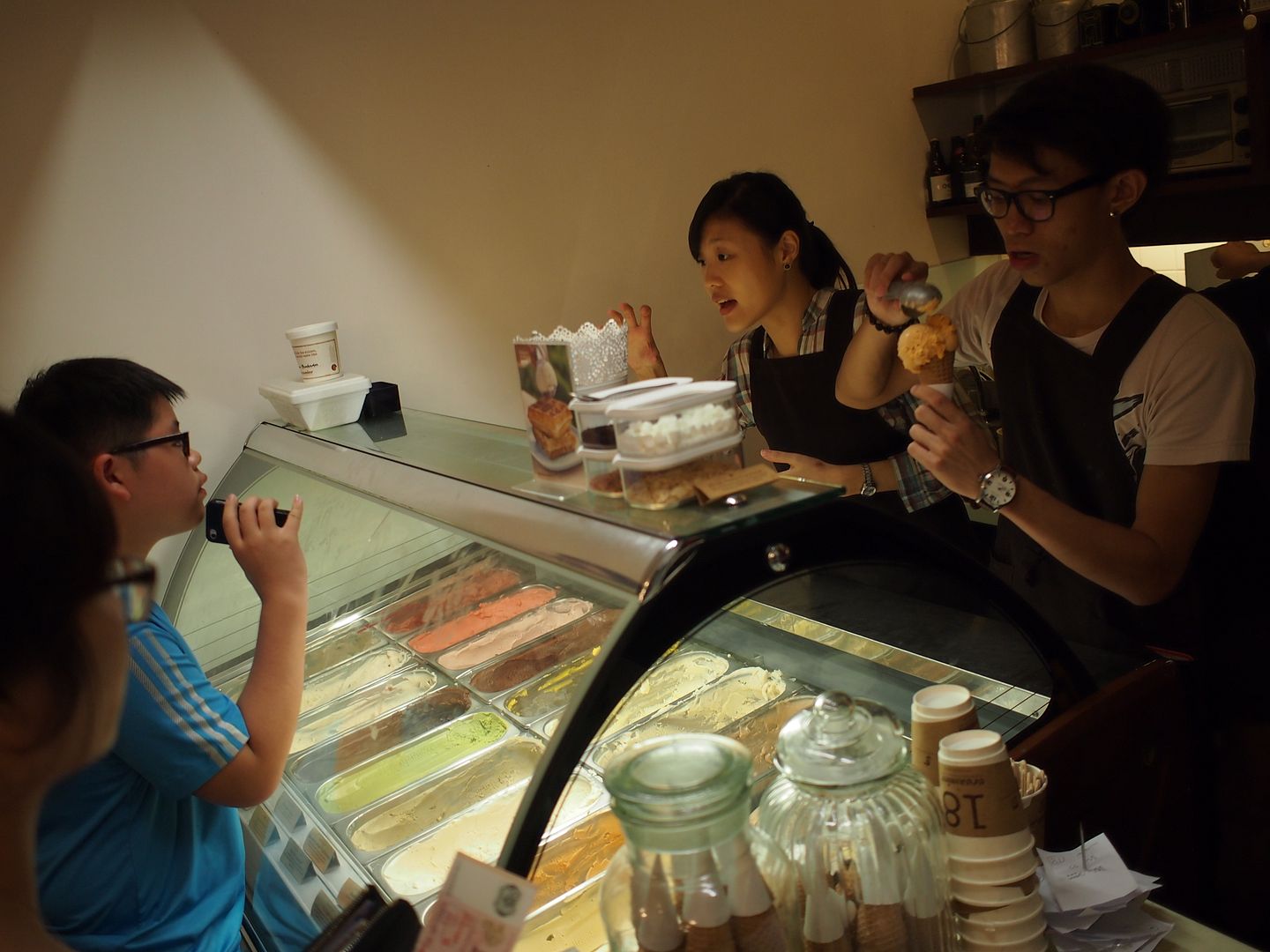 The smell of freshly made waffles and brewed coffee is HEAVENLY!!

After ordering, display your table number prominently.

Supporting local artist, by displaying their art works.

We went on a Full Scale Indulgence with No Reservations.
Ultimate Combination of Double scoop Ice Cream served on 2 slices of freshly made waffles sitting on delicious Maple Syrup & Chocolate Sauce.
(Ice Cream Flavors we had: Butterscotch Almond, Mango Passion Fruit Sorbet, Cookies and Cream, Strawberry Sorbet, Thai Milk Tea, Pistachio, Green Tea)

The Belgian waffle is one of the best I had in a long long time! Crispy on the outside, but yet fluffy inside. Warm waffle with Delectable Creamy Ice Cream send joy down my rumbling tummy.
Every flavor tasted exquisite. It was hard picking out which was our favorite. I personally love Thai Milk Tea. Creamy with a tinge of tea fragrance.
On the overall, Creamier has far exceed our expectation in terms of food quality.
Extremely reasonable pricing.
My pockets were smiling, not because the bill was dirt cheap…
but because Auntie Ivy was BUYING! 🙂
(Waffle with ice cream cost $8.50. Extra scoop of ice cream is $2.50 each.
There is an additional charge of $0.80/scoop for Premium ice cream.)
It is a cozy environment, but be prepared to eat your ice cream Elbow to Elbow or sit Butt to Butt because it get incredibly crowded during peak hours!
Thank you Auntie Ivy for that AWESOME Ice Cream Treat.
I believed Hiroshi has also liked your instagram photo of the Standing Sushi Bar.
Heeheehee… Now you know why having nieces and nephews following you on social media ain't such a good idea afterall right?!?!?
Creamier Handcrafted Ice Cream and Coffee
128, Toa Payoh Lorong 1.
#01-835,
Singapore 310128
P: (65) 6250 1476
Opening Hours
Tue – Thu:
12:00 pm – 10:00 pm
Fri – Sat:
12:00 pm – 11:00 pm
Sun:
12:00 pm – 10:00 pm
Closed on Mondays.
Linking up with Dinomama for Foodie Fridays: