We managed to remain below radar till execution day!
Kitson was pleasantly surprised to see presents and cards on his desk.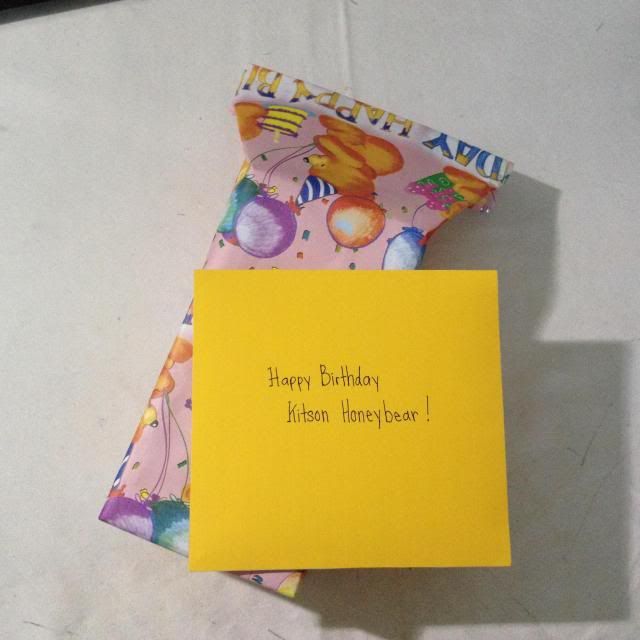 The Singing Hippo Birthday Card must be pretty Impressive,
since Kitson thought it was a card picked up from stores.
(My last minute effort did pay off handsomely!)

The highlight of the day is dinner at The Clan Restaurant.
Nested amidst the city central and within walking distance of monumental Chinatown, The Clan Restaurant sits quietly along conserved shophouses of Bukit Pasoh.


Upon arrival to The Clan Restaurant, we were ushered upstairs into a quiet corner of the restaurant. The lush interior puts us in a romantic mood instantaneously.
We started off dinner with complimentary lime sorbet, which saw James gulping one down and asking for MORE!


It was then swiftly followed up with the Chef's Starter; which includes Scallop, Chawamushi & Prawn Sushi. I couldn't quite figure out if I was having dinner or enjoying an art exhibition. The presentation of each dish is extremely exquisite!


Kids were happy to know that there was a kiddy menu catered specially for them. The earthy mushroom soup proved to be an excellent starter! The kids totally loved it! Delightfully slurped till the very last drop!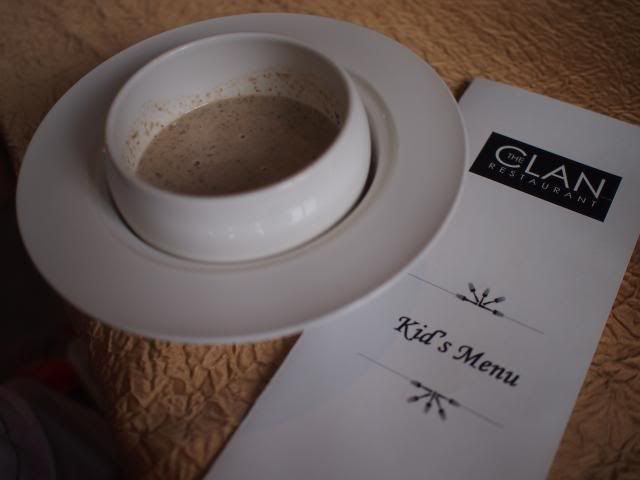 For cold dish, I had Beef Carpaccio with Truffle Teriyaki & Horseradish Sauce while Kitson indulged on the Alaskan King Crab with Seasonal Greens in Homemade Karashi Dressing.


Having traveled the world, it is hard to impress Kitson with food. But, the birthday boy was pretty impressed by the food quality and impeccable service!
For side dishes, Kitson had the Steamed Razor Clam, Salmon Trout Roe Drizzled with Japanese Sauce while I savor the Herb Crusted Mushroom Escargot.


I had the Seafood Soup with Pernod Dash, while Kitson's Cepes Mushroom with Truffle Paste got hijacked by Hiroshi!


We continued on with our gastronomical journey with main courses. Kitson had Green Lobster Crustacean Oil Pasta while I am pleasantly surprised by the succulent Prime Beef Short Ribs on Hoba Leaf w Peppercorn Sauce on Lava Stone.


Hiroshi had Teriyaki Chicken, Sophia had Tempura Fish​ and James is happy with whatever that was thrown his way as long as he is in charged of his own cutleries.


Then came the beautiful surprise.
Kitson was astounded to be presented with a slice of Tiramisu with personalized Birthday greetings. Definitely service beyond expectation!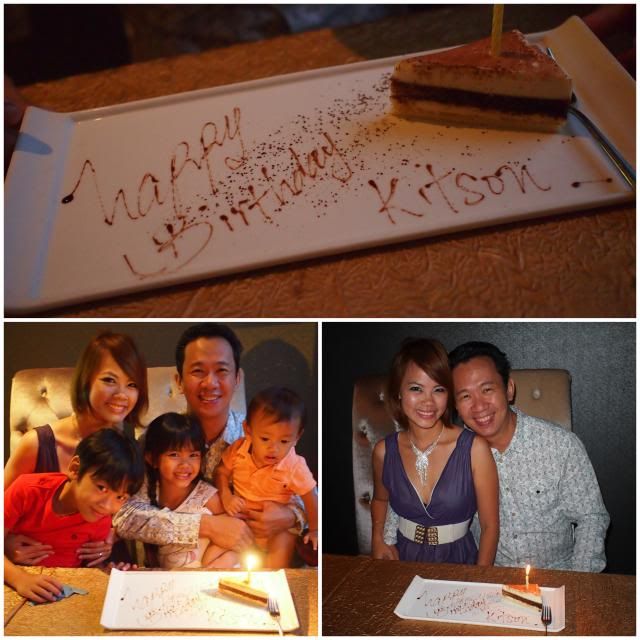 Ending our 6 course dinner on an extremely sweet note.
Kitson and the kids had the signature Chocolate Lava with Homemade Gelato while I satisfy my dessert cravings with Triple Espresso Crème Brûlée.

For the high level of impeccable service,
I personally felt that the meals are reasonably priced.
$69.80++ for a 6 course meal,
and $18.80++ for a 3 course kid's meal.
Highly recommended for first dates, anniversaries, birthdays
or any occasion to impress that someone special!
The Clan Restaurant
20 Bukit Pasoh Rd,
Singapore 089834
Tel: 6222 2084