Parent-Teacher Meeting happening tomorrow.
I bet you my kids are now praying by their bedside!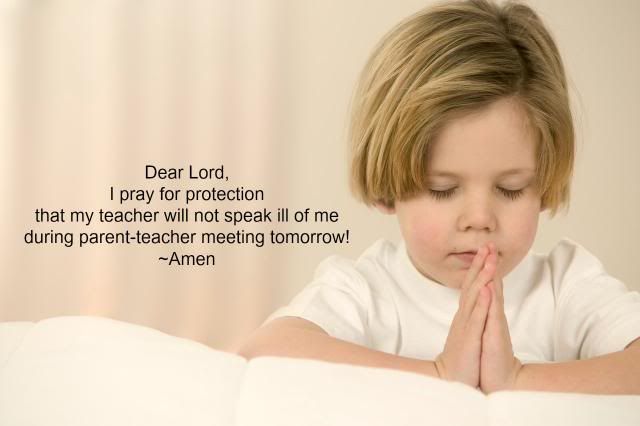 I thought it would be insightful to ask a couple of friends who are school teachers to decode the infamous teacher's "double-speak" during Parent-Teacher Meeting.
Generally, teachers are not allowed to say anything negative no matter how bad the child is unless it is really a matter of serious disciplinary issues. Even so, there are unspoken rules about what they can or cannot say.
With exception of a few students who truly deserve the praise, every other parent-teacher meeting, is just a big-ass lying session by the teacher to maintain their nurturing forefront.
Once you understand the double-speak as a parent,
you can figure out exactly what the teacher meant: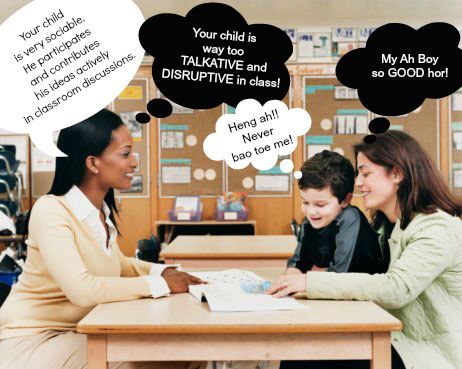 Your child is very sociable.
He/She participations and contributes his ideas actively in classroom discussions.
THE HARD TRUTH:
Your child is way too TALKATIVE and DISRUPTIVE in class!
Your child rather reserved in class.
I would like to see him/her
participate and contribute his ideas more actively in class discussion.
THE HARD TRUTH:
The teacher could not tell if your child was in or out of the class
since he/she is zoning most of the time.
Your child is doing fairly well in his subjects so far.
We will continue to monitor his progress.
THE HARD TRUTH:
*BLINKING SIREN* Your kid is simply not catching up at all!
Your child has done enough to be promoted.
Perhaps we should find out what are his aspirations for the future.
THE HARD TRUTH:
You child is struggling to make it!
So if you are thinking of putting him or her in Top Schools, you should reconsider your position.
Your child is very active in his CCA, it shows leadership potential!
I hope to see the same enthusiasm towards his/her studies as well.
THE HARD TRUTH
Your child is putting too much time and energy on CCA where he/she should be STUDYING!
That's my tongue-in-cheek decode
of teacher's double-speak at parent-teacher meeting.
All characters appearing in this blog post are fictitious.
Any resemblance to real persons, living or dead, is purely coincidental.
*PEACE OUT*
Enjoy your Parent-Teacher Meeting Session.
Take it easy on yourself, your child and the teacher.